13 Hours of Trump, Only 4.5 Minutes of Empathy
Trump spent 10 minutes praising himself for every 1 minute he spent expressing condolences for dead Americans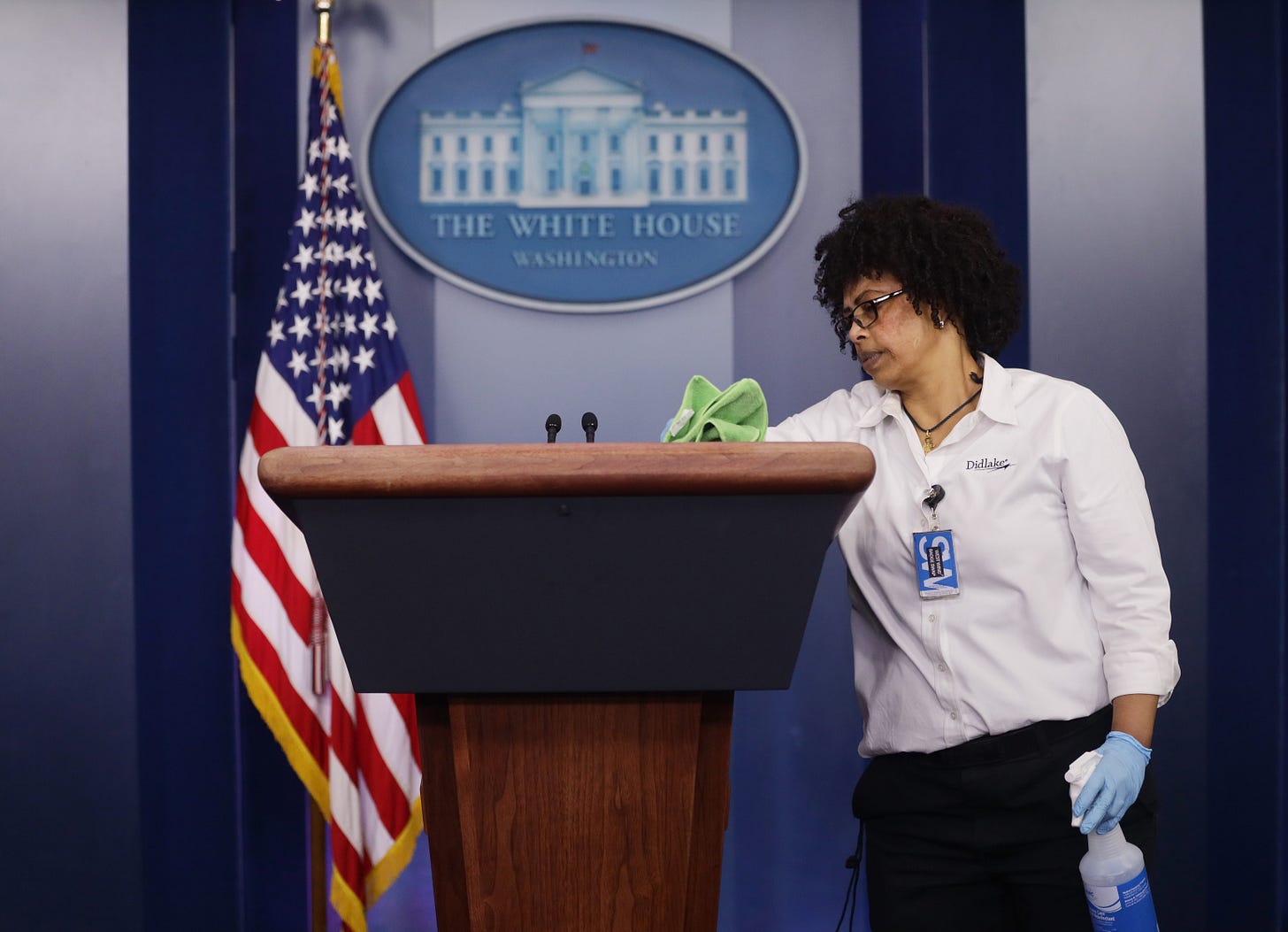 (A White House worker cleans the lectern where members of the Coronavirus Task Force will be conducting a briefing in the James Brady Press Briefing Room at The White House on March 20, 2020 in Washington, DC. Photo by Alex Wong via Getty Images.)
Stephanie Grisham left her position as Press Secretary, that she held for nearly a year, without ever having briefed the press. As of March 11, 2020, a formal press briefing had not occurred in 365 days when Sarah Sanders conducted the last one. But during her tenure, Grisham did appear on Fox News, Fox Business Network, One America News Network, and the Sinclair Broadcast Group many times to grandstand for the president and continue to sell him to his demographic.
This press conference embargo was quite intentional — part of Trump's strategy to eliminate pushback from the press included cutting off access to the administration altogether. Grisham told ABC News in September of last year that "President Trump communicates directly with the American people more than any president in history. The fact that the White House press corps can no longer grandstand on TV is of no concern to us."
During the last year, only Trump administration officials have been at the podium in the briefing room since the last daily briefing took place and these performances have been nothing short of a disaster. Last October, former Acting Chief of Staff Mick Mulvaney took to the podium in October in defense of the president's decision to freeze military aid to Ukraine and blurted out that Trump's actions were in fact conditioned on the pressure to investigate political rivals. He was later forced to walk the confirmation of the quid pro quo back after Democrats in Congress seized on the mistake and began using footage of his statements during in the impeachment hearings.
A shift in press room access came in February with the creation of the Coronavirus Task Force and nearly daily press briefings soon followed. What started out as updates from the Vice President and the assorted experts who were assisting him effectively turned the press room into Trump's make-shift rally stages. Trump instinctively made this pivot when the virus shut down his stadium tours and he was forced to give up his favorite, if not only, pleasure derived from being president: attention.
The result of these new daily press briefings, meant a new focus on the status of the coronavirus pandemic, but it has digressed into a spectacle driven performance by a confederacy of dunces with the occasional professional medical fact sprinkled in. Moments of national emergency like this are often a gift to some administrations, as they can be an opportunity for the president to directly convey compassion and unity. But Donald Trump is unable to talk about anyone other than himself and now the analysis of his statements at the press podium prove it.
The Washington Post has analyzed annotated transcripts from Factba.se to conclude that Trump has spoken for more than a total of 28 hours in 35 briefings since March 16, 2020. Of that time meant for officials to brief the American public on the critical details of the coronavirus pandemic, Trump has eaten up 60 percent of the time allocated for other officials.
Trump has spent the past three weeks using up more than 13 hours of essential time when the public needed to have been receiving life-saving information. More specifically, Trump has spent a total of two hours on attacks alone and 45 minutes praising himself and his administration. Compare this to the mere 4½ minutes expressing condolences for coronavirus victims. Less than five minutes total on those who have died, which now total over 55,000.
Trump has spent twice as much time promoting an unproven antimalarial drug that the Food and Drug Administration has now issued a warning for and according to the WaPo analysis, he has said something false or misleading in nearly a quarter of his prepared comments or answers to questions. The latest and by far most dangerous of these podium lies came last Thursday, when Trump speculated that injecting bleach or other disinfectants might cure the coronavirus and referred to his newly created process as "almost as a cleaning."
The result of his detrimental nonsense was that major cleaning companies had to issue statements that under no circumstances was anyone to inject their products. Dr. Deborah Birx also spent the next day making the rounds on conservative outlets trying to justify Trump's statements and place them in some sort of accurate context. The White House also issued another inaccurate transcript that had the wrong phrase "that is a treatment" with regard to Birx's exchange with Trump regarding light to kill the virus. A corrected version had to be re-issued later in the day to read "not as a treatment," presumably after the administration got caught trying to pass off the wrong words.
These remarks on Thursday also set off a government-wide scramble and led to Trump telling aides Friday he would skip briefings this weekend, according to The Washington Post. White House officials also privately confirmed to the outlet that they are considering scaling back the events entirely, due to this latest egregious performance.
What has become evident is that Donald Trump has now turned the press lectern into an extension of his bully pulpit — The Washington Post analysis reveals that he has gone after someone in 113 out of 346 questions he has chosen to answer, which means a third of his total responses have been attacks. He has also offered false or misleading information in nearly 25 percent of his remarks. Trump has also chosen to play videos praising himself and his administration's efforts three times, including one that was labeled campaign propaganda after being generated by White House aides at taxpayer expense.
With regard to the critical subject of virus testing, Trump has brought up America's testing capacity in only 14 percent of his comments and talked about the country's ventilator supply in 12 percent of statements. Compare this to his continued discussion about the imposition of travel bans, which includes China, for 9 percent of his total podium time.  
Vice President Pence, who is in charge of heading up the Coronavirus Task Force, holds second place in speaking time at the briefings since mid-March with about 5½ hours or roughly 12 percent of the total. According to The Washington Post, Dr. Deborah Birx, who is in charge of the Trump administration's coronavirus response, has spoken close to six hours. Compare these numbers to the total time allotted to Dr. Anthony Fauci, an infectious disease expert and likely the most qualified person to be speaking to the American public — he has spoken for just over two hours at 22 of the 35 briefings.
The president has mentioned coronavirus victims in just eight briefings over three weeks, and those statements appear to be mostly pre-prepared remarks, read from a prompter. Trump was able to express condolences for the state of New York in early April and began a few of his briefings with mentions of the region. On April 6, Trump said, "We continue to send our prayers to the people of New York and New Jersey and to our whole country," and the following day he offered a more generic version of condolences with: "We grieve alongside every family who has lost a precious loved one." Considering that Donald Trump is from New York and has built his empire there, his lack of concern for the area most hard-hit by the coronavirus so far is palpable.
What has been made clear by this recent analysis by the Post is that Trump restarted the daily press briefings as an opportunity to continue his false diatribes and gaslighting of the American public. What is perhaps most concerning is that now these "Trump Press Podium Rallies" contain an element of danger, as he seems to interject unfounded medical advice on a weekly basis now. If it's not about him, Trump is not interested, and the truth is not essential or even a factor.
The medical professionals dispatch themselves every day after another one of Trump's egregious missteps and conduct a balancing act of sorts to protect their positions within the administration while disseminating the correct medical advice. Some of these doctors are clearly better than others at peddling Trump's nonsense, but Dr. Fauci is by far the best example of what happens when you don't spin for the president.
The American public now moves forward every day, during a pandemic, with the understanding that you can't really listen to a word the President of the United States says and to follow his instructions could cost you your life. In a time when good deeds and actions should be brought to the forefront of the national perspective, we are forced to listen to a leader who is consumed by his own ego and the way he is inaccurately presenting his administration's stellar response to the crisis. If you're sick and tired these days, it's quite understandable why.
---
Paid subscriptions allow me to keep publishing critical and informative work that is often made available to the public. If you like this piece and you want to support independent journalism from a female perspective, you can forward this article to others or send a gift a subscription to someone else today. 
Amee Vanderpool writes the "Shero" Newsletter and is an attorney, contributor to magazines and newspapers and analyst for BBC radio. She can be reached at avanderpool@gmail.com or follow her on Twitter @girlsreallyrule.