Abortion Restrictions, State by State
Know how to protect yourself and find out what you can do to help
Abortion continues to be the law of the land in the United States, but recent restrictive laws have been enacted at a record pace to challenge existing abortion rights. These exceptions have been established state by state by the legislature and they regulate the circumstances in which a woman may obtain a legal abortion within that state. These new regulations will most definitely be challenged within the courts, but this will take time and it's important to know your current, legal rights. With the latest onslaught of abortion restrictions, you need to be clear about these new restrictions and where they are happening to best protect yourself and to help others.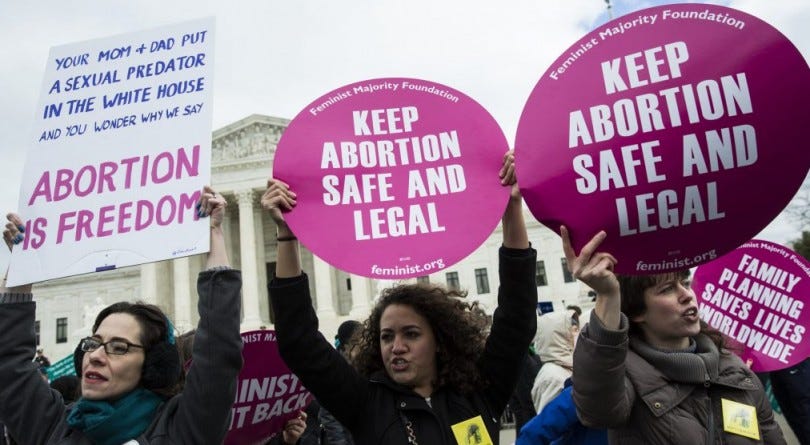 State Restrictions
States that ban abortion after 20 weeks at a minimum include: Alabama, Arkansas, Georgia, Indiana, Iowa, Kansas, Kentucky, Louisiana, Mississippi, Nebraska, North Carolina, North Dakota, Ohio, Oklahoma, South Carolina, South Dakota, Texas, West Virginia and Wisconsin. Minnesota is also considering a bill banning abortions after 20 weeks. Some of these states make some exceptions for grave circumstances, such as in cases of rape or incest, but some states, such as Alabama, limit exceptions almost entirely and could even jail doctors who perform abortions with criminal penalties.
States that have passed six-week Heartbeat Bill abortion restrictions include Ohio, Kentucky, Mississippi and Georgia. Additionally, states like Utah and Arkansas have voted to limit abortions to the second trimester and Missouri's Heartbeat Bill, that limits abortion to eight-weeks, has just passed the state Senate and is heading to the Republican-controlled House. In 2019, legislation prohibiting abortion after six weeks was introduced in 11 states including Texas, Tennessee, Missouri, South Carolina, Illinois, Louisiana, Florida, Maryland, Minnesota, New York and West Virginia. Only Maryland, Tennessee and South Carolina rejected these so-called Heartbeat Bills once they were proposed.
Other states are also currently considering additional abortion restrictions, such as Florida's two bill-combo that limits abortion after the 20th week of pregnancy and enacts a six-week Heartbeat Bill. Louisiana and South Carolina are also close to passing a fetal Heartbeat Bills as we speak. West Virginia also introduced a Fetal Heartbeat Bill earlier this year that would require doctors to conduct abdominal ultrasounds before performing abortions, and then prohibits them from performing abortions if a fetal heartbeat is detected.
The latest and most restrictive abortion law recently signed into effect is in Alabama, where abortion will be prohibited in almost every circumstance, making it a ban on abortion. There will only be legal exceptions for the health of the mother and for fetuses with "fatal anomalies" that make them unlikely to survive outside the womb. This means that in the case of rape and incest, abortion in Alabama will be not only illegal, but punishable with criminal charges. Alabama has also specified that doctors who perform abortions in cases of rape or incest, even within the Roe v. Wade standard of the first trimester, can be prosecuted and imprisoned for up to 99 years. It's important to note that the law will not go into effect for the next six months.
Tennessee has joined six other states (Louisiana, Mississippi, North Dakota, and South Dakota, Arkansas and Kentucky) by enacting a "trigger law" that would immediately ban abortion at the state level the moment Roe v. Wade is overturned in the Supreme Court. This is particularly excessive given that the Supreme Court is the highest law of the land and any ruling would already be considered precedent.
State Protections
In response to these abundant state-wide restrictions on abortion, Indiana, Illinois, Massachusetts, New Mexico, Nevada, New York, Rhode Island, Texas and Vermont have enacted bills that would protect and even expand abortion rights. New York even passed a bill that protects the "fundamental right" to abortions and Virginia has expanded the range of medical professionals who can perform abortion procedures. A Kansas Court also ruled a few weeks ago that the state constitution protects a woman's right to terminate a pregnancy.
What You Can Do Now to Help
First things first, protect yourself. If you are in one of these vulnerable areas, make sure you are stocked up on Plan B if you need it and have access to reliable birth control methods for the next few years. Make appointments with your doctor now to ensure that all of your reproductive needs are discussed and taken care of.
Next, it's time to help others. There are many things to be done at the local, state and national level to help protect against this attack on Roe v. Wade. Get involved on social media and with grassroots organizations in your area to find out how you can best volunteer or donate at the local level. This may mean donating to local women who may not have access to emergency contraception or health care services or volunteering as an abortion clinic escort. Ask around, talk about the issues and find like minded activists who can direct you on where your efforts can do the most to help.
At the state level you need to check where your state is on this abortion restriction spectrum. Then you need to look up each legislator who voted in favor of the measure. You can contact their offices to let them know they do not have your support, but more importantly, you can donate to any Pro-Choice candidate who is running against them. This is a great way to let them know an attack on Women's Healthcare will not be tolerated.
But the most important way you can help is to make sure you are discussing this issue with every person you can. Talk to your family, to your friends and to your colleagues to let them know the facts about what is really happening and what is at stake. Information is power and they key to winning this battle.
Your donations will go furthest at the national level. Donate to organizations who will be fighting the legal battles to overturn these laws such as the Planned Parenthood Action Fund and the National Association for the Repeal of Abortion Laws (NARAL). Other great organizations that need your donations include Access Reproductive Care-Southeast that helps families in 12 states across the southeast, and National Network of Abortion Funds (NNAF) which is a network of more than 80 funds in at least 38 states that seeks to eliminate economic barriers for low-income individuals seeking an abortion.
You can also make sure that none of your money goest to directly benefit the most egregious states enacting these laws. For instance, if you have planned a family vacation this summer, make sure you are not visiting or contributing to the economies of these states either with gas, food or lodging purchases. There will be also be opportunities to boycott larger corporations that exist in these states, so stay tuned as those plans develop. But the most important way you can help is to make sure you are discussing this issue with every person you can. Talk to your family, to your friends and to your colleagues to let them know the facts about what is really happening and what is at stake. Information is power and they key to winning this battle.
Amee Vanderpool writes the "Shero and a Scholar" Newsletter and is an an attorney, contributor to Playboy Magazine, analyst for BBC radio and Director of The Inanna Project. She can be reached at avanderpool@gmail.com or follow her on Twitter @girlsreallyrule.