Complete Timeline of Trump Ukraine Scandal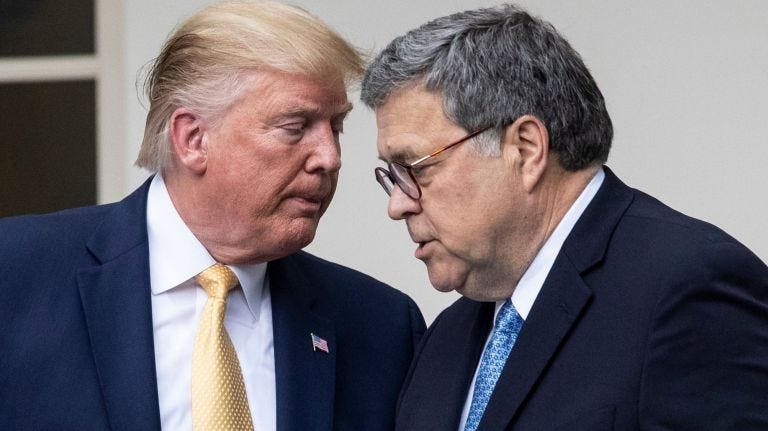 The pace at which details are surfacing about Trump and various members of his administration is going at record speed. To understand everything completely, we need to go back several years to look at everything leading up to the Trump call with Ukraine. Below is a comprehensive timeline of crucial events that are known so far leading up to the July 25 event.
Bookmark this page, you will need it as we move forward and be sure to check back in tomorrow for my post on the major players involved. Updates will be made as needed.
2014-2015
Feb. 22, 2014: There is an uprising in Ukraine and President Viktor Yanukovych is removed from power — he flees to Russia to escape. (Yanukovych was assisted in his bid for power by Trump's former campaign manager, Paul Manafort, who worked for Yanukovych's Party of Regions.) After Yanukovych is unseated, Ukrainian officials begin a wide-ranging investigation into systematic Ukrainian corruption.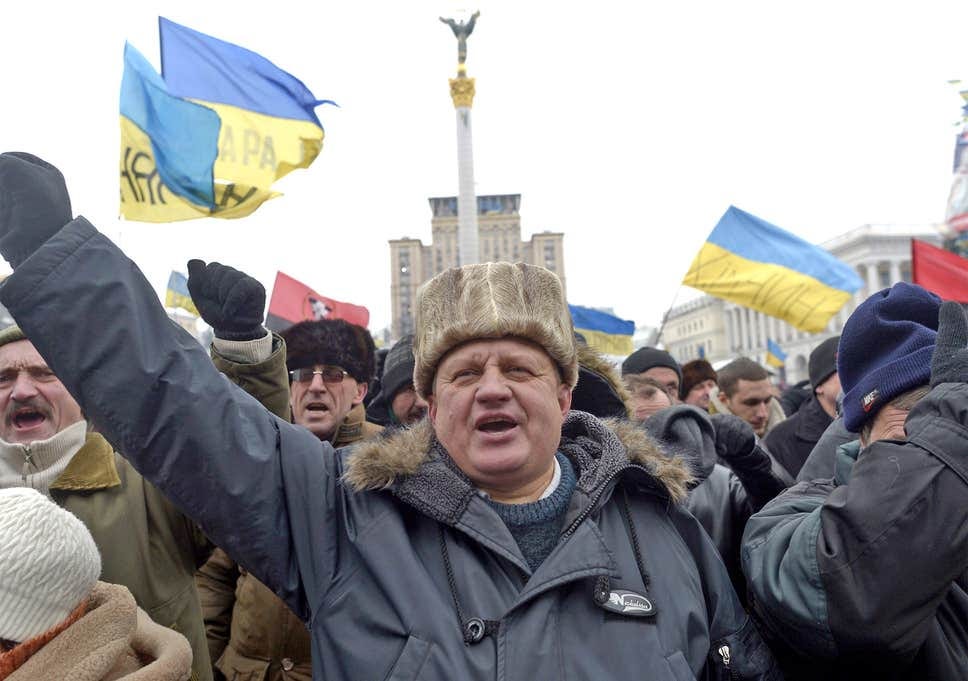 March 2014: Russia invades the Ukrainian peninsula of Crimea and annexes it.
May 13, 2014: Hunter Biden joins the board of the Ukrainian energy company Burisma Holdings, owned by oligarch Mykola Zlochevsky, one of several subjects of the Ukrainian corruption probe.
May 25, 2014: Petro Poroshenko is elected president of Ukraine.
Feb. 10, 2015: Viktor Shokin becomes Ukraine's prosecutor general.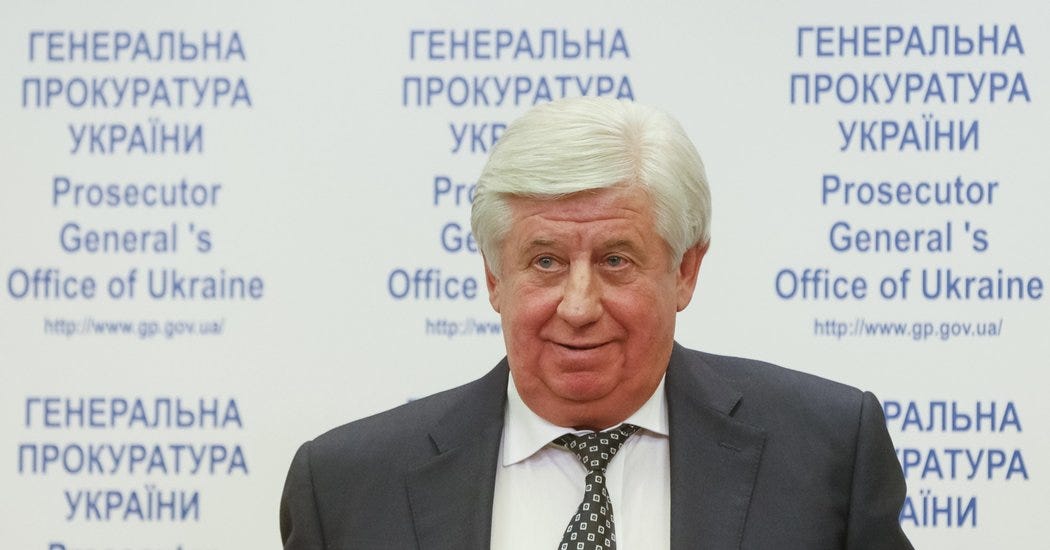 (Former Prosecutor General of Ukraine, Viktor Shokin, who was ousted from office.)
Sept. 24, 2015: Geoffrey Pyatt, U.S. Ambassador to Ukraine, condemns Shokin in a speech, citing a "glaring problem" that threatens the good work regional leaders are doing and "the failure of the institution of the prosecutor general of Ukraine to successfully fight internal corruption." Pyatt also adds, "The United States stands behind those who challenge these bad actors."
Oct. 8, 2015: Assistant U.S. Secretary of State Victoria Nuland testifies that the Ukrainian Prosecutor General's Office has been "ripping people off" and that the entire office now has to be reinvented to serve the citizens of Ukraine.
Dec. 8, 2015: Vice President Biden demands that Ukrainian leaders to fire Shokin or lose more than $1 billion in loan guarantees from the United States, as the Obama Administration joins many Western leaders in urging Shokin's ouster.
2016
Feb. 10, 2016: The International Monetary Fund, whose primary purpose is to ensure the stability of the international monetary system, threatens to halt a Ukrainian bailout program unless the corruption issue is addressed nationally.
Feb. 11, 2016: Biden speaks with Poroshenko by phone to emphasize the urgency of rooting out corruption, again.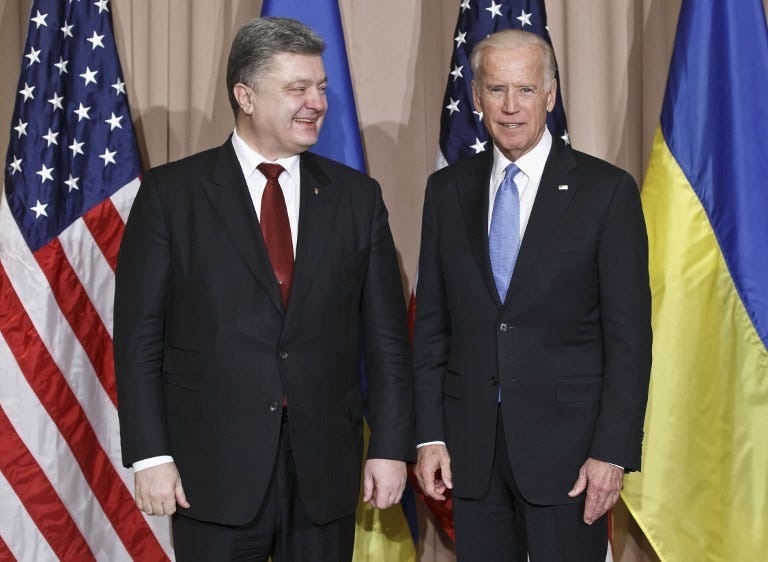 (Ukrainian President Petro Poroshenko with Vice President Biden at the World Economic Forum in Davos on January 20, 2016.)
Feb. 19, 2016: Biden speaks with Poroshenko again in an attempt to accelerate Ukraine's efforts to fight corruption.
March 29, 2016: Shokin is ousted from his position as prosecutor general by Ukraine's parliament.
On the same day, Manafort is hired by Donald Trump's presidential campaign to help Trump secure the Republican nomination and escape the possibility of a contested convention.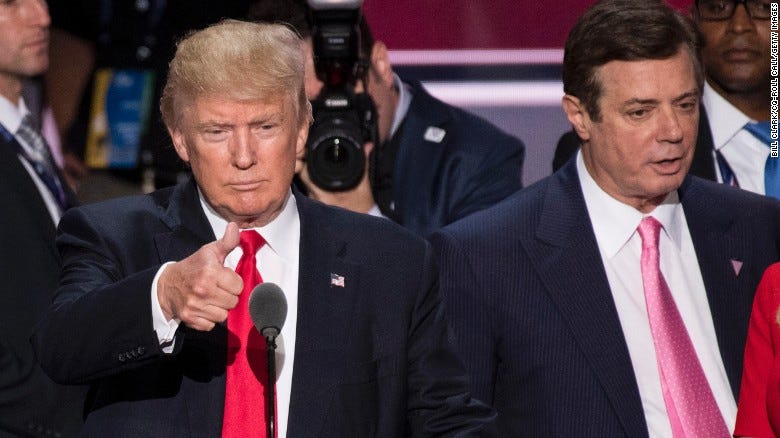 (Trump with former campaign manager, Paul Manafort, at at the 2016 Republican National Convention.)
April 14, 2016: Biden speaks with Poroshenko, again to stress the urgency of putting a new Prosecutor General in place who would bolster anti-corruption efforts.
May 12, 2016: Yuri Lutsenko replaces Shokin as prosecutor general of Ukraine.
June 20, 2016: Trump Campaign Manager Corey Lewandowski is fired and Trump replaces him with Paul Manafort.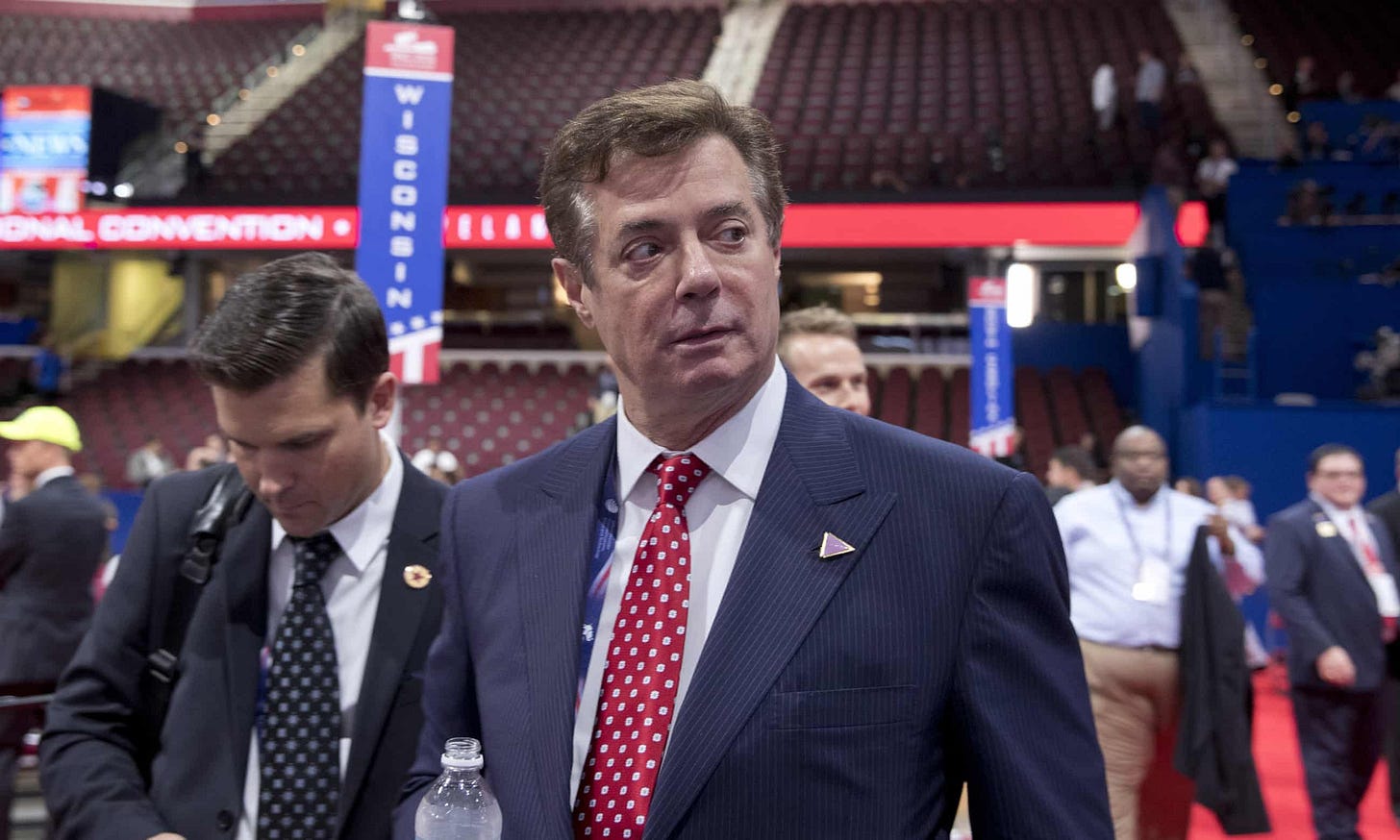 Aug. 14, 2016: Ukrainian officials reveal the existence of a handwritten ledger that indicates that Manafort has been receiving millions of dollars in unrecorded payments from Yanukovych's pro-Russian political party. This evidence is later used to file criminal charges against Manafort in the U.S. for bank fraud and tax fraud.
Aug. 19, 2016: Manafort resigns from Trump's campaign after facing pressure over his past lobbying work for pro-Russian Ukrainian oligarchs.
Sept. 2016: Burisma, the lobbying company that employed Hunter Biden, makes a public statement that the Ukrainian probe of the company has ended.
Nov. 8, 2016: Donald Trump is elected president.
2017-2018
Jan. 12, 2017: According to Burisma, the probes of the company's involvement with the Ukrainian government are finalized and closed. Ukrainian prosecutor Lutsenko later tells Bloomberg that an investigation over one sale of an oil storage terminal is still ongoing.
June 8, 2017: Giuliani, serving in the capacity of Trump's personal lawyer, meets with Poroshenko and Lutsenko, drawing the concern of Congress.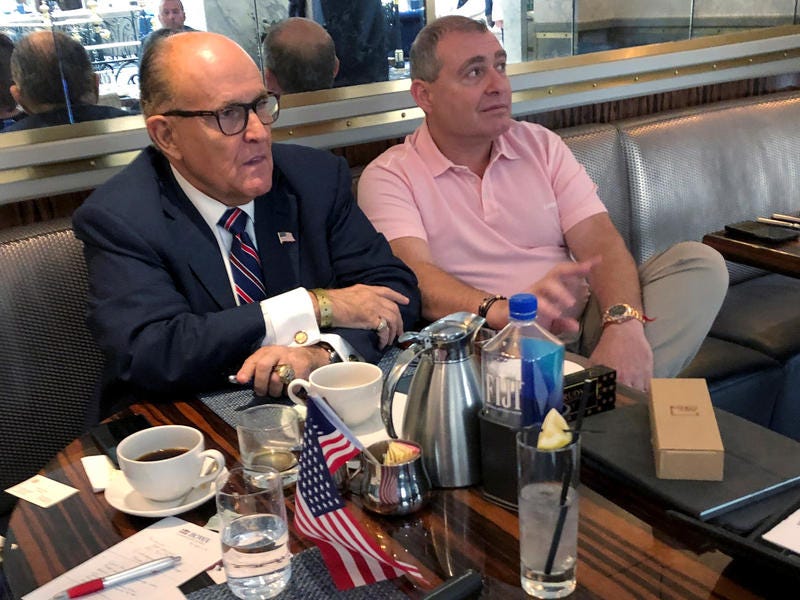 (Giuliani having coffee with Ukrainian-American "fixer" Lev Parnas at the Trump International Hotel in Washington on Sept. 20, 2019.)
Jan. 23, 2018: At an event hosted by the Council on Foreign Relations, Biden describes the pressure he put on Ukraine's government to root-out and eradicate corruption.
2019
January 2019: Rudy Giuliani meets with Ukrainian Prosecutor General Yuri Lutsenko, who had publicly accused Ukrainian officials of working with the Democratic National Committee and U.S. Embassy in Kiev to interfere in the 2016 presidential election. Prosecutor General Lutsenko also alleges that then Vice President Joe Biden, had pressured the sitting Ukrainian president, Petro Poroshenko, to close a purported criminal probe of an energy company to help his son, Hunter, who was a board member. 
Lutsenko tells Giuliani that he would be happy to cooperate if the FBI or other U.S. authorities began their own investigation of the former vice president and his son Hunter, but that neither of the Bidens had broken any Ukrainian laws to his knowledge. (Lutsenko again re-iterates in September of this year that he made this statement after the Trump-Ukrainian phone call.)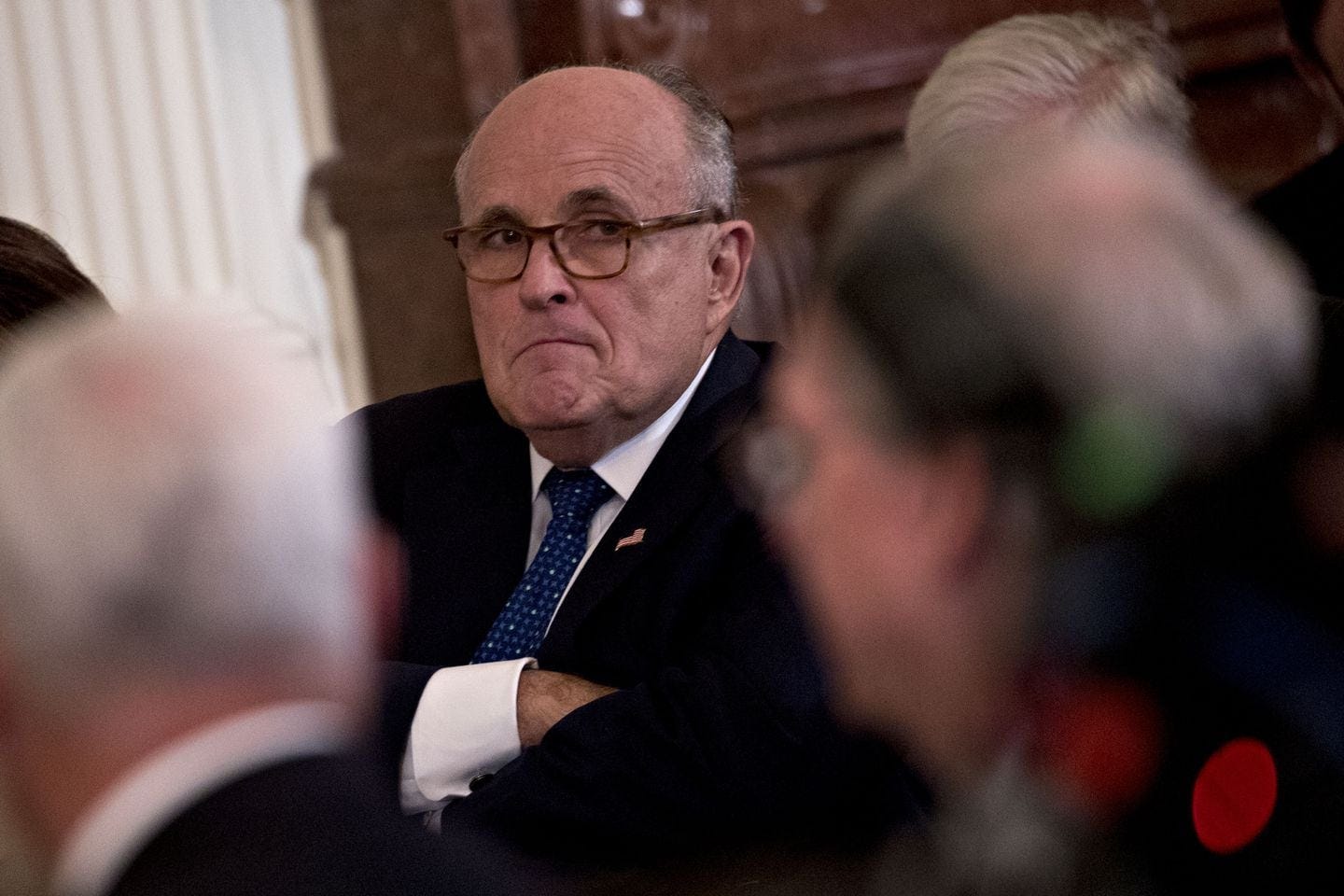 At this January meeting, Lutsenko relays that he wishes to communicate directly with Attorney General William P. Barr on the allegations against Biden. Volodymyr Zelensky, a former Ukrainian comedian and television star, was running against Poroshenko in the Ukrainian presidential election on an anti-corruption platform — Zelensky makes it known that he will replace Lutsenko as prosecutor general if he is able.
March 24, 2019: Attorney General William Barr and former Deputy Attorney General Rod Rosenstein release a memo determining that the Mueller report didn't have enough evidence to support an obstruction-of-justice offense against Trump.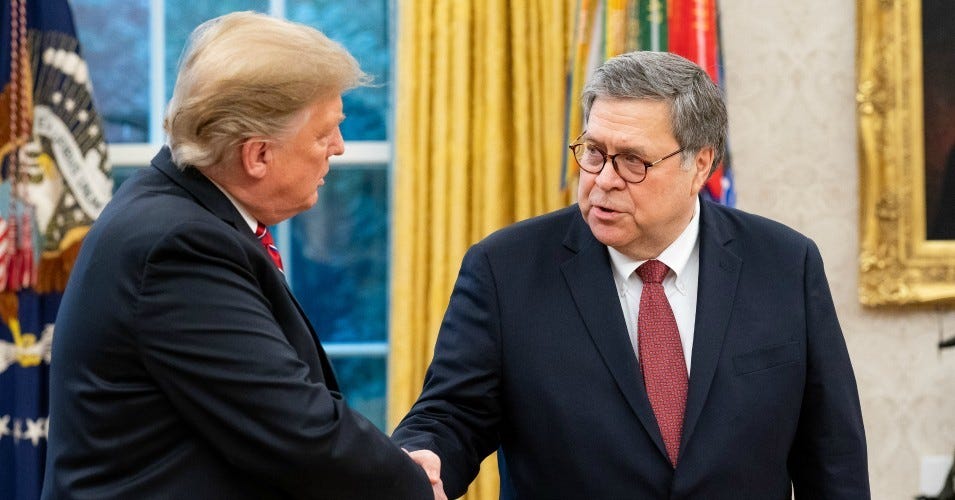 April 21, 2019: Volodymyr Zelensky wins the Ukrainian election by a landslide, and Trump reaches out to congratulate him in a brief telephone call. Marie Yovanovitch, the U.S. ambassador to Ukraine at the time, is recalled to Washington by senior State Department officials a week later.
May 6, 2019: Marie Yovanovitch's ambassadorship ended. The whistleblower alleges her assignment ended early because of pressure stemming from Lutsenko's allegations.
Around this time, Giuliani has his associates reach out to Zelensky's incoming team while he meets with multiple Ukrainian officials to encourage them to pursue investigations beneficial to Trump's reelection.
Mid-May, 2019: Multiple U.S. officials become concerned about Giuliani's engagement with Ukrainian officials. U.S. diplomats Kurt Volker and Gordon Sondland become middle-men and try to assist Ukrainian leaders to reconcile the differing messages coming from Giuliani and official U.S. channels. According to the whistleblower complaint, U.S. officials indicate that at the same time, Ukrainian leadership is led to believe that a meeting or a phone call between Trump and Zelensky would depend on whether Zelensky showed a willingness to "play ball" on the issues raised by Lutsenko and Giuliani.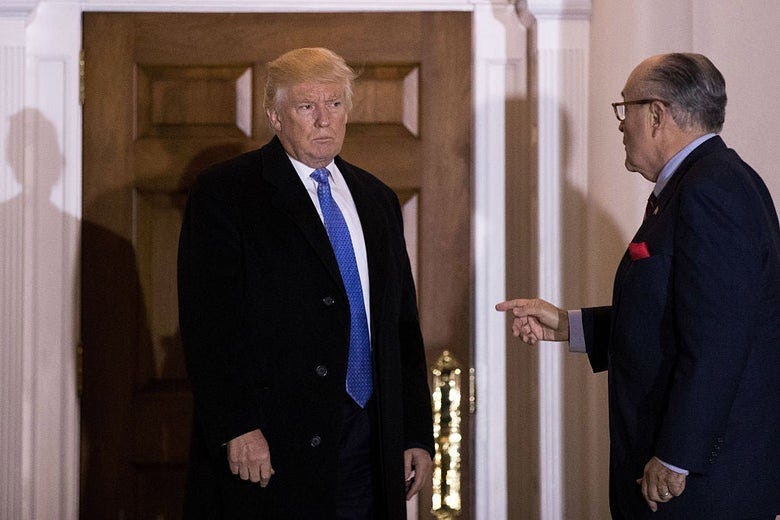 May 14, 2019: Trump instructs Vice President Mike Pence to cancel his planned travel to Ukraine to attend President Zelensky's inauguration on May 20th and decides to send Secretary of Energy Rick Perry instead. According to the whistleblower complaint, this may have been part of Trump's attempt to deny Zelensky access to major players in the administration until they knew where he stood on helping with the Biden investigation.
Early July 2019: Trump directs his acting Chief of Staff, Mick Mulvaney, to tell the Office of Budget and Management to withhold nearly $400 million in military aid to Ukraine, despite bi-partisan support in Congress for dispensing the aid.
July 24, 2019: Special counsel Robert Mueller testifies before Congress on his investigation into Trump and the findings of his report.
July 25, 2019: Trump conducts a phone call with President Zelensky with a dozen White House officials listening in, including Secretary of State Mike Pompeo. Trump brings up that the United States had been "very, very good to Ukraine" twice before requesting Zelensky engage in investigations of 2016 election interference and alleged wrongdoings by the Biden family. Trump encourages Zelensky to meet with Giuliani and Barr to further discuss the details of the investigation. Following the call, senior White House lawyers actively "lock down" all records of the conversation and move the transcript to a separate computer system server reserved for code-word-level intelligence information.
July 26, 2019: Diplomats Volker and Sondland travel to the Ukrainian capital to meet with Zelensky. According to the whistleblower, it was to provide advice to the Ukrainian leadership about how to 'navigate' the demands from the president the day before.
Aug. 2, 2019: Giuliani meets with one of Zelensky's advisers in Madrid as a "direct follow-up" to Trump's July 25 call.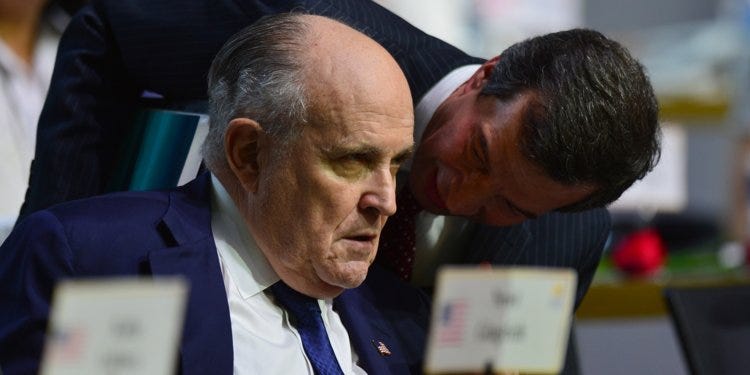 Aug. 12, 2019: A whistleblower complaint is filed with the inspector general of the intelligence community, Michael Atkinson, based on conversations with more than half a dozen U.S. officials regarding Trump's requests for Ukrainian interference.
Aug. 16, 2019: Joseph Maguire takes office as acting Director of National Intelligence.
Two weeks later: Atkinson determines that the whistleblower complaint "appears credible" and rises to the level of "urgent concern." Atkinson forwards the complaint to Joseph Maguire, the acting director of national intelligence. Maguire takes the complaint to the White House for instruction, claiming he was concerned with the issue of "executive privilege." At the same time, Maguire seeks the advice of the Justice Department's Office of Legal Council, and O.L.C. determines the complaint should not be shared with the House and Senate intelligence committees, despite past practices and the law.
Sept. 1, 2019: Pence meets with President Zelensky of Ukraine after traveling to Poland to handle the World War II commemoration ceremonies for Trump with former National Security Advisor John Bolton in attendance at the meeting. Pence makes sweeping promises at that time to the Ukrainian president that included the U.S. "[continuing] to stand with the people of Ukraine on [security], on territorial integrity, including Ukraine's rightful claim to Crimea."
Sept. 2, 2019: Pence is asked by a reporter about the Trump Administration attempting to gain information on Hunter Biden by exerting pressure on Zelensky to start an investigation. Pence denies it but continues to stress the need to correct Ukrainian "corruption" as he emphasizes that he is working very closely with President Trump on making this happen.
Secretary of State Mike Pompeo departs for a trip to Belgium where no press are allowed to travel with him or cover his activities.
Sept. 5, 2019: Some details confirmed in the whistleblower complaint are first made public by The Washington Post.
Sept. 9, 2019: Atkinson notifies Congress about the existence of the whistleblower complaint.
Sept 10, 2019: Rep. Adam Schiff of the House Intelligence Committee sends a letter to acting D.N.I. James Maguire, informing him that Congress has learned that Maguire is withholding the whistleblower complaint, the legal ramifications of this and that this is an "unprecedented departure from past practice."
John Bolton also resigns as Trump's National Security Advisor.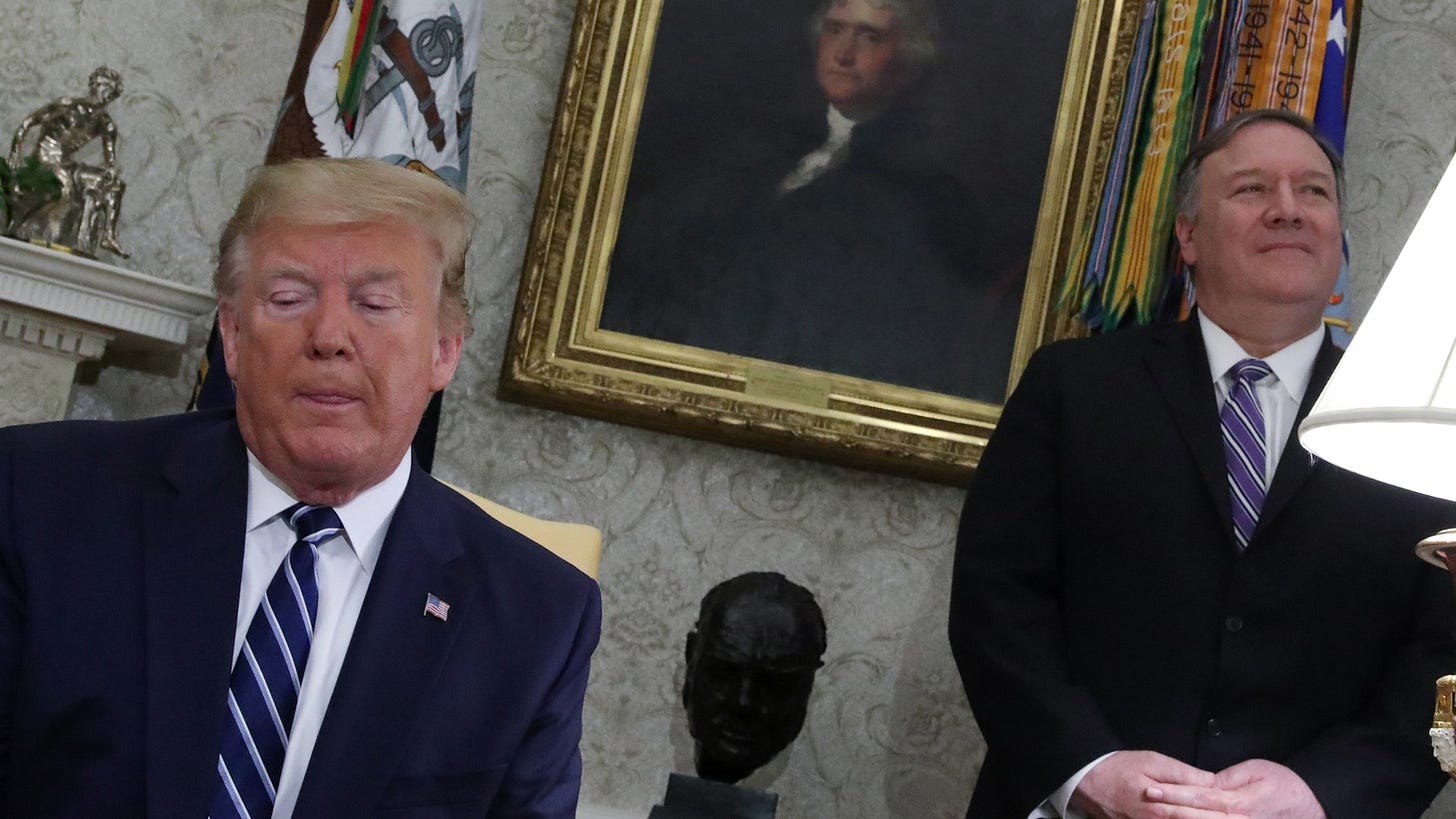 Night of Sept. 11, 2019: Trump suddenly releases the funds to Ukraine with no change in circumstances or explanation.
Sept. 13, 2019: Acting Director of National Intelligence, James Maguire, sends Rep. Schiff a letter through his counsel, relaying that that Mr. Maguire will not appear Sept. 17 at a hearing as requested, on the basis that the whistleblower complaint involves "potentially privileged matters." Schiff issues a subpoena, Maguire does not comply.
Sept 17, 2019: Maguire sends Schiff another letter to denote that the whistleblower complaint does not rise to level of "urgent concern" and therefore no legal standard for Congressional disclosure exists and that a hearing on the matter would be "premature."
Sept. 18, 2019: Pence calls Zelensky six days after the military aid package was actually released to Ukraine. The readout of the call states that, "The Vice President commended President Zelenskyy's administration for its bold action to tackle corruption through legislative reforms, and offered full U.S. support for those efforts."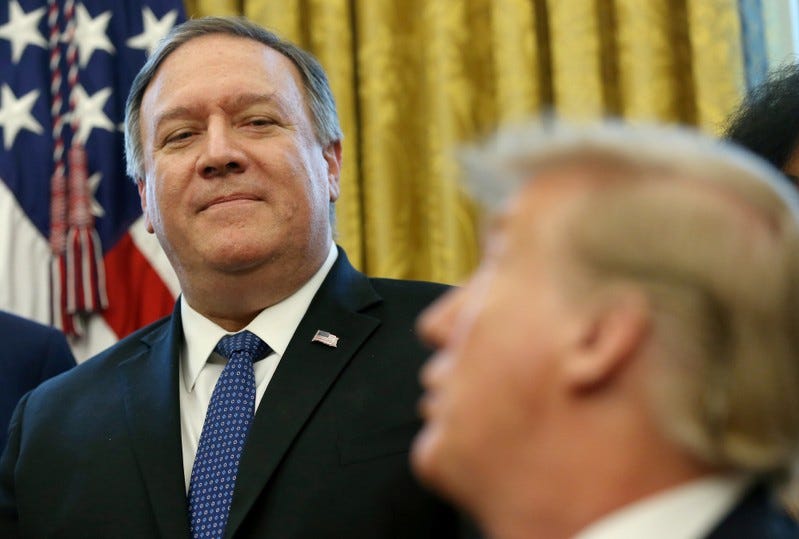 Sept. 19, 2019: Atkinson meets behind closed doors with the House Intelligence Committee but claims he was not authorized to discuss the contents of the complaint. House Speaker Nancy Pelosi (D-Calif.) urges Maguire to release the complaint, warning of "a whole new stage of the investigation."
Sept. 24, 2019: Pelosi announces formal impeachment inquiry into Trump.
Sept. 25, 2019: White House releases a condensed "transcript" memorandum of the call between Trump and the Zelensky. Later that day, the whistleblower complaint is declassified by Maguire and shared with Congress only.
Sept. 26, 2019: Acting intelligence chief Maguire testifies before the House Intelligence Committee to defend his handling of the whistleblower complaint. Trump and Zelensky meet in New York during the U.N. General Assembly where Zelensky tells reporters he does not feel pressure.
It's been reported that Trump recently called the Australian Prime Minister to pressure him to assist William Bar and the Department of Justice in undermining the Mueller Report. The call was apparently made at the insistence of Attorney General Barr and is a part of the administration's ongoing and far-reaching attempt to try and prove that U.S. Intelligence Agency reports about Russian interference in the 2016 election were wrong.
After previously making overtures to British intelligence officials to assist the Trump administration with discrediting the Mueller Report, William Barr traveled to Italy last week. He was accompanied by John Durham, the U.S. attorney in Connecticut, who has been assigned to review U.S. intelligence work involving the 2016 election. According to reports, this was not Barr's first trip to Italy to meet intelligence officials.
Stay tuned for my next post, which will be a breakdown of all the key players involved, including members of the State Department who are already scheduled to testify later this week.
---
If you like this piece and you want to help support independent journalism from a female perspective, you can forward this article to others or send a gift a subscription to someone else today. 
Amee Vanderpool writes the "Shero" Newsletter and is an attorney, contributor to Playboy Magazine, analyst for BBC radio and Director of The Inanna Project. She can be reached at avanderpool@gmail.com or follow her on Twitter @girlsreallyrule.