Friday Night Massacre at the Post Office
Newly appointed Postmaster General Louis DeJoy has recently distributed a memo describing a substantial restructuring that implements a hierarchal chart within the United States Postal Service, that many are referring to as a "Friday Night Massacre." The new system effectively removes two high-up executives overseeing day-to-day operations and displaces 23 top postal executives. The reorganization memo was released Friday and a copy of it was reviewed by The Washington Post.
(Image of a US Postal Service vehicle on fire in Manassas, Virginia in Dec. of 2017.)
According to analysts, who reviewed the newly implemented instructions and accompanying chart, "the new structure centralizes power around DeJoy, a former logistics executive and major ally of President Trump, and de-emphasizes decades of institutional postal knowledge." This most recent restructuring comes on the heels of the latest request from House Democrats calling for an investigation of DeJoy. Democrats have concerns — his recent actions will further threaten to delay mail delivery just ahead of an election that will be utilizing mail-in voting.
This latest move by DeJoy has displaced two top executives who were pivotal in overseeing day-to-day operations, and according to the new hierarchical chart, 23 postal executives have been reassigned or removed from their previous posts. In all, 33 staffers included in the previous power structure have either kept their jobs or have been reassigned in the massive restructuring. Additionally, DeJoy has brought in five more staffers to comprise the new leadership from other roles altogether.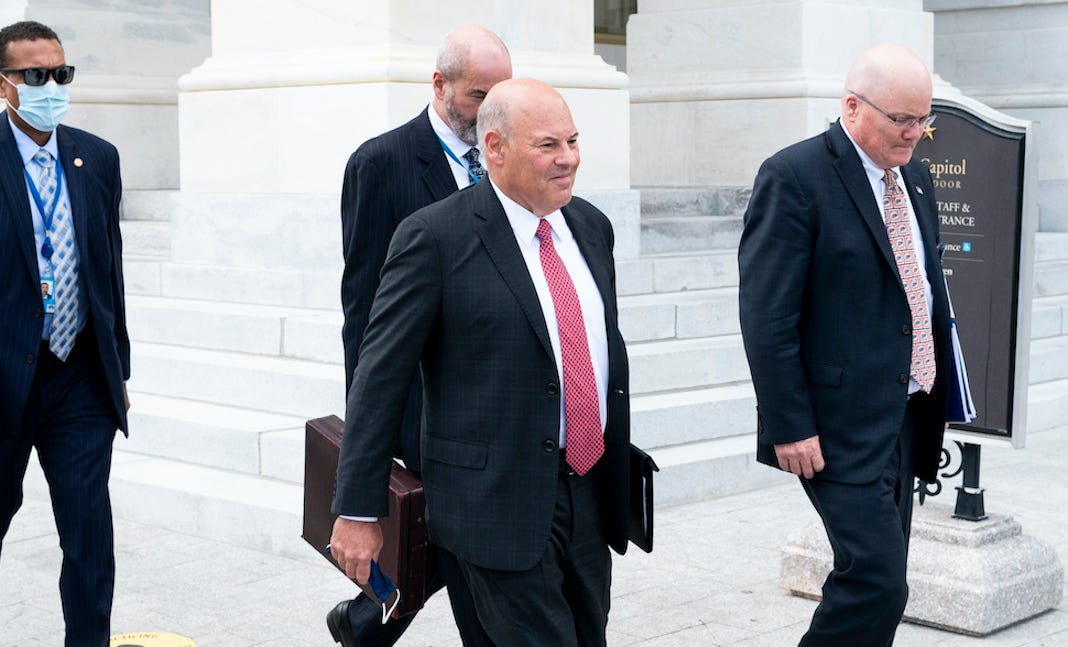 (US Postmaster General Louis DeJoy (center) departs the Capitol Building in Washington, DC, on August 7, 2020. Photo by Bill Clark/CQ Roll Call, via AP Images.)
American Postal Workers Union President, Mark Dimondstein, told CNN in an interview Friday that the union has received a number of reports from postal workers and customers over the last two weeks that mail delivery has slowed and "degraded." The union represents more than 200,000 Postal Service employees and retirees.
In his latest memo, DeJoy emphasized his promises from video remarks when he started on his first day saying, "As I said in the video remarks released on my first day, 'I am decisive, and…when I see problems, I work to solve them.' Early on, I concluded that our organizational structure was just such a problem to solve." DeJoy went on to explain, "I have decided we need to realign the organization to provide greater focus on the core aspects of our business and to give us a better chance for future success."
(Louis DeJoy, who has no previous experience in government prior to being appointed as Postmaster General, on his success in business to students at Elon College in 2017.)
DeJoy explained in his memo that the new structure would create "clear lines of authority and accountability," but many fear that it is based on a plan to do just the opposite. DeJoy is no stranger to implementing new procedures within his first few months in his post. Since taking the position in May of this year, his recently implemented US Postal Service procedures have led to substantial delays across the country in mail delivery.
There have been reports of mail bins that should have been delivered, just left in post offices due to scheduling and route changes, and increased delivery times due to letter carriers sorting more mail themselves. This next step by DeJoy represents an obvious and deliberate attempt to cost the post office more valuable time. Rep. Gerald E. Connolly (D-VA), chair of the House subcommittee responsible for postal oversight, has referred to this latest restructuring as "a deliberate sabotage" to the nation's mail service and a "Trojan Horse."
(Treasury Secretary Steven Mnuchin, center, and White House chief of staff Mark Meadows, left, walk to House Speaker Nancy Pelosi's office on Capitol Hill in Washington for continued talks on the second coronavirus relief package on Wednesday, Aug. 5, 2020. All parties met with DeJoy on August 7, 2020.)
The postal service has already come under scrutiny for its increase in prices for services. After the pandemic halted much of the economy in early Spring, the postal service was desperate for a $10 billion line of credit to keep the agency intact. Treasury Secretary Mnuchin and Trump have been intent on making what was previously an apolitical operation work in their political favor. There was increased pressure to charge higher prices to corporations that Trump felt he was in competition with, such as Amazon.
The USPS has declined to comment publicly on these latest staffing changes, but they have released a shorter description of the changes that did not include DeJoy's remarks to postal workers in a press release. According to this shortened reorganization announcement, the Postal Service will now implement a hiring freeze and will ask for voluntary early retirements.
It also will realign into three "operating units" — retail and delivery, logistics and processing, and commerce and business solutions — and scale down from seven regions to four. For an entity that appears to be struggling with operations, delivery and capacity, it seems counterintuitive that the Postmaster General would stop hiring and encourage experienced workers to leave — but, this is precisely the point.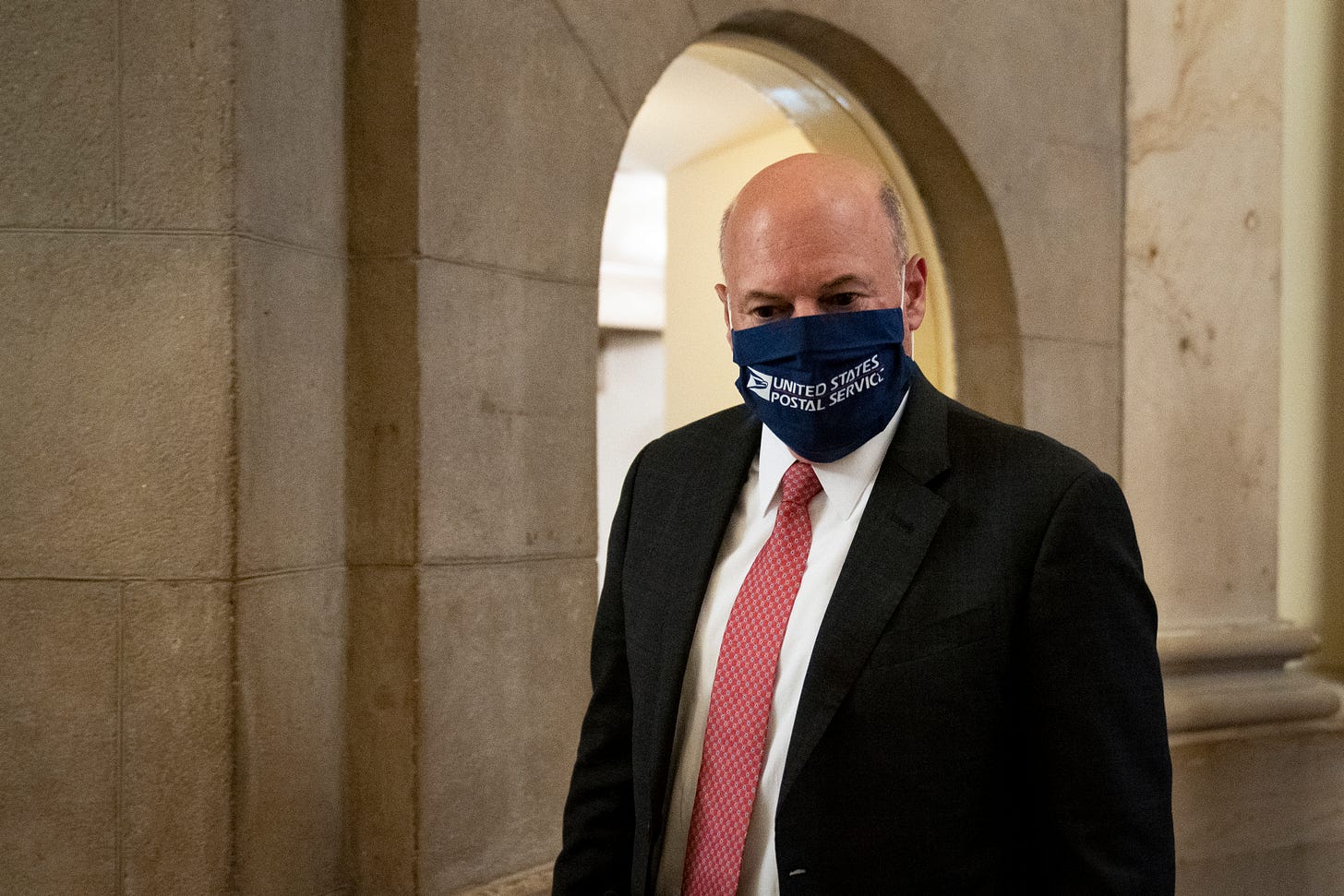 (Postmaster General Louis DeJoy departs from a meeting with Speaker of the House Nancy Pelosi (D-CA), Senate Minority Leader Chuck Schumer (D-NY), Treasury Secretary Steven Mnuchin and White House Chief of Staff Mark Meadows in the Capitol on Wednesday, Aug. 7, 2020. (Photo by Caroline Brehman/CQ-Roll Call, Inc., via Getty Images.)
Given the increased threat of mail-in voting for Trump and his bid for re-election in November, many feared that his administration would take the opportunity to strike the post office down and deny the loan. Clearly he has decided on another path — one that includes planting his own cronies in pivotal positions internally within the USPS in order to tear it down from the inside out.
Many are now rightfully speculating that this was the plan all along as DeJoy is a Trump loyalist who has given millions of dollars to the Republican Party and the Trump campaign. If Trump were looking to install someone to do his bidding, and purposely break the postal system that is in charge of delivering votes against him — DeJoy is certainly the man for the job.
Click on this link to read the first half of this story, Destroy the Post Office, Steal an Election.
---
Amee Vanderpool writes the SHERO Newsletter and is an attorney, published author, contributor to newspapers and magazines and analyst for BBC radio. She can be reached at avanderpool@gmail.com or follow her on Twitter @girlsreallyrule.
Your paid subscriptions allow me to keep publishing critical and informative work that is sometimes made available to the public — thank you. If you like this piece and you want to further support independent journalism, you can forward this article to others, get a paid subscription if you don't already have one or send a gift subscription to someone else today.