Ivanka's Fake Feminism Hits New Low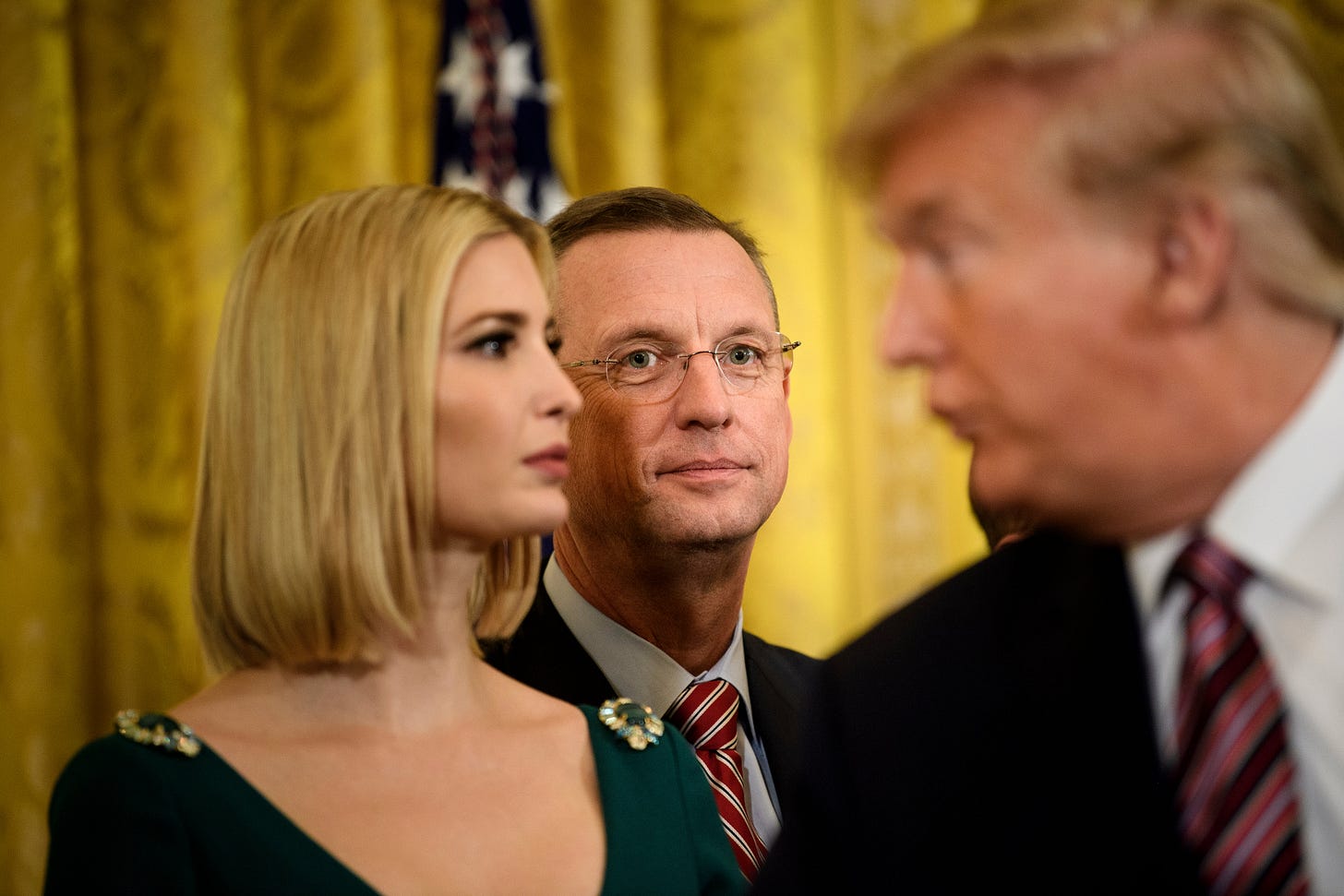 (Ivanka Trump, Rep. Doug Collins (R-GA), and President Trump at a Hanukkah reception in the East Room of the White House December 11, 2019, via Brendan Smialowski/AFP and Getty Images.)
On Sunday, Ivanka Trump went on Face the Nation to answer a series of softball questions from Margaret Brennan and to tout her role in the recent addition of the 12-week paid family leave provision of the National Defense Authorization Act (NDAA). recently signed into law by Donald Trump. The family leave portion was included after House Democrats muscled to get it added when they saw an opening for negotiations after Trump sought to include funding for his new Space Force in the bill. Ivanka tried to take full credit for the provision on Sunday and it is yet another aspect of her fabricated feminist agenda.
This type of duplicitous spin is nothing new for Ivanka Trump; her White House brand is built on it. In February, the Trump Administration launched a new initiative called the "Women's Global Development and Prosperity Initiative (WGDP)," that claimed it sought to endeavor to address "women's economic empowerment and equality." The roll-out page of the initiative admits that "women's labor force participation rates are unequal to men's, decent work opportunities are far too limited, and significant gender pay gaps in the labor market remain." 
But as you scroll through the formally listed goals proposed by the Trump administration, that include "Women Prospering in the Workforce, Women Succeeding as Entrepreneurs and Women Enabled By the Economy," you are quickly struck by the inaccuracies and lip-service being paid to this topic, as if to put on a show for people who don't know the real record of this administration. The truth is that the Trump Administration's record on opposing programs and current laws that have proven results with regard to benefitting women both domestically and globally is substantial, which only adds to the illegitimacy of this "initiative." 
A primary example is from October 2017, when the Trump Administration halted another Obama-era initiative aimed at fighting employer discrimination against women and minorities. The halted rule, scheduled to go into effect in 2017, would have legally compelled companies to submit additional information about employees and wages to the Equal Employment Opportunity Commission, adding further protections to Equal Pay.
While many more attempts at breaking down legal protections for women that lead to empowerment exist, this is a prime example where the Trump Administration took an active role in suppressing the advancement of women in the United States while Ivanka Trump looked on. To now claim to champion the empowerment of women in the workplace, while halting the pre-existing protections for women in the areas of workplace discrimination, is not only inaccurate, it's insulting. 
The launch of the Women's Global Development and Prosperity Initiative likely serves two purposes. Firstly, it seeks to provide a vanity project for Ivanka Trump to help combat the bad press she continues to receive for claiming she is motivated by feminist issues and female empowerment. The push from the White House claiming that Ivanka intends to serve as some sort of brand ambassador for modern day feminism was pervasive, making it clear that the whole concept behind the initiative was created to help her sell her new brand.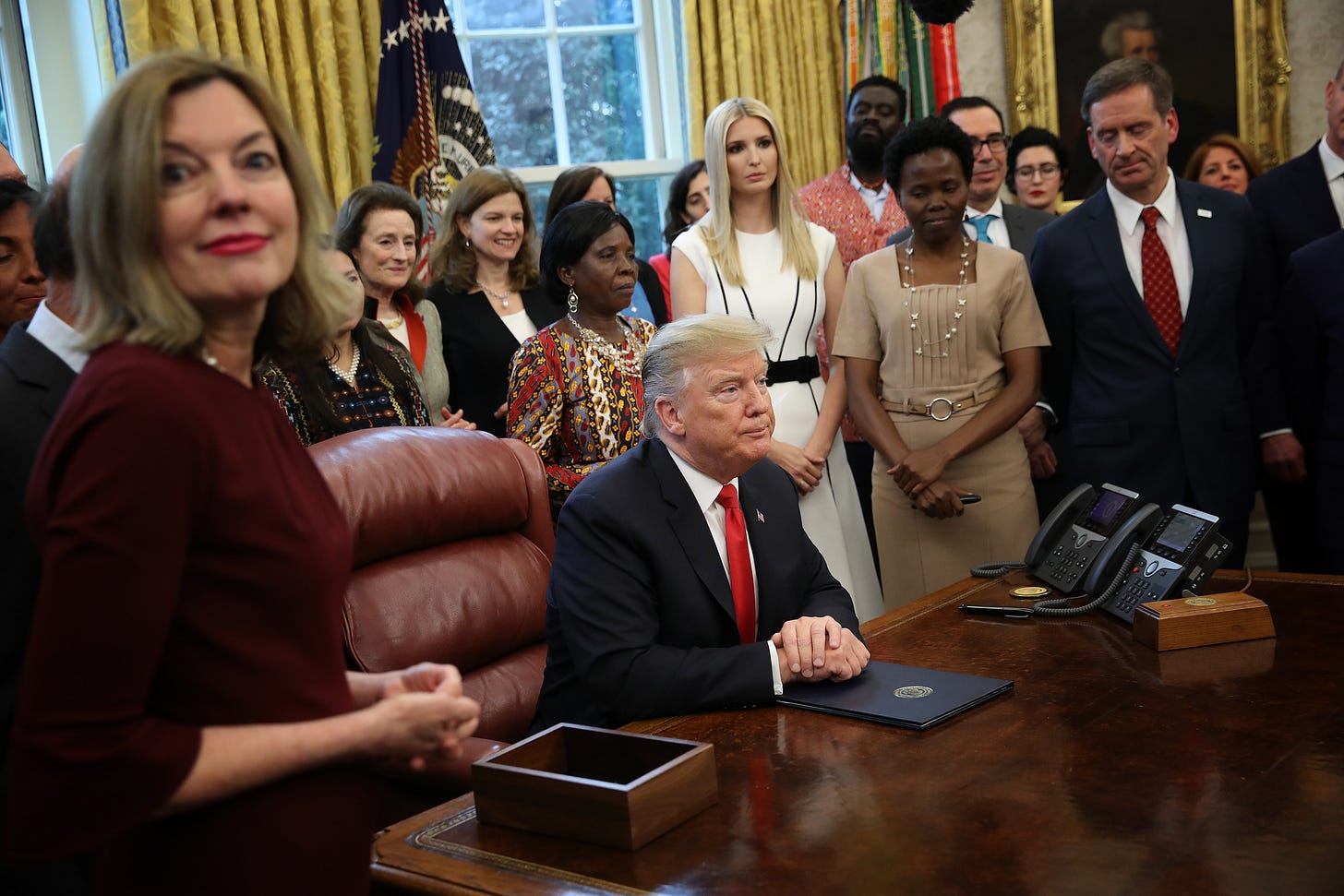 (Trump in the Oval Office with Ivanka Trump as he launches the Women's Global Development and Prosperity Initiative on February 7, 2019. Photo Win McNamee, via Getty Images.)
In August of 2017, when Donald Trump announced that he would be halting an equal pay rule put in place by the Obama administration that would have required large companies to collect and report information on Equal Pay and opportunity in the workplace, Ivanka Trump said nothing and did nothing while continuing to claim that she stands for women's equality. When Trump re-instated a Reagan-Era gag rule immediately after taking office in 2017, he expanded the global gag-rule further to extend to 40 countries-Ivanka also stood by and said nothing.
In April of 2017, the Trump Administration decimated some of the U.S.'s strongest protections for Equal Pay by revoking President Obama's 2014 Fair Pay and Safe Workplaces executive order while Ivanka Trump stared blankly forward and paraded her image to the press as a defender of women. This law sought to provide protections to women in the workforce by assessing not only the issue of Equal Pay but equal access. It also allowed legal recourse to women, who found they were experiencing pay discrimination in the workplace. Because we have yet to pass an Equal Rights Amendment, which would protect citizens on the basis of gender discrimination, the protections afforded by the Obama era regulations were really all that existed to enable women to fight back against workplace discrimination. Ivanka smiled and posed as it was all obliterated.
Ivanka's appearance on Face the Nation was another healthy dose of Trumpain hypocrisy, reflecting the extension of her father's approach to selling his brand in her own style. When asked about her take now on Trump's border separation policy, Ivanka completely misread the appropriate tone and responded as if she were in a board room and not serving the public. She quickly denied responsibility and then defended the policy her father created, that she claimed to oppose only months ago.
The Trump Administration's continuous attempts to control women's economic viability through access to proper healthcare and the ability to make informed decisions that are best for themselves, forms the basis for the ongoing struggle at a very basic level for women to compete. The protections which seek to create a truly equal workforce, complete with Equal Pay and Equal Opportunity have been purposely eradicated. Women are still not provided with the basic protections afforded the category of race without an Equal Rights Protection.
To add insult to injury, the Trump Administration has essentially declared a war on women and the advancement of women while putting a false image of feminism and equality forward in the guise of Ivanka Trump. This is a tactic I expect to see perpetrated by assembly line Fox News talking heads, but when it's presented as a cutting edge interview on a holiday weekend, I grow especially suspicious.
It's also likely that Trump supporters are so unfamiliar with the basic tenets of feminism that this display by Ivanka might actually sell the proposition that she had a hand in helping to propel a 12-week family leave. But those of us who have actually been in the fight our whole lives and paid for the fallout with our own disadvantages know better and we have had it. Ivanka Trump's brand of imitation feminism and faux empowerment has now escalated in dangerousness.
We might be tempted to just laugh off these appearances and dismiss the obviousness of the ploy to seduce ignorant people, but given how many protections Ivanka has helped to abolish, we can no longer afford to do this. Ivanka Trump's fake brand has now become as dangerous as her father's as she utilizes the same skills to peddle lies that seek to destroy the very rights she claims to protect.
---
If you like this piece and you want to help support independent journalism from a female perspective, you can forward this article to others, get a paid subscription now or send a gift a subscription to someone else today. 
Amee Vanderpool writes the "Shero" Newsletter and is an attorney, contributor to Playboy Magazine and analyst for BBC radio. She can be reached at avanderpool@gmail.com or follow her on Twitter @girlsreallyrule.