New Transcripts Reveal Trump's Quid Pro Quo Nearly Cost Ukraine $100 Million
The House committees conducting the impeachment inquiry have released the transcripts of the closed- door depositions for Laura Cooper, Catherine Croft and Christopher Anderson.
The U.S. House of Representatives committees conducting the impeachment inquiry into Trump released transcripts from closed-door depositions with Deputy Assistant Secretary of Defense Laura Cooper and State Department Ukraine specialists Catherine Croft and Christopher Anderson on Monday. The good news is that we have more testimony to dissect, the bad news is that the timing of these specific releases is slightly unfortunate, as I have somehow merged Cooper and Croft into one person that I keep referring to as Laura Croft.
Legal Concerns and Ukraine Almost Losing $100 Million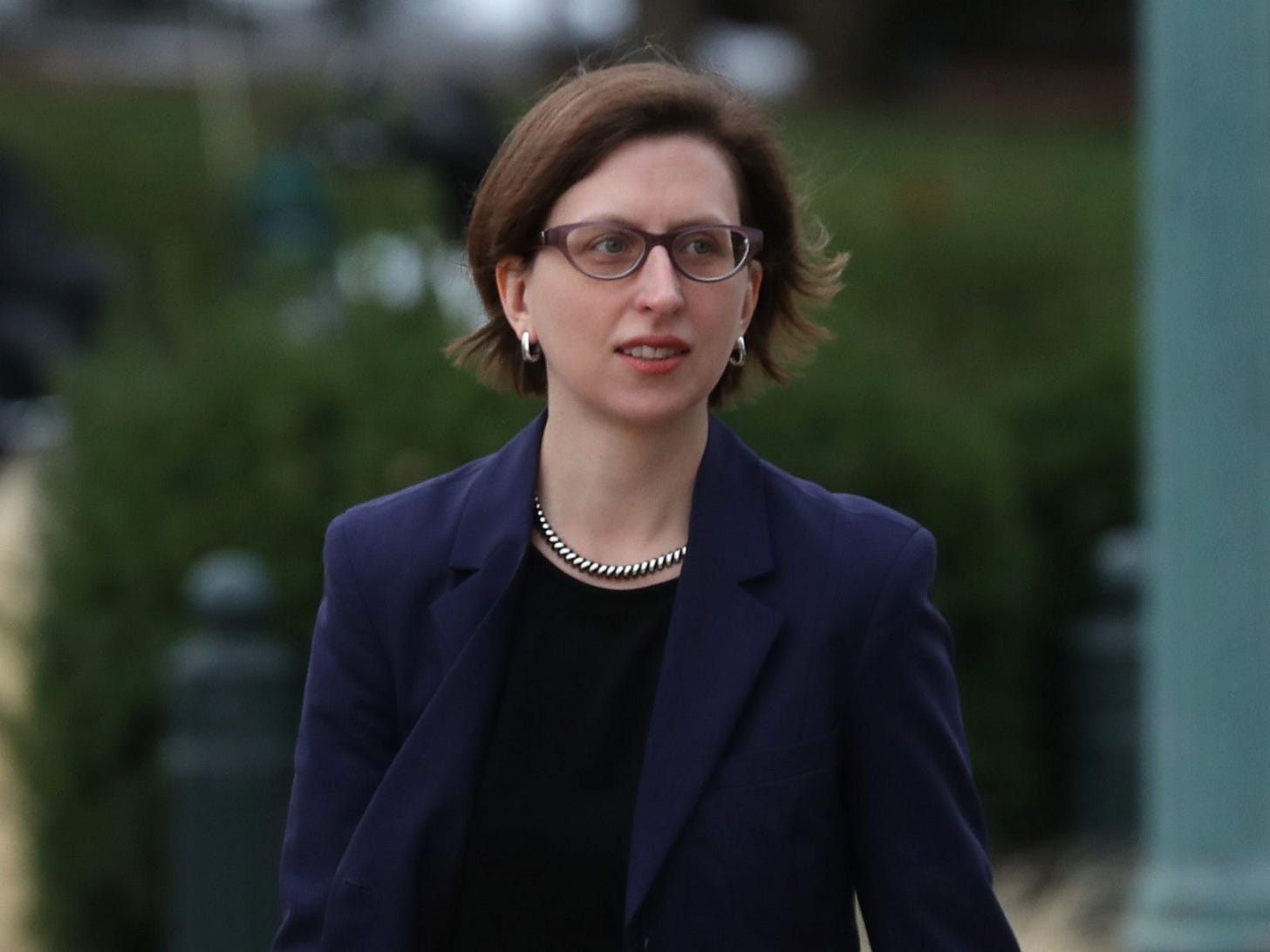 (Laura Cooper, Deputy Assistant Secretary of Defense, arrives on Capitol Hill for closed-door testimony in the Trump impeachment inquiry, on Oct. 30, 2019.)
According to another newly released transcript on Monday, Laura Cooper, Deputy Assistant Secretary of Defense, testified that Trump directed the freezing of military aid for Ukraine through the Office of Management and Budget ostensibly over corruption concerns. Her testimony in October was initially interrupted by Republicans who forced entry into her closed-door deposition taking place in the basement SCIF of the House. Once her deposition was resumed, Cooper testified that officials were so concerned about the legalities of withholding the Ukrainian military aid, that during a meeting held the day after Trump's July 25 call with President Zelensky, "deputies began to raise concerns about how [withholding the aid] could be done in a legal fashion."
In her deposition, she told the committees that during an inter-agency meeting on July 31, 2019, "there were many affirmative statements that the Congress has appropriated this, we need to obligate it," and the D.O.D explained at that point that the only legal way to withhold the funds were a presidential "rescission notice" to Congress or a "reprogramming action."
Cooper testified that she was aware of the legal concerns being raised due to a conversation with former U.S. Envoy to Ukraine Kurt Volker and from "alarm bells that were coming from Ambassador [Bill] Taylor and his team that there were Ukrainians who knew" about the aid being frozen in August. In the transcript, Cooper alluded to the Ukrainian quid pro quo by explaining that, "the context for the discussion that I had with Ambassador Volker related specifically to the path that he was pursuing to lift the hold would be to get them to make this statement, but the only reason they would do that is because there was, you know, something valuable."
A: But towards the end of August when [Volker] met with me for what, you know, I thought was going to be you know just a routine touch base on Ukraine, but also I thought it was going to be a strategizing session on how do we get this security assistance released knowing that we both—we both wanted the funding released. So in that meeting he did mention something to me that, you know, was the first about somehow an effort that he was engaged in to see if there was a statement that the government of Ukraine would make that would somehow disavow any interference in U.S. elections and would commit to the prosecution of any individuals involved in election interference. And that was about as specific as it got.

Q: Okay. Did he indicate to you that if that channel he was working was successful it might lift this issue?

A: Yes.

(Excerpt from transcript of Laura Cooper's testimony before the House.)
Cooper also testified that the Department of Defense was "concerned" that delaying the security assistance to Ukraine would weaken "a strategic partner" and make it "much more difficult for [the D.O.D.] to negotiate a peace on terms that are good for Ukraine." Cooper confirmed to investigators that the D.O.D., in coordination with the interagency, had certified in May 2019 that Ukraine satisfied the anti-corruption benchmarks issued by the Pentagon and that Ukraine was eligible then to receive the security assistance.
Cooper confirmed that she attended a July 23 meeting during which Trump's "concerns about Ukraine and Ukraine security assistance," was brought up by Acting White House chief of staff Mick Mulvaney, who was also in charge of the Office of Management and Budget. Cooper explained that the O.M.B. directly informed the Department of Defense and other agencies during a meeting in July that the "funds were [going to be] held without explanation," and that the Pentagon "did not get clarification."
Additionally, Cooper testified that "[A]ll of the senior leaders of the U.S. national security departments and agencies were all unified in their—in their view that this assistance was essential." She also stated that after Trump froze the security assistance, the D.O.D. did no further assessments of Ukraine's anti-corruption progress because "D.O.D. participants affirmed that we believed sufficient progress has been made."
Cooper also confirmed that in August, the Department of Defense estimated that ramifications of the freeze on security assistance to Ukraine by the President put $100 million dollars at risk. Ultimately, she stated, the D.O.D. was able to "make up for lost time" and get all of the aid to Ukraine, but the risk that all of the funds would no longer be "obligated" was strong. Bottom line: Trump's refusal to follow the Pentagon's recommendation to provide the aid to Ukraine because he was interested in leveraging it for personal favors could have cost Ukraine $100 million dollars entirely.
Catherine Croft
(Catherine Croft arrives to testify on Capitol Hill for the impeachment inquiry into President Trump on October 30, 2019.)
U.S. foreign service officer Catherine Croft, who once served as a deputy to then-Special Envoy for Ukraine Kurt Volker, gave a closed-door deposition before impeachment investigators on Oct. 30 and that transcript was also released on Monday. Croft testified that that in May of 2019, she discussed her concerns with Ambassador Bill Taylor that if "Biden was going to be a credible rival for [President Trump], that might push him to change the policy on Ukraine." Croft explained that she was initially "trepidatious" about accepting a position as a Special Assistant to Ambassador Kurt Volker because "it was possible that the Trump administration would choose to change its policy to suit domestic politics."
Cooper stated in her deposition (excerpted below) that Ukrainian officials had raised concerns about the hold on security assistance very early on:
Q: When in July – it was first, you know, sort of one of the meetings you said was blown up by the news that there was a hold on the military assistance. This is now in 2019. I think you made a comment along the lines that it was inevitable that people were going to find out about this. Is that right?

A: That was my assessment at the time, yeah.

Q: News of this kind that there was a hold on this military assistan[ce] wasn't something that's going to be kept bottled up with as many people knowing about it as they did?

A: That's correct, yeah.

Q: And, in fact, I think you said that word of that got to the Ukrainians, and two Ukrainian officials from the embassy reached out to you quietly to ask you about this hold?

A: That's right.
Cooper gave the alarming testimony that O.M.B. had placed a separate, earlier hold on Javelin missiles, because acting Director Mick Mulvaney was concerned that "Russia would react negatively to the provision of Javelins to Ukraine." Cooper explained that Mulvaney later lifted the hold after N.S.C. officials briefed him that "the agencies were in agreement about the policy moving forward."
Cooper detailed to the investigators that she received "multiple calls" from lobbyist Robert Livingston who explained that Ukraine Ambassador Marie Yovanovitch should be fired. Yovanovitch was ultimately recalled from her post in the spring, after Trump removed her despite no reason to do so.
Christoper Anderson
(Christopher Anderson arrives at the U.S. Capitol to review his testimony on Nov. 7, 2019.)
The impeachment committees also released the deposition transcript of Christopher Anderson, a career Foreign Services Officer, who previously worked as a deputy to then-Special Envoy for Ukraine Kurt Volker. Anderson told investigators that in March of 2019, the Prosecutor General of Ukraine "was trying to keep his job by making himself useful [to] Giuliani and others [by] trying to play into U.S. domestic politics and thereby win favors."
Anderson testified that Ambassador Volker said he "had been in touch" with Rudy Giuliani, and "that he did not think this issue was going away." Anderson stated that Volker felt they had to actively do something to "change the narrative" and distract the Giuliani team from disrupting things. He also recounted that during a May 23 meeting in the Oval Office, "the President said something to the effect of the Ukrainians tried to take me down."
In his deposition, Anderson relayed that in the June 13 meeting with Volker and National Security Advisor John Bolton, Bolton warned them "that Mr. Giuliani was a key voice with the President on Ukraine [and] every time Ukraine is mentioned, Giuliani pops up and that the President was listening to Giuliani about Ukraine." Anderson then documented this exchange in an email to George Kent the next day and sent around a more formal summary later to State Department colleagues as well.
Anderson continued by telling the committees that after a meeting at the Department of Energy on June 18, both he and former Ambassador Taylor discussed that "it was important not to talk about—not to push for individual investigations." He also explained that Bill Taylor "repeatedly expressed his concern that Giuliani would make his job difficult" and that Taylor requested assurances from Secretary of State Mike Pompeo that "our policy for Ukraine would not change." Taylor also made it clear to Anderson at that time that if that policy of not pushing for investigations changed, he would resign.
Mr. Anderson testified that he had a "fear that if Giuliani's narrative took hold, that the Ukrainian Government was an enemy of the President," and that narrative would undermine the U.S. government's efforts to resolve the Russia-Ukraine conflict in the Donbas. He also confirmed that after Russia seized Ukrainian military vessels in the Sea of Azov on November 25, 2018, the State Department quickly prepared a statement for the White House to condemn the Russian escalation, but President Trump "put an embargo on any statements [and] there was never a statement from the White House" with regard to those concerns.
Where Do We Go From Here?
The House will begin holding public hearings on Wednesday and the first witnesses scheduled to testify are former Ambassador Bill Taylor and George Kent. Reminder that Bill Taylor was the first to confirm to impeachment investigators that Trump was involved in a quid pro quo with Ukraine. On Friday, Nov. 15, we will have public testimony from former Ambassador to Ukraine, Marie Yovanovitch and her ability to explain the nuances of what has occurred so far should be incredibly interesting.
Trump has stated that he will be releasing another "transcript" of a conversation with President Zelensky from April today, but considering how he alters documents, it could delay things while we all decipher what he has changed/left out of this one. There will also be some changes to the format of the witness questioning compared to previous hearings, and I will be explaining what changes we can expect in procedure in a special impeachment post tomorrow, so be sure to check-in for that. I oscillate between calling this week "Impeachment Blanket Bingo" and "Sho Much Shero, Sho Little Time."
---
If you like this piece and you want to help support independent journalism from a female perspective, you can forward this article to others or send a gift a subscription to someone else today.
Amee Vanderpool writes the "Shero" Newsletter and is an attorney, contributor to Playboy Magazine, analyst for BBC radio and Director of The Inanna Project. She can be reached at avanderpool@gmail.com or follow her on Twitter @girlsreallyrule.