Public Impeachment Hearings Start Today!
Here's a breakdown of the major players, the new rules, the possible charges and everything you can expect from both sides in the inquiry.
(View of the largest chamber for the House Ways and Means Committee that will be used for the impeachment inquiry of Donald Trump.)
The House is set to begin the next phase of impeachment, that includes public hearings this morning, for the impeachment inquiry into President Trump. The first hearing is scheduled to begin at 10 a.m. Eastern on Wednesday, and it will be televised and live-streaming everywhere. C-SPAN has reportedly gone all in on the impeachment hearings, and will provide coverage that includes seven cameras with five different angles and will be utilizing 12 employees to manage the production, which is triple what they normally have.
What We Can Expect
The public hearings will be held in spacious, columned, decidedly federalist chambers of the Ways and Means Committee. This room is considered to be the House's grandest hearing room, and is the perfect backdrop for the historical importance of impeachment hearings.
The House Intelligence Committee will conduct the actual inquiry itself, led by Democratic chairman, Rep.Adam Schiff (D-CA), and his Republican counterpart, Rep. Devin Nunes (R-CA). Republicans also made an interesting new defensive move last Friday by officially assigning Rep. Jim Jordan (R-OH) to the House Intelligence Committee at the last minute and ahead of the televised hearings, to provide access to another Trump mouth piece who has proven successful at derailing proceedings in the past.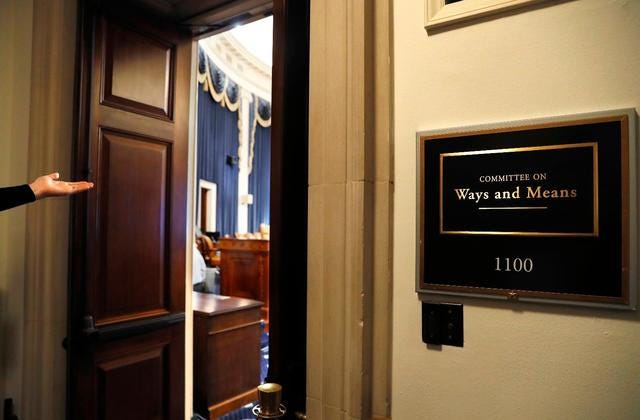 The witnesses who will testify before Congress today include former Ambassador William B. Taylor Jr., a previous top American diplomat in Ukraine, and George Kent, a current Senior State Department official in charge of Ukraine policy. Taylor provided investigators with shocking closed-door testimony about the details relayed to him by Trump's inner circle about the quid pro quo with Ukraine. He was able to vividly describe exactly how the Trump administration used military aid to try to coerce Ukraine into investigating the president's rivals, and the resulting effect that had on the precarious U.S. relationship with Russia. All of these aspects mean that Taylor's public testimony this morning should be exceptionally comprehensive and incredibly juicy.
Testimony by George Kent should prove to be informative with regard to the inner workings of the Trump administration in concocting elements of the quid pro quo plan, as he will be able to elaborate on Rudy Giuliani's extensive involvement. Kent previously told investigators that Giuliani was the one who was spearheading the push for Ukraine to investigate Biden and he classified this effort as "injurious to the rule of law." Kent has also testified that he heard Bill Taylor say that Trump wanted Ukrainian President Zelensky to announce an investigation into the 2016 election by specially using the words "Biden" and "Clinton."
New Format, New Rules
There will now be two new staff lawyers in attendance, who have been conducting most of the questioning of witnesses in closed-door testimony so far. Daniel Goldman, a former federal prosecutor in Manhattan, will ask questions for Democrats and Steve Castor, a congressional investigator who has worked with the House since 2005, will conduct questioning for the Republican side. Under the special rules adopted late last month, interviews will now be split into 45-minute segments for both Schiff and Nunes and that time can be delegated to the staff lawyers at any time. Rep. Schiff has said that he intends to have a staff lawyer conduct questioning for a substantial block of his allotted time.
Democrats on the House Intelligence Committee started a marathon prep session on Tuesday afternoon and conducted their practice sessions in bunker-like offices. They have meticulously worked through question scripts and prepared for every scenario, knowing that every minute on camera counts and could make or break their case for impeachment to the American people.
Republicans have also been busy prepping their own strategy in bunker-like rooms and figures like Minority Leader Rep. Kevin McCarthy (R-CA) and Rep. Jim Jordan (R-OH) have been seen emerging from the prep sessions all week, surrounded by aides hauling oversized binders and blown-up printouts of what appear to be exhibits for the hearing.
Impeachment Charges on the Table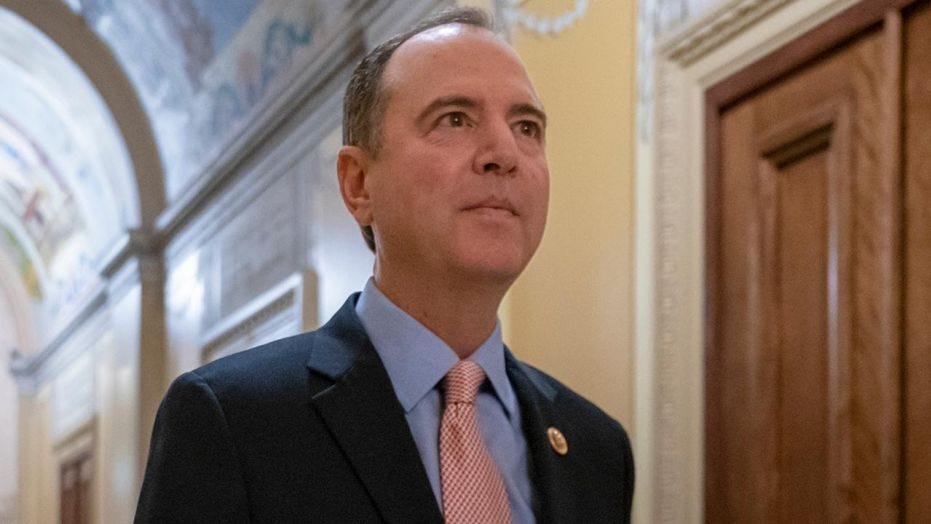 House Intelligence Committee Chairman Adam Schiff (D-CA) has recently said that he already sees several potential impeachable offenses Trump has committed, including bribery. During an interview at the Capitol on Tuesday, Schiff explained that he believes a clear argument can be made that Trump committed both "bribery" and "high crimes and misdemeanors" when pressuring the Ukrainian government to investigate Biden and his son in exchange for long-promised military aid.
Schiff surmised that both of those crimes are explicitly outlined in the Constitution as impeachable offenses: "Bribery, first of all, as the founders understood bribery, it was not as we understand it in law today." Schiff went on to explain that the intention of the impeachment laws specified by the Constitution were "much broader [and] connoted the breach of the public trust in a way where you're offering official acts for some personal or political reason, not in the nation's interest."
Schiff explained that in order to be successful with both of these charges, it has to be proven that the president was "soliciting something of value"— Schiff thinks multiple witnesses before his committee have already testified in private that this has occurred.
How Trump and Republicans Will Divert Attention
Trump has purposely scheduled all-day White House meetings with Turkish President Erdoğan today and will be drawing out the process, culminating with a joint press conference at 3 p.m., Eastern Time. You can expect Trump to use segments of these White House discussions to try and break into televised programming at several points throughout the day — many meetings are scheduled, including one with the First Lady.
House Republicans circulated a memo that laid out a strategy for defending Trump in the public phase of the impeachment process. G.O.P. staff members of the committees conducting the impeachment inquiry laid out a strategy for defending Mr. Trump as public hearings start and wrote out an actual game plan: say Trump did nothing wrong and attack the bureaucrats questioning his conduct.
Reports have also conveniently surfaced that Trump has discussed dismissing the intelligence community's inspector general, Michael Atkinson — the official who reported the whistle-blower's complaint to Congress. According to inside sources, Trump believes Mr. Atkinson, who was appointed in 2017, has been disloyal by validating the whistleblower report and should be fired for it.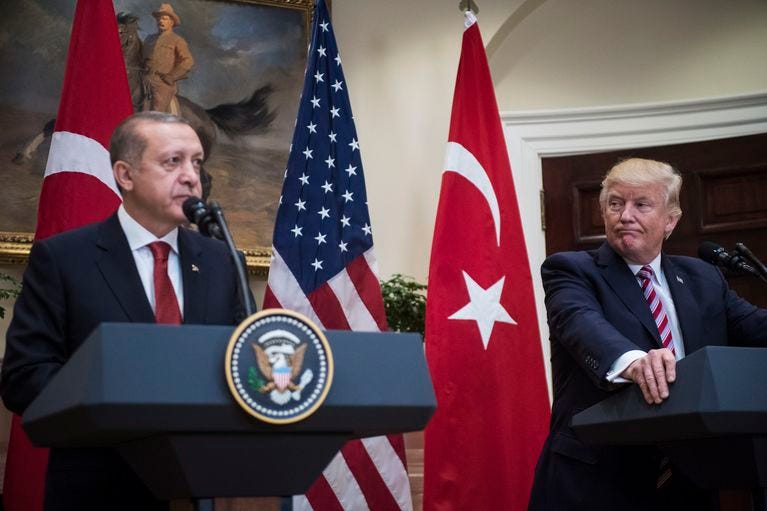 John Bolton, Trump's former National Security Advisor, has also been making news and gave a private speech last week in which he said that Trump's foreign policy was guided by his personal and financial interests. Although Bolton has often been the subject in the closed-door testimony so far, he has yet to give his account for the record. Bolton is currently engaged in legal action, where he has asked a judge to rule on the legality of possible future testimony and his lawyer has confirmed that he will in fact testify if the court orders that he should.
Lastly, Attorney General William Barr has been laying low since his world tour on the hunt for anything that might validate Trump's ridiculous alternative-theory about Biden and 2016 political interference. He has been very quiet as of late, and there are rumblings that he might be prepared to assist Trump with any necessary distractions. It's very possible that he could issue a statement that in some way helps Trump's defense narrative from the legal sector.
Now that you are briefed on today's events, take a moment and review what has happened so far. You can access my "Impeachment Testimony Cheat Sheet," which will provide you with anything you need to reference what has happened up to this point. I will also be updating things there as the public hearings continue and adding new details as they happen. You can also follow my Twitter feed in real time during every hearing, as I will be live tweeting all of the events, including video and quotes so that you can quickly check in for updates.
Buckle up, here we go.
---
If you like this piece and you want to help support independent journalism from a female perspective, you can forward this article to others or send a gift a subscription to someone else today.
Amee Vanderpool writes the "Shero" Newsletter and is an attorney, contributor to Playboy Magazine, analyst for BBC radio and Director of The Inanna Project. She can be reached at avanderpool@gmail.com or follow her on Twitter @girlsreallyrule.