QAnon is Gaining Solid Political Ground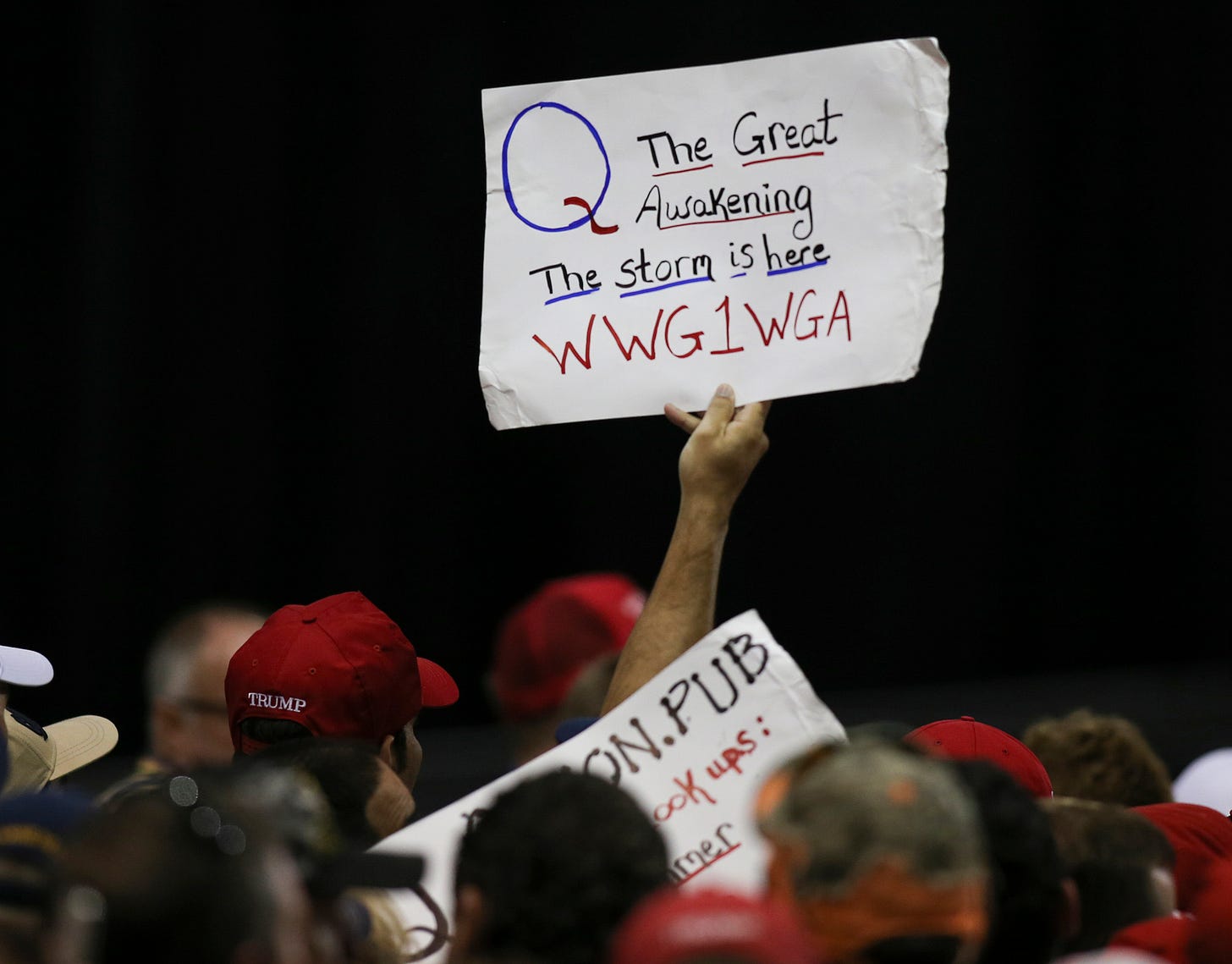 (Trump supporters displaying QAnon posters at Trump's Make America Great Again rally on Tuesday, July 31, 2018 at the Florida State Fair Grounds in Tampa Florida. Photo by Thomas O'Neill/NurPhoto, via Getty Images.)
The last few months have seen the emergence of a further mutated species of Republican, as QAnon supporters all over the country have been beating GOP incumbents in primary races. Thirteen candidates who have endorsed, given credence to or promoted QAnon conspiracy theory content have now advanced to the general election in November. Of that number, five are from California, two are from Illinois, and there is one each from Colorado, New Jersey, Oregon, Georgia, Ohio, and Texas.
Republican Congressional candidate for Georgia's 14th District, Marjorie Taylor Greene, has a YouTube campaign video where she cocks an AR-15 assault rifle while claiming she will defend her property rights against Antifa activists. For the record, the looting she is anticipating never happened, at least not by Antifa. Taylor Greene, a supporter of the white power movement, has received endorsements from Reps. Matt Gaetz (R-FL) and Jim Jordan (R-OH) and has taken money from a political action committee connected to former GOP Rep. Mark Meadows (R-NC), who is now Trump's chief of staff.
Republican leaders later revoked their previous endorsements after it was discovered that Green had a history of racist, Islamophobic and anti-Semitic remarks. There was never any balking from mainstream Republicans over her ties to an anti-government militia leader and her open support of QAnon, however. Marjorie Taylor Greene pummeled her opponents in a June Georgia Primary Election, finishing 20 percentage points ahead of her closest competitor.
Lauren Boebert is a Colorado restaurateur turned Republican candidate who recently upset a five-term Republican Congressman endorsed by Donald Trump. The owner of Shooters Grill, who permits her employees to open carry while at work, will now be the candidate put forth by the Republican Party in Colorado's 3rd Congressional District.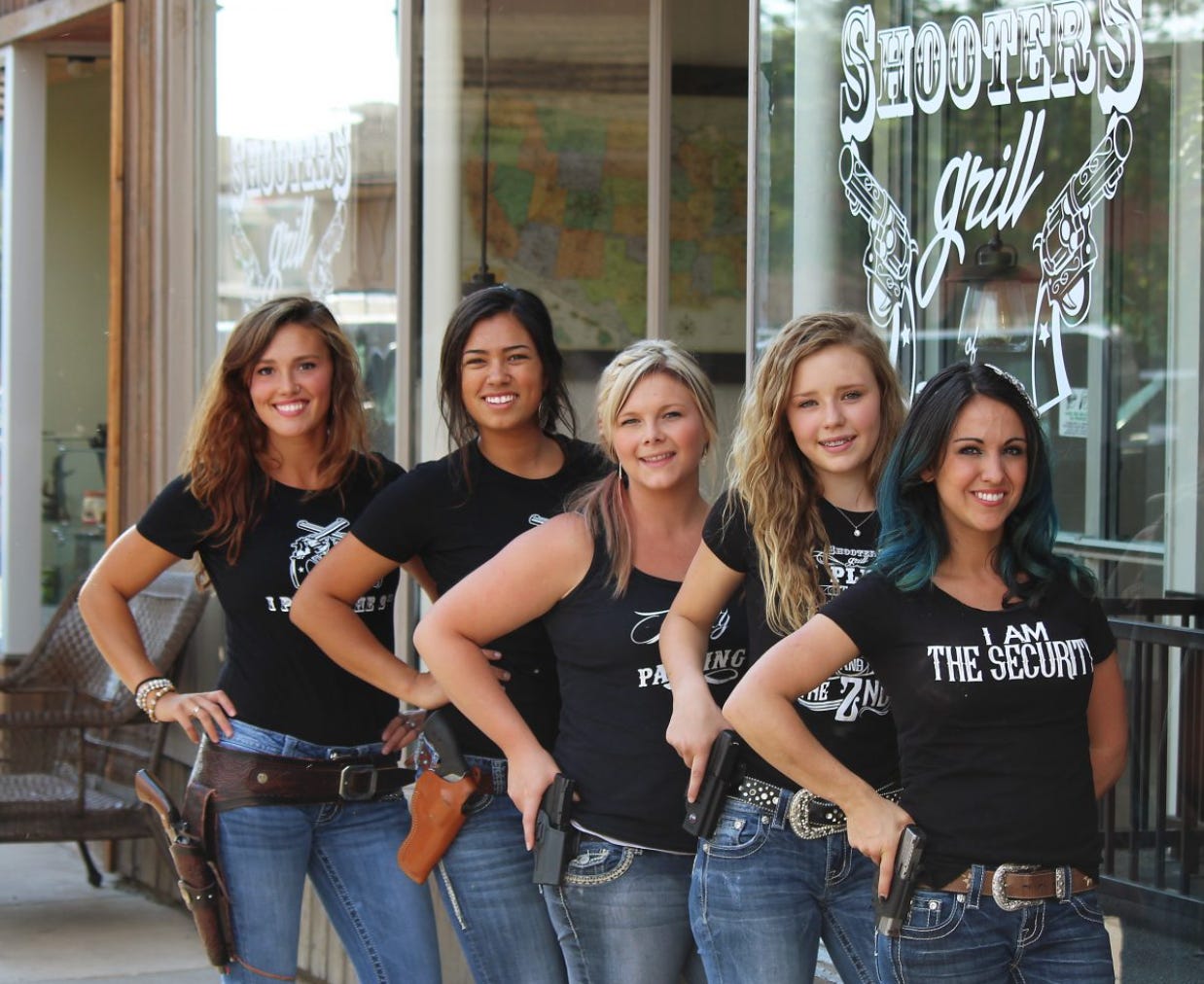 (The Shooters Grill girls stand outside the new restaurant location in June of 2016, with owner and newly elected Republican nominee for Congress, Lauren Boebert, standing in front. Photo by Ryan Hoffman, via Citizen Telegram.)
Boebert appeared on the online show Steel Truth, hosted by QAnon supporter Ann Vandersteel, and told Vandersteel that she was "very familiar [with] the Q movement." Boebert went on to add that while she did not focus on it a lot, she hopes that QAnon "is real because it only means America is getting stronger and better." She went on to say that everything she has heard about QAnon "is only motivating and encouraging and bringing people together, stronger, and if this is real, then it can be really great for our country." The seat Boebert is vying for is in a very red district, which means she could become a sitting Congresswoman come next January.
In addition to the candidates who have recently qualified for the November general election, more than 50 other current Republican candidates "have endorsed or given credence" to QAnon or promoted its content. A few of these races are a lost cause, as many of them are seen as Republican newcomers who don't stand a chance in Democratic strongholds.
Allison Hayden, the Republican nominee for District 15 who beat out five other Republican challengers, will face a general race in November against a heavily favored Democrat incumbent Eric Swalwell. But the increase of fringe candidates who are proving to be viable against established politicians within their own party is cause for concern.
What is Q Anon?
The "QAnon" movement started in November of 2018, with a series of cryptic posts on the anonymous 4Chan website forum, where users participate without even creating an account or picking a username.
The site 4chan.net was originally launched on October 1, 2003 by Christopher Poole, a then-15-year-old student from New York City. The site was originally run through GoDaddy, but was disabled and ultimately deleted in 2004 following the posting of genuine child pornography. Ultimately, Poole moved the site to its current domain at 4chan.org following significant user donations via PayPal.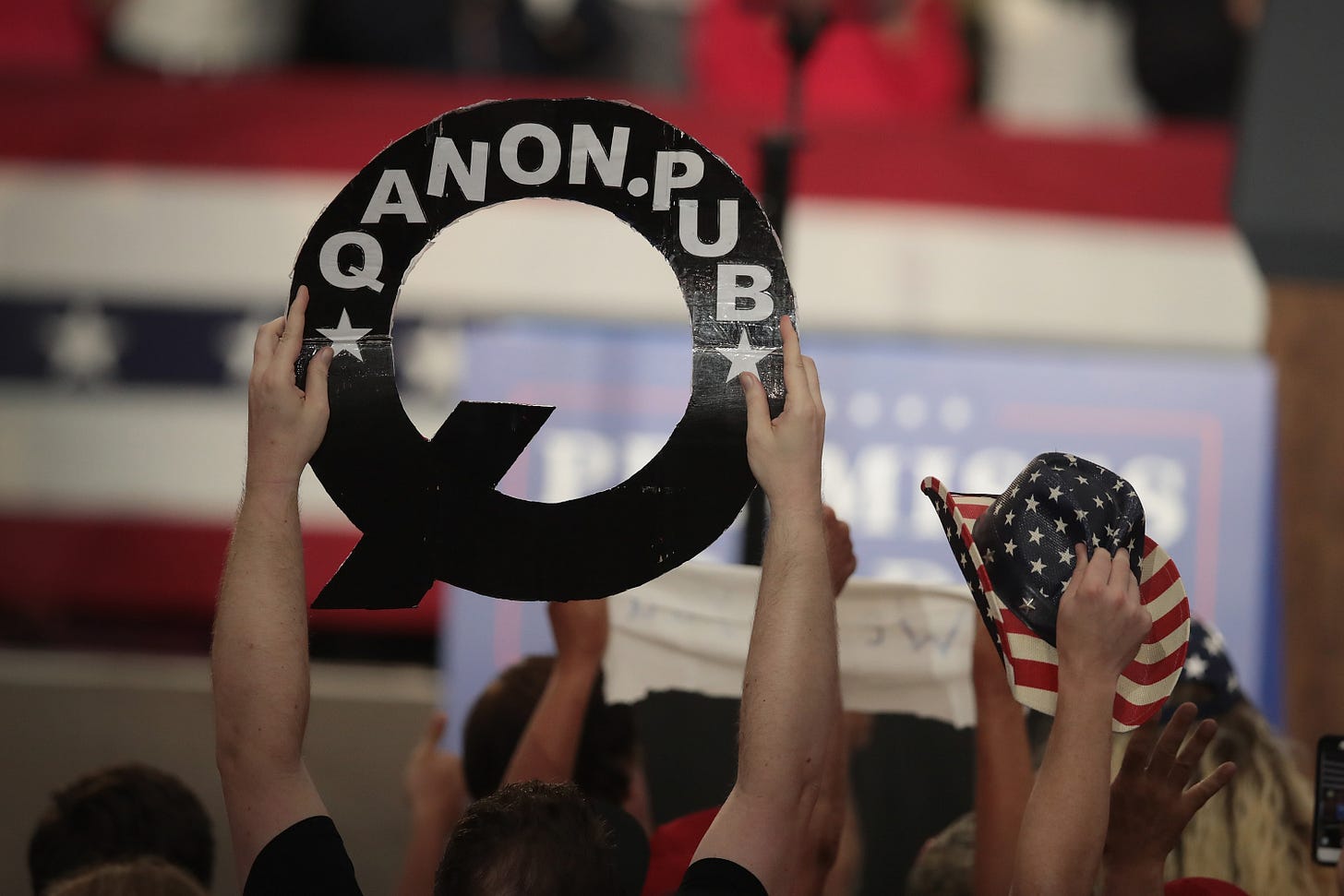 (QAnon supporters cheer for Trump as he speaks at a rally to show support for Ohio Republican congressional candidate Troy Balderson on August 4, 2018 in Lewis Center, Ohio. Photo by Scott Olson, via Getty Images.)
As of June 2020, the 4chan website has received more than 22 million unique monthly visitors, with approximately 900,000 posts made daily. The site is completely anonymous and anything goes. It is deliberately anachronistic and meant to be intentionally minimalistic. Threads which contain a series of posts on subjects expire after a certain amount of time, less time if the subject is deemed R-rated, which can make it difficult for non-regular users to access.
There is no more fertile ground than 4chan to peddle outrageous conspiracy theories like Q Anon — mere outrageous fantasy gossip that has no foundation in truth and no accompanying evidentiary support. The FBI considers QAnon to be a part of the conspiracy theory movement that it has labeled a domestic terrorist threat.
Outlandish Conspiracy Theories
Q Anon is a direct reference to an actual high-ranking Q-level security clearance, but all legitimacy ends there. The foundation of the movement stems from the belief that this "high-ranking government official" known as "Q" is sending out clues about dangerous liberal political elites and other various deep state bad actors. The intent is to wage an underground spiritual war that involves a "righteous" President Donald Trump ultimately emerging as the "victor." The "Anon" in "QAnon" refers to both Q himself, and to Q's nameless supporters, the "anons."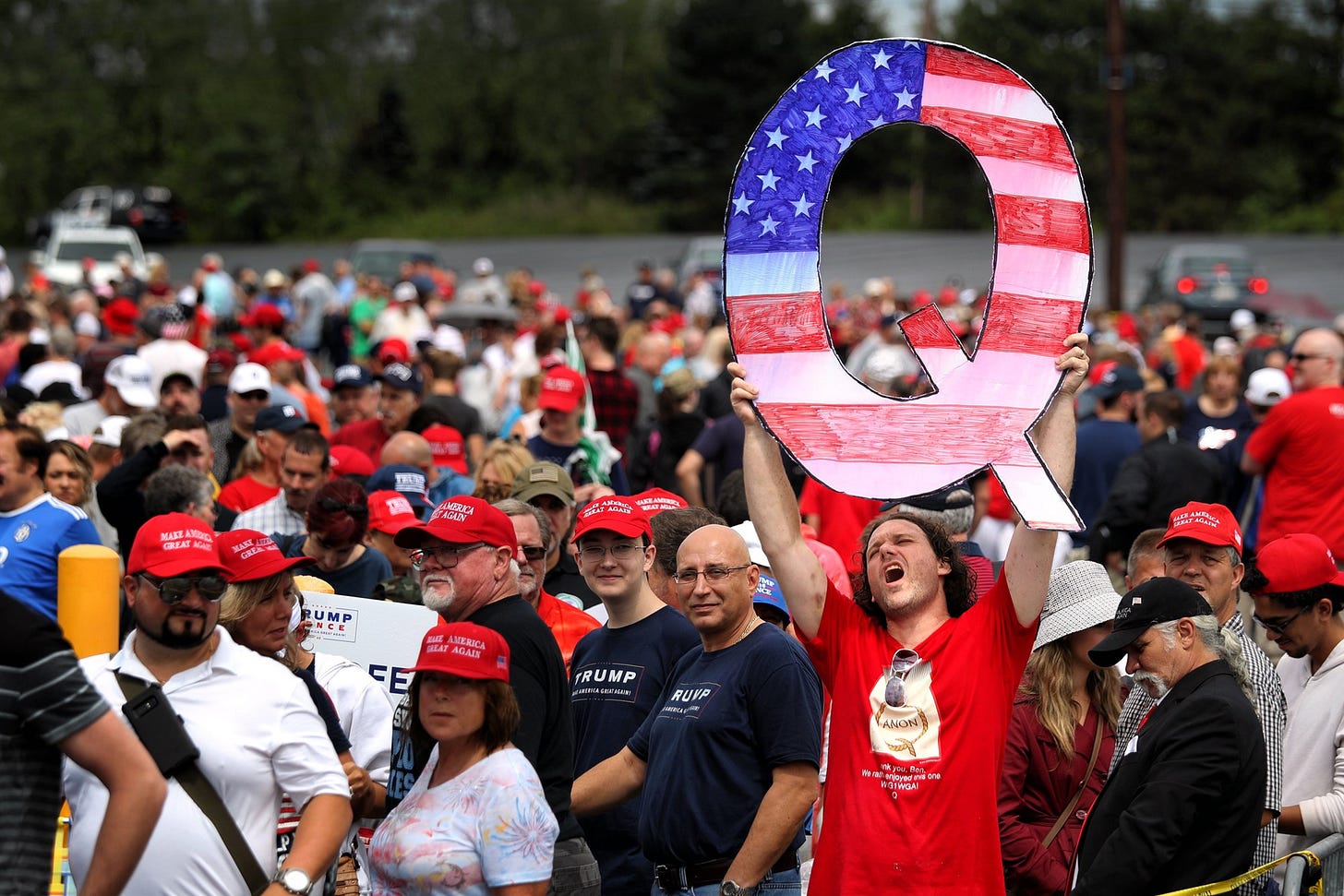 (A Trump supporter holds up a large "Q" Anon sign while waiting in line for Trump's rally on August 2, 2018 in Wilkes Barre, Pennsylvania. Photo by Rick Loomis, via Getty Images.)
Q Anon followers believe this current political struggle will culminate in a fantasy conclusion know as, "The Storm." This phase involves the military rounding up, imprisoning and even executing anyone who dared to counter Trump or make any moves against him. It's safe to say that the list includes Democratic politicians, "members of the "liberal" media, Hollywood celebrities and other elites that are convenient for Trump supporters to target.
The clues posted anonymously to the message board at 4chan, via threads, depict an alternate world where Trump is winning with no resistance, special counsel Robert Mueller is actually investigating Clinton, and a number of top Democrats are on the verge of being sent to Guantanamo Bay.
In other words, it's an escape to an alternate universe, that has now become infused into everyday American life, as a result of Trump's direct refusal to broker in reality and the refusal of his own party to hold him accountable. Q Anon's outrageous theories have included the notion that Robert Mueller was not actually investigating Donald Trump or Russian interference in the 2016 election, but rather Hillary Clinton and Barack Obama and their "roles" with Vladimir Putin.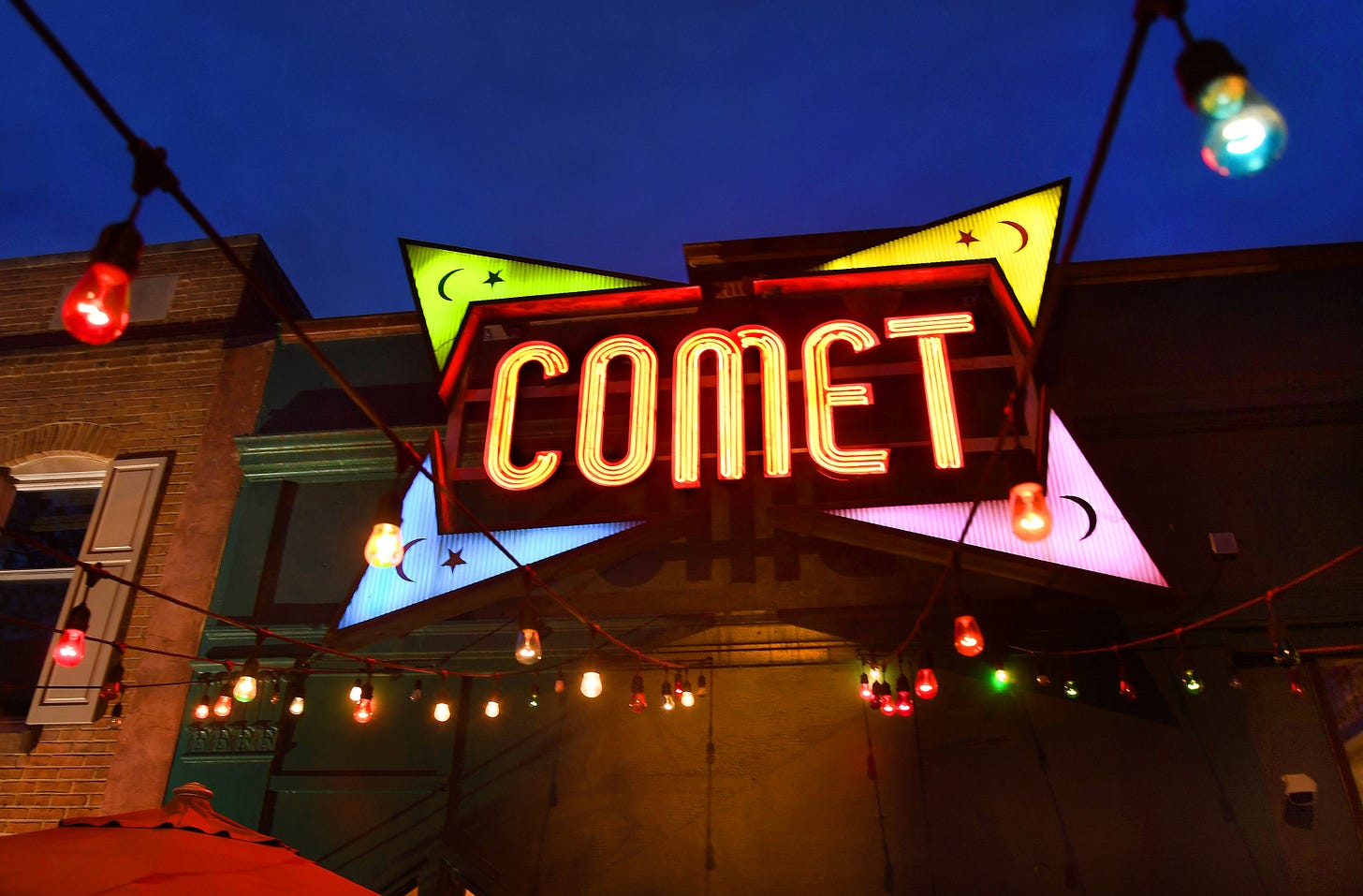 (View of the Comet Ping Pong restaurant on Connecticut Ave., NW in Washington, D.C. on April 22, 2020. Photo by Michael S. Williamson/The Washington Post via Getty Images.)
Another popular conspiracy theory is that both Clinton and Obama, along with various other influential Hollywood figures and other world leaders, are actually participants in a global pedophile ring that was run from the basement of a pizza parlor.
"Pizzagate" is an example of one of these debunked conspiracy theories that went viral during the 2016 United States presidential election cycle and has been widely discredited by law enforcement. During the 2016 election, members of the alt-right, conservative journalists, and others who had urged Clinton's prosecution over her emails, spread the Pizzagate conspiracy theory via 4chan, 8chan and Twitter.
In response to the made up posts, a man from North Carolina traveled to Comet Ping Pong pizzeria to investigate the supposed conspiracy to free the sexually trafficked chidden he had heard were being held captive in the basement and ended up firing a rifle inside the restaurant, endangering the lives of everyone inside. Comet doesn't even have a basement.
(A demonstrator holds a banner referring to the QAnon conspiracy theory during an alt-right rally in Portland, Oregon, on Aug. 17, 2019. Photo by Stephanie Keith, via Getty Images.)
"Q" also has a celebrity following and counts Roseanne Barr among its most high-profile supporters. She has frequently tweeted about QAnon, expressed a desire to meet whomever he or she may be and even tweeted support on Twitter, using a common QAnon supporters phrase: "wwg1wga," which is short for "where we go one, we go all."
How Did We Get Here?
Members of the Republican Party have refused to address the threat that QAnon poses to their party and the country. As it continues to tread the well-worn path of down-home denial, proponents and those who do not outwardly reject QAnon are advancing. This anti-democratic movement that initially posed no immediate threat to the vintage GOP, now threatens to further bastardize the party that is still reeling from the handiwork of the Tea Party.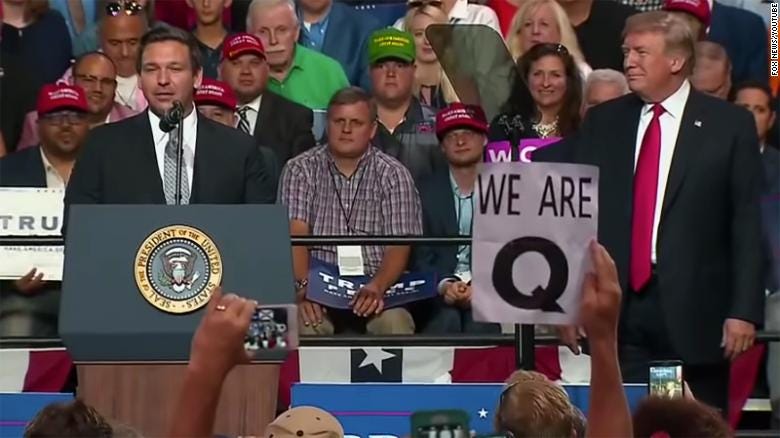 (Florida Gov. Ron DeSantis is seen with Trump and a rally in 2018 while a QAnon supporter near the front holds a sign prominently in the main frame.)
By refusing to shut down conspiracy theories, such as George Soros funding an online troll collective and Bill Gates trying to implant microchips in humans in order to depopulate the planet, Republicans have further fueled the idiotic beast that once served to advance their campaigns but now threatens to take them out, all because they are not "radical" enough.
You might think the lunatics are already running the asylum, but I assure you, those who support the QAnon movement are as insane as it gets and they have only just now breached the threshold. When the Republican Party, now led by Donald Trump, is not crazy enough for your liking, you better hunker down because QAnon might be right about one thing — a storm is coming.
---
Your paid subscriptions allow me to keep publishing critical and informative work that is sometimes made available to the public — thank you. If you like this piece and you want to further support independent journalism, you can forward this article to others, get a paid subscription if you don't already have one or send a gift subscription to someone else today. 
Amee Vanderpool writes the SHERO Newsletter and is an attorney, published author, contributor to newspapers and magazines and analyst for BBC radio. She can be reached at avanderpool@gmail.com or follow her on Twitter @girlsreallyrule.