(A woman shops in the chicken and meat section at a grocery store, April 28, 2020 Washington, DC. Photo by Drew Angerer via Getty Images.)
Last week a report from the Centers for Disease Control and Prevention was released that detailed an investigation into the Smithfield Foods pork plant in Sioux Falls, South Dakota, where over 1,100 workers have been infected with COVID-19 and one worker has died. The Sioux Falls plant, which employees about 2,800 people in the state's largest city, has emerged as a hotspot of infections, accounting for at least 1 in 5 confirmed cases in South Dakota.
The CDC report detailed a "responsibility bonus" was being offered to employees as an incentive to continue working during the pandemic. The $500 bonus included employees who did not miss work for being sick or late. Smithfield Foods told the CDC that COVID-19-related absences didn't count, but the name of the bonus itself puts the actuality of this statement into question.
There were several concerning occurrences that were noted once the CDC visited the plant. Several workers were not practicing social distancing when away from their work stations and employees who were found to have a fever or coronavirus symptoms were sent home with informational packets only in English despite the 40 different languages spoken at the facility.
(The Smithfield Foods pork processing plant in Sioux Falls, South Dakota, which is now closed indefinitely in the wake of its coronavirus outbreak, on April 20, 2020. Photo by KEREM YUCEL/AFP via Getty Images.)
The CDC also found there were hand sanitizing stations set up around the plant and "limited" hand washing stations available in locker rooms in some areas — there were about 30 employees who were in a locker room at "any given time" according to the report. The pork processing plant confirmed that one department with a high concentration of cases was given two weeks of paid sick leave, but the corporate pressure and money incentives offered to workers reflect a concerning climate of pressure to possibly continue working despite being contagious while employees handle food that is distributed to the American public.
According to a recent exposé by The New York Times, workers at Smithfield Foods experiencing a culture of pressure to perform to their own physical detriment is nothing new. Workers confirm that they have suffered urinary tract infections as a result of being permitted limited bathroom breaks. The coronavirus pandemic has created yet another obstacle for line workers who describe that they have been "reluct[ant] to cover their mouths while coughing or to clean their faces after sneezing, because this can cause them to miss a piece of meat as it goes by, creating a risk of disciplinary action."
These issues in South Dakota represent a much larger problem across the United States. Sick employees continue to hamper the productivity at meatpacking stations around the country and many of these facilities have closed or are operating at well below capacity. The result is more meatpacking plants risking the safety of their employees and their customers by pushing for higher output, regardless of the circumstances.
A recent court filing on behalf of employees from the Smithfield pork plant in Missouri, who do not have the benefit of a union, says workers are forced to stand practically shoulder to shoulder and are often required to go hours without being able to clean or sanitize their hands. Contrary to the image Smithfield has attempted to present to the CDC in South Dakota, factory workers in Missouri say they have not been permitted to take sick leave.
"It exists in any state — the idea of bringing the public nuisance. If, whether it's a private company or a private citizen, they're operating something on their property and whatever they're doing is unsafe and poses a danger to the entire community, then the public has a right to safety and health." — Karla Gilbride, Public Justice lawyer that is working with the Smithfield workers to bring the complaint in Milan, Missouri
According to the legal complaint filed in Missouri Federal Court last Thursday, employees have been disciplined for covering their mouths while coughing or sneezing, because it could cause them to miss pieces of meat coming down the processing line. According to the Rural Community Workers Alliance, an advocacy organization who represents workers in the complaint, "…workers, their family members, and many others who live in Milan and in the broader community may die — all because Smithfield refused to change its practices in the face of this pandemic."
In response to the allegations, Keira Lombardo, Executive Vice President of Corporate Affairs and Compliance at Smithfield Foods, has denied the allegations and said "the health and safety of our employees is our top priority at all times." Lombardo went on to say, "The allegations contained in the complaint are without factual or legal merit and include claims previously made against the company that have been investigated and determined to be unfounded."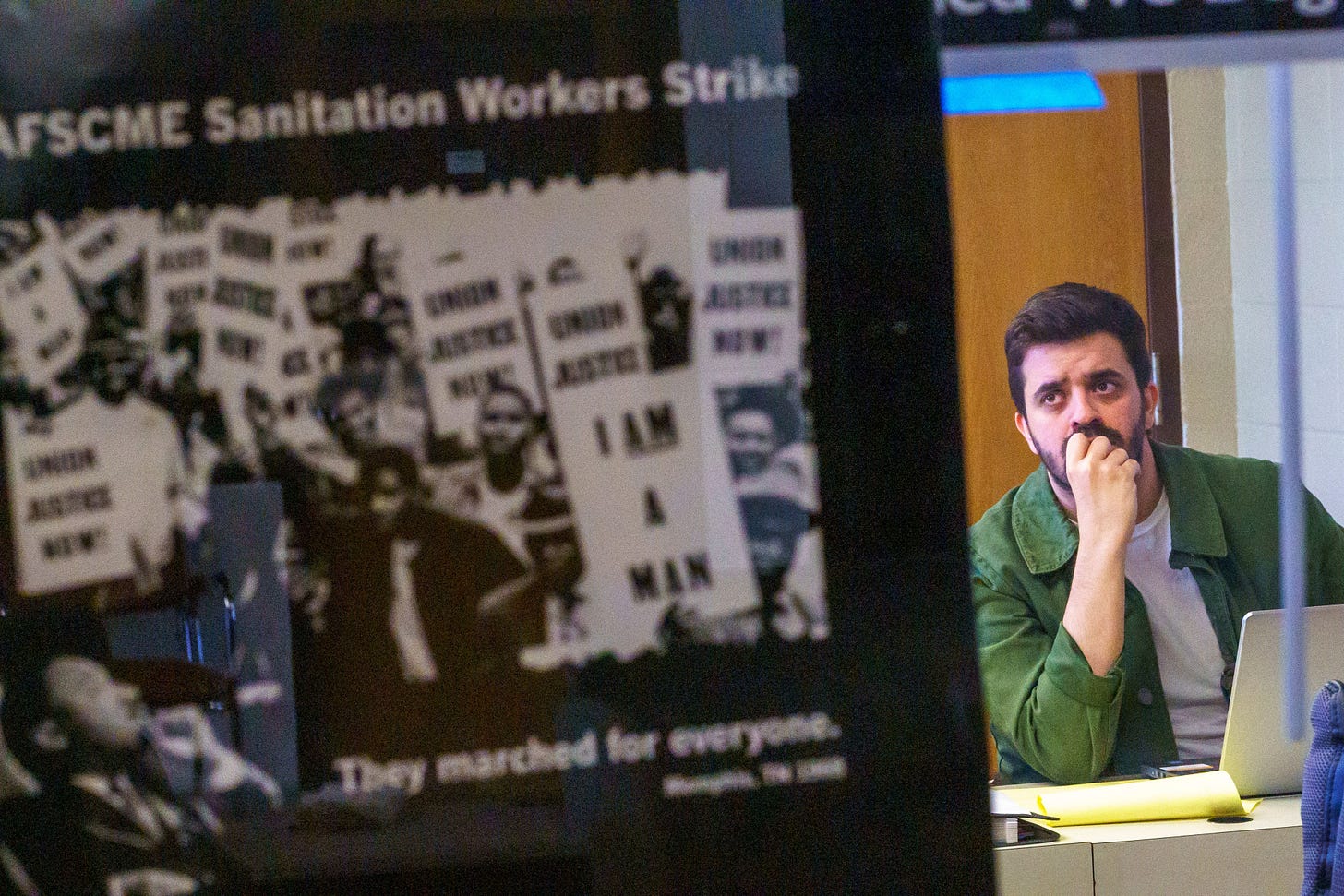 (Kooper Caraway, President of the Sioux Falls AFL-CIO Union, poses for pictures during an interview with AFP on April 20, 2020 in Sioux Falls, South Dakota. Photo by KEREM YUCEL/AFP via Getty Images.)
The response about conditions in food processing this week seemed to be a corporate double down against workers by scaring the public about an impending lack of access to food. Tyson Foods launched a campaign in defense of large food factories by publishing a letter on Sunday in The New York Times, warning of a "break in the food supply chain." While a significant decrease in the production of meat may in fact be a reality, and the economic fallout to workers and the American public is concerning, the timing of this media campaign cannot be overlooked.
Moreover, while Tyson describes all of the injuries that farmers, consumers and workers face, it is hard to overlook the glaring reality that it's possible that some of this fallout might have been avoided had factories taken the proper precautions to protect workers and limit infections. Maybe the idea of drastically slowing production in the beginning is looking less frightening to these large corporations, who have now been forced to shutter their plants entirely due to the outbreak of COVID-19 at many food plants.
The Trump administration, which has been reluctant to act on the many critical shortages in medical equipment and supplies by invoking the Defense Production Act, has now decided to get involved after more than 6,500 factory workers have become sick. Trump signed an executive order yesterday that compels slaughterhouses to remain open, setting up a showdown between the giant corporations and the unions and activists who represent workers.
It's no coincidence that this move came right after Tyson's media ploy to defend big business — by getting involved and putting the weight of the federal government behind the food industry, Trump has insulated these companies, placing his thumb on the scale of justice, and possibly influencing how a court might interpret a public nuisance claim in the midst of a new claim of emergency.
The battles between big business in America and the little guy are nothing new, but the issues that workers contend with on a daily basis are now heightened and emphasized by the life and death consequences of the coronavirus pandemic. Rather than prepare in advance for foreseeable shortages and the need to protect critical front line workers, those in control have looked the other way until they couldn't any more.
One of the first moves should have been to protect the food supply, which means protecting the people who work to produce food for all of us. By refusing to think about factory workers and the public consuming this food, corporations have once again been allowed to endanger us all while selling the notion that they are protecting and feeding us. If this can happen to someone working on a meat food line, it can happen to you — it is, in fact, happening to us all in real time.
Just as the food chain follows a higher order of natural selection, so does the livelihood and prosperity of every American. As those in power continue to take to the detriment of us all, think about the end result of this for you and your family as you make your way up that chain. If these workers are not protected, none of us are.
---
Paid subscriptions allow me to keep publishing critical and informative work here at SHERO that is often made available to the public. If you like this piece and you want to support independent journalism from a female perspective, you can forward this article to others or send a gift a subscription to someone else today.
Amee Vanderpool writes the "Shero" Newsletter and is an attorney, contributor to magazines and newspapers and analyst for BBC radio. She can be reached at avanderpool@gmail.com or follow her on Twitter @girlsreallyrule.