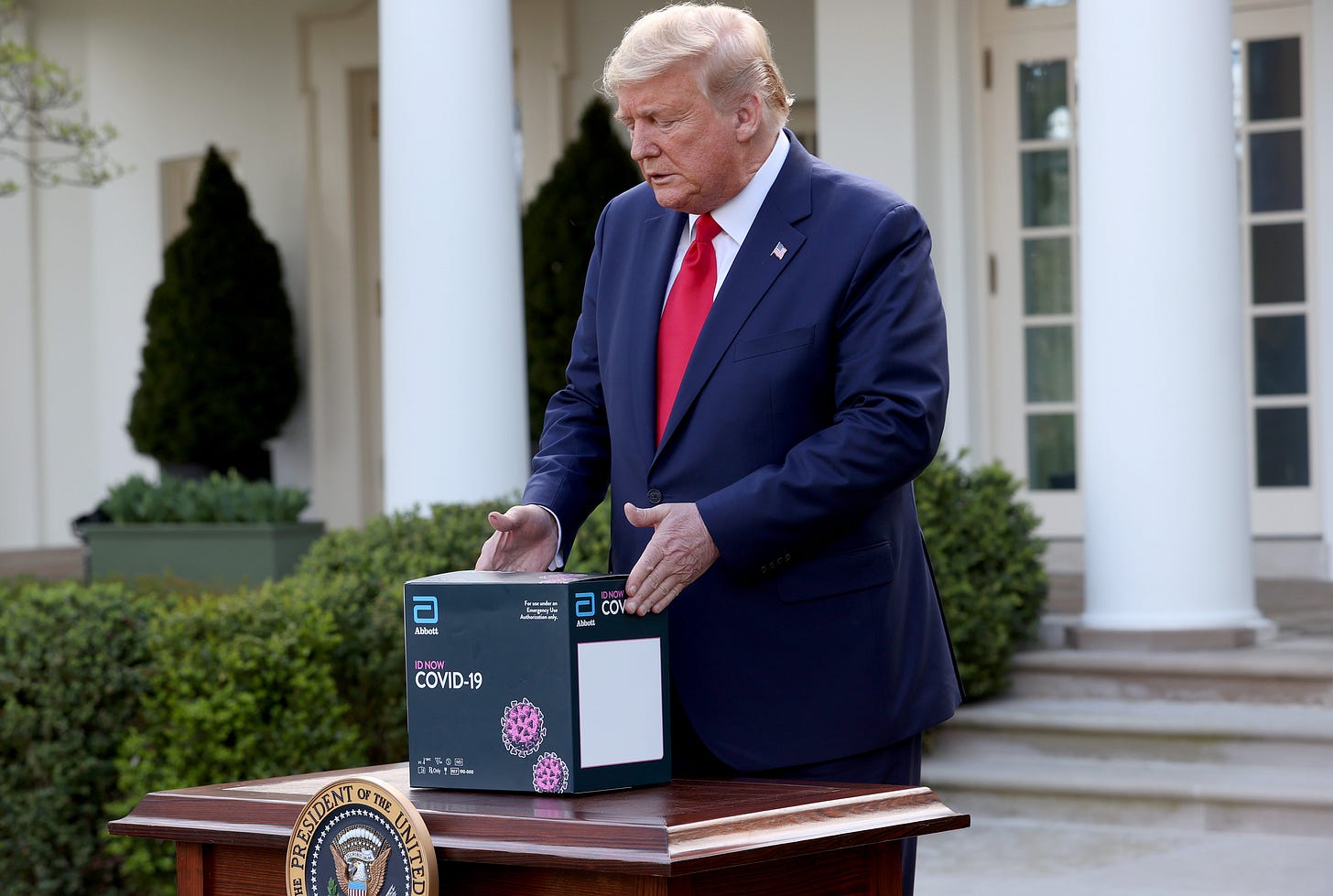 (Trump holds a new COVID-19 test kit developed by Abbott Labs during the daily coronavirus briefing at the Rose Garden of the White House on March 30, 2020 in Washington, DC.)
On Monday, The New York Times reported that Donald Trump is personally invested in the medication he has been selling to the American public. The Times stated that, "Mr. Trump himself has a small personal financial interest in Sanofi, the French drugmaker that makes Plaquenil, the brand-name version of hydroxychloroquine." There was no further detail about the particulars of his investment and as someone who has poured over his financial disclosure from 2019, I can only assume that the ownership is contained within one of the several trusts he reported that has not been further broken down by name or stock.
In early March, I reported on the possibility that Trump or his family could stand to profit from coronavirus testing. Financial disclosures from 2016 listed previous financial investments in Thermo Fisher Scientific, one of the many companies Trump praised from one of his rose garden press conferences toward the beginning of this pandemic. Although Trump's financial disclosures from 2019 do not specifically name this stock, and he has claimed to have divested his personal interest from in company, there are trusts listed that are not broken down or named specifically.
There is also still the issue of semantics with regard to how the Trump administration has chosen to deal, or in this case not deal, with combating COVID-19. Here is an excerpt from my previous reporting that questions why the Trump administration declined to use coronavirus testing kits offered by the World Health Organization in February:
Virologists in Berlin produced the first diagnostic test for the Coronavirus a month and a half before the first COVID-19 case not linked to travel was diagnosed in the United States. The World Health Organization (WHO) began shipping coronavirus testing supplies to nearly 60 countries by February, but Trump didn't want those kits.

The United States declined to use the WHO test, even temporarily as a bridge until the Centers for Disease Control and Prevention could produce its own test and the Trump administration has given no explanation as to why. Trump's possible interest in the company that the U.S. will be using to provide the tests, and the fact that he might still own stock in Thermo Fisher Scientific means he could profit from the government contract — this might be a major reason why no other tests were accepted.
There is also an ongoing conflict pertaining to Jared Kushner and his brother's company, Oscar, a private health insurance company that is working in tandem with the Trump administration to provide federal services. As Kushner's influence and authority over the COVID-19 pandemic increases, so does Oscar's role in providing services to the public on behalf of the federal government.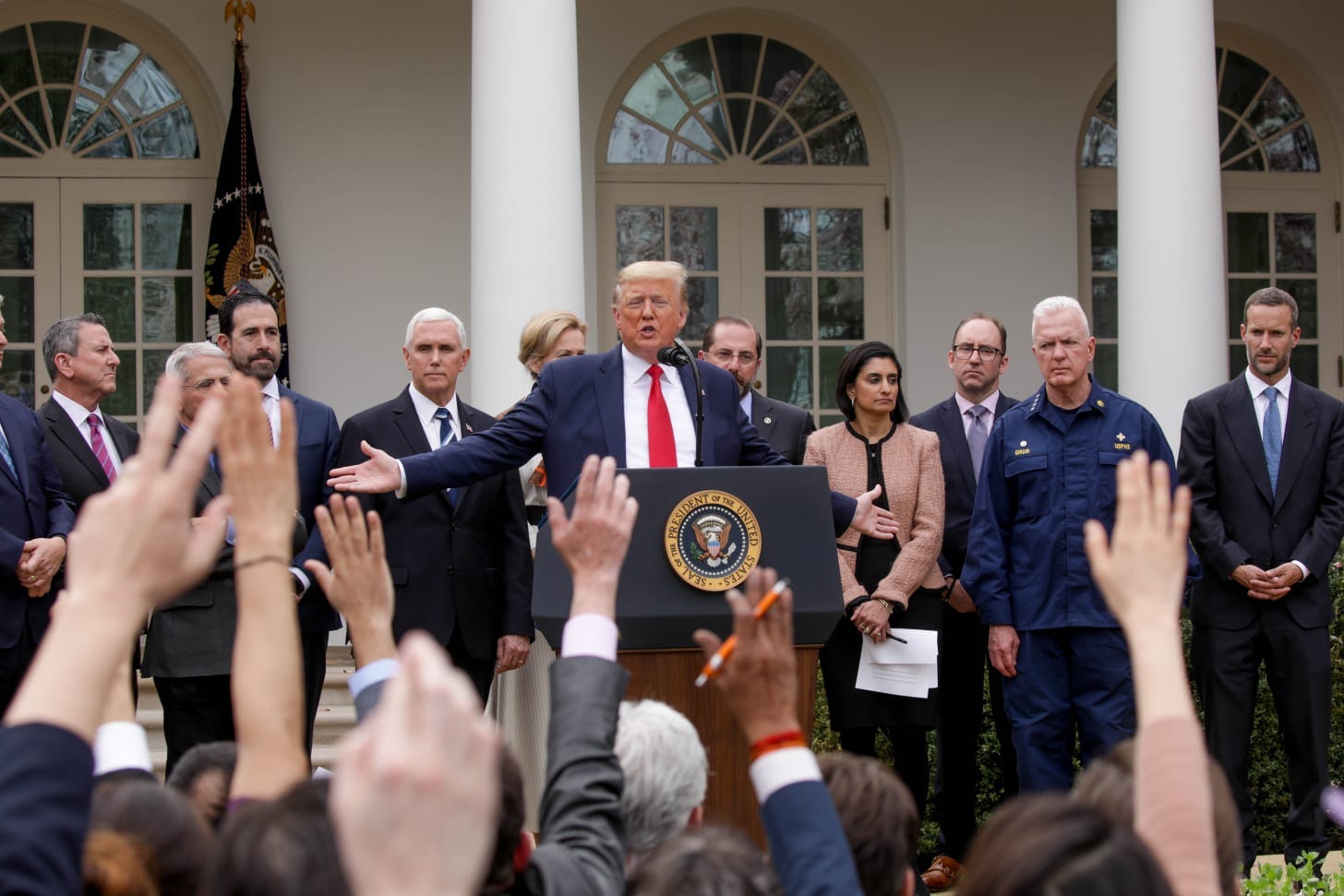 (Trump in the Rose Garden of the White House, surrounded by his Coronavirus Task Force and various business executives on March 13, 2020. Photo by Yasin Ozturk/Anadolu Agency via Getty Images.)
Think back to when Trump falsely announced during a press conference on March 13 that a website of information about the impending pandemic was up and running thanks to Google. There was no such website at the time, but according to The Atlantic, in the days following Trump's incorrect announcement, Oscar dispatched employees to meet with federal officials in Washington, D.C. about creating the site. Oscar engineers, project managers, and executives additionally spent "about five days building a stand-alone website at the government's request" before the project was scrapped.
It's important to note that Joshua Kushner, younger brother to Jared, is a co-founder and major investor in Oscar as well. It has been confirmed that Jared Kushner partially owned or controlled Oscar before he joined the White House. As with Donald Trump's financial disclosures, we are unable to completely dissect the full nature of Kushner's personal investments, especially considering that his wife Ivanka Trump has disclosed many of the same trusts her father has listed.
Jackie Kahn, a spokesperson for Oscar, emailed a statement that Oscar donated its work freely and never expected to be paid for the project. Kahn says the company is "not, nor has ever been," a contractor or subcontractor for the government and emphasized that the work on the site was never in use. Kahn did confirm that despite the intent to volunteer company resources, the creation of the site was "all at the direction of HHS."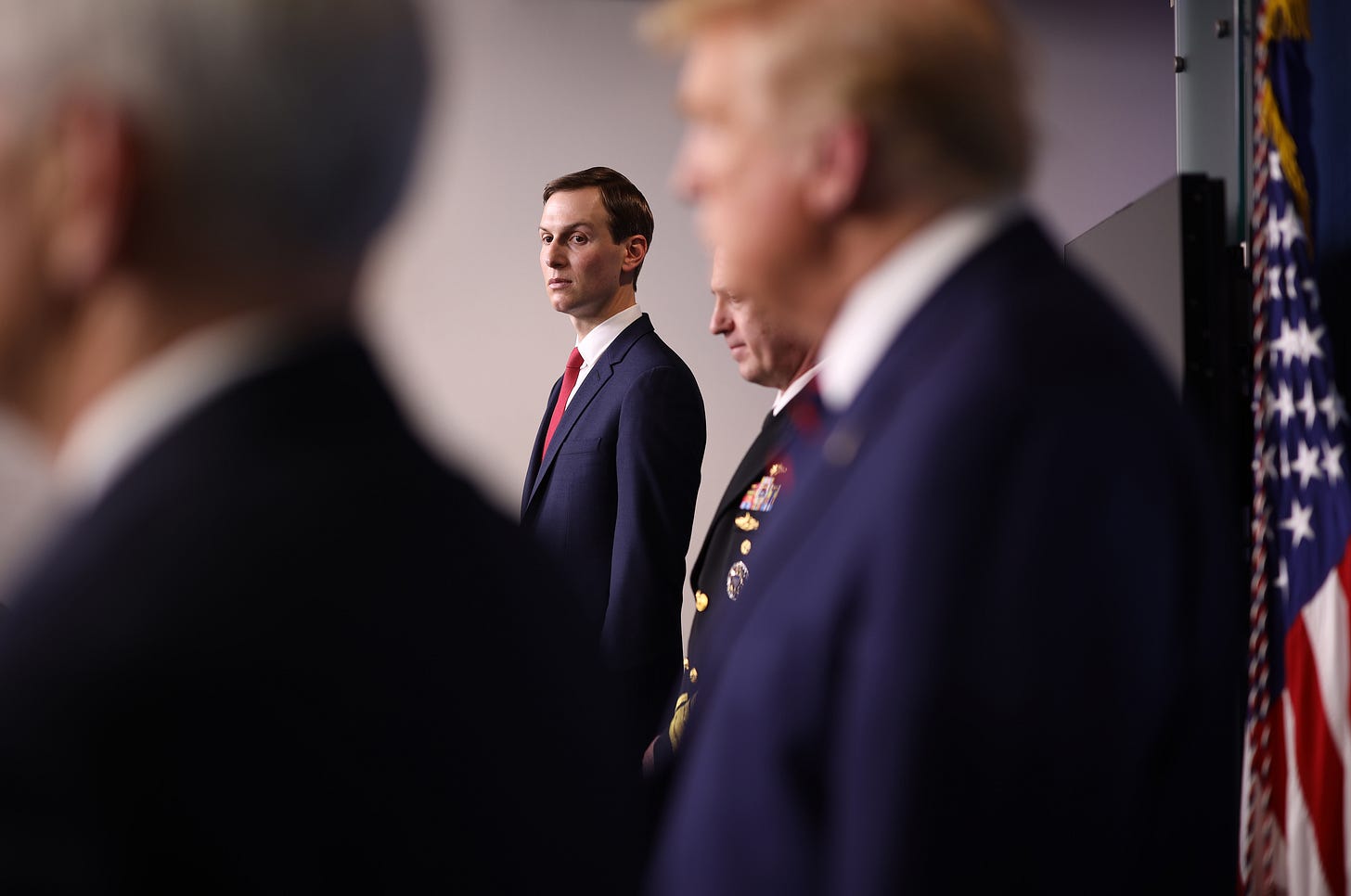 (Senior White House Advisor Jared Kushner stands in the press briefing room with members of the White House Coronavirus Task Force April 2, 2020. Photo by Win McNamee/Getty Images.)
Although Oscar denies profiting directly from this work in this instance, it is important to note that the company is fueled by substantial investments from high profile backers and Trump supporters, such as Paypal's Peter Thiel. The relationships and connections that the Oscar team is able to make are essential to keeping the company going and there is no shortage of access to Jared Kushner, who has been firmly established as a figurehead on the corona team.
As the public is inundated by concerns about staying safe from this pandemic and the death toll from the virus continues to rise, money is being spent at the federal and state level in record amounts to secure supplies and services. This virus serves as a distraction now for the massive amounts of money that will inevitably make its way into the pockets of companies who have established inside relationships with the Trump administration. After the dust has settled on this emergency, there will be many contracts and deals to dissect — hopefully we can do it before November.