Discover more from SHERO
News that impacts women, but affects everyone.
Over 16,000 subscribers
Trump Has Threatened to Execute Us
Donald Trump tells Jeanine Pirro in an interview at the White House that he will put down anyone "very quickly" who opposes him when he declares victory on Election Night.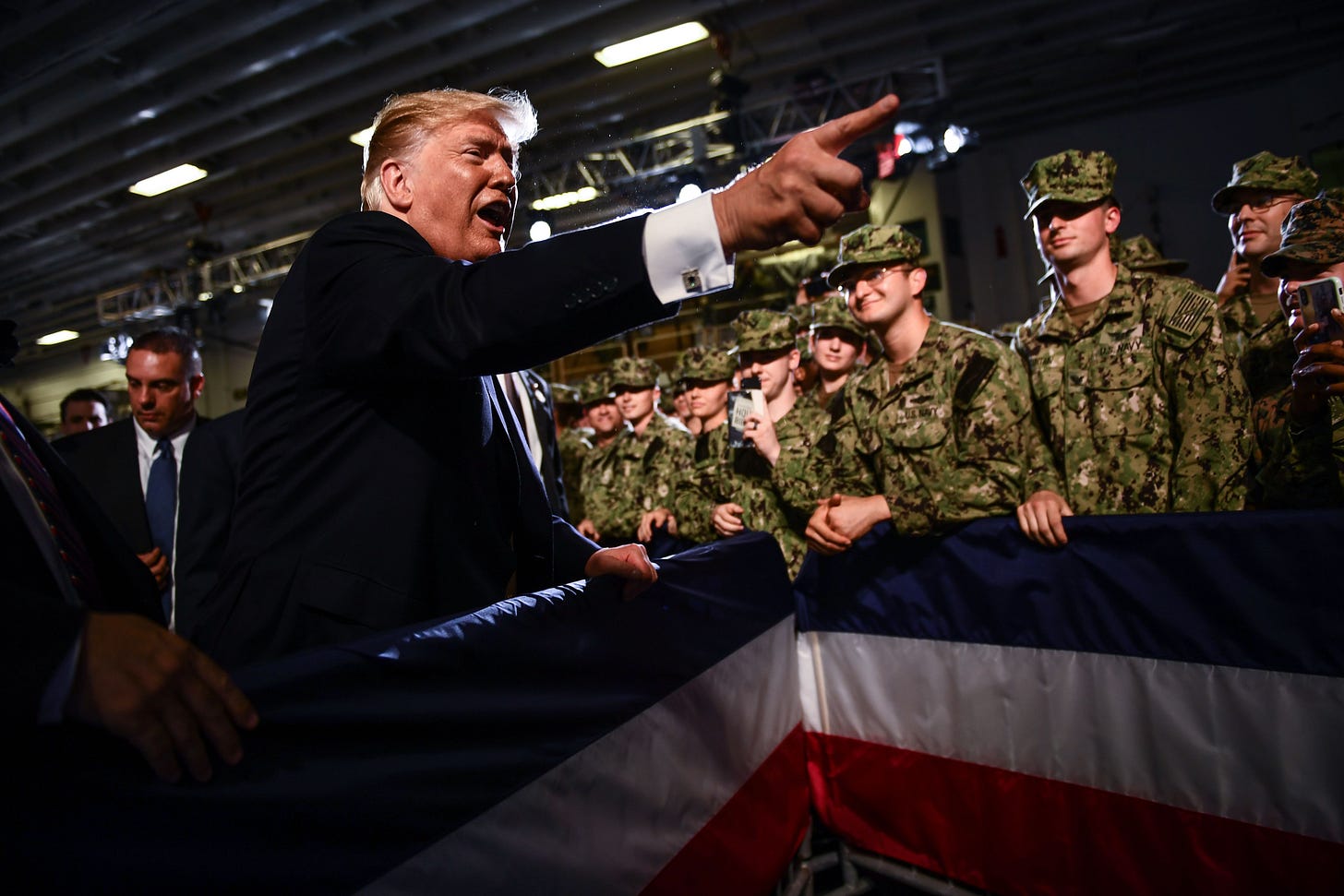 (Trump greets Marines aboard the amphibious assault ship USS Wasp (LHD 1) during a Memorial Day event in Yokosuka on May 28, 2019-has deployed federal soldiers all over America this summer, which has only inflamed tensions and violence at protests. Photo by Brendan Smialowsky/AFP, via Getty Images.)
That headline is a tad bit dramatic, I concede that, but I'm trying to get your attention and point out something extremely dangerous that has mostly flown under the radar. On Saturday, Fox News aired an interview between Trump and Jeanine Pirro where Trump attempted to do some clean-up after the release of the Woodward tapes. Instead, he threatened to kill anyone who questions his win in the next election.
This was the complete exchange:
Donald Trump: They don't want to have signatures verified. Where are they sending them? Who are they sending them to? Who's sending them back? Who's sending them back? It's a very … It's so unconstitutional, it's so dishonest, and you have states that can't even do small elections that way.

Jeanine Pirro: So what can you do about it?

Donald Trump: Well we're in courts, in many, many courts right now and hopefully the courts are going to decide because if they don't you're going to have one hell of a mess on Election Night.

Jeanine Pirro: So you talked about Election Night. I want to talk about Election Night also but it brings me to the issue of law and order and you, when you ran in 2016, you were the law and order candidate. It's almost prescient to think that four years later, that is one of the main issues. So we've got this anarchy going on in the streets, we've got towns and states run by Democrat governors and mayors who are refusing to allow the National Guard to come in. There are people in those cities and states who want order to come in, but you can't go in unless they request your help.

Donald Trump: That's right. Every problem.

Jeanine Pirro: What are you going to do … Let's say there are threats, they say that they're going to threaten riots if they lose on Election Night, assuming we get a winner on Election Night. What are you going to do?

Donald Trump: We'll put them down very quickly if they do that.

Jeanine Pirro: How are you going to do that?

Donald Trump: We have the right to do that, we have the power to do that if we want. Look, it's called insurrection. We just send them in and we do it very easy. I mean it's very easy. I'd rather not do that because there's no reason for it but if we had to we'd do that and put it down within minutes, within minutes. Minneapolis, they were having problems. We sent in the National Guard within a half an hour. That was the end of the problem. It all went away.
Let's break down what this statement really means and what we can assume Trump's intention is — he is threatening to suspend Due Process, again, to justify harming US citizens who may question the election result this year.
Pirro uses the term "riots" in her question to Trump, which denotes an activity that would typically justify legal law enforcement intervention to keep the peace. The problem here is that Trump has previously falsely claimed that peaceful protestors were actually engaged in "riots" to justify his use of federal force.
On June 1, while he spoke about the state of unrest in the aftermath of the George Floyd killings from the Rose Garden, Trump ordered federal agents to deploy tear gas and rubber bullets against non-violent protestors across the street from the White House, with very little warning and ahead of the city's 7pm curfew. (see video above.)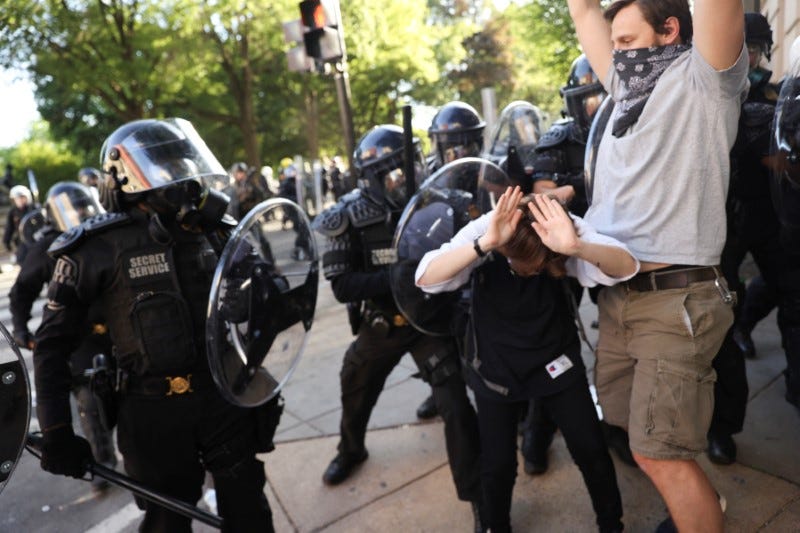 (US Secret Service uniformed division officers face demonstrators during a protest near the White House in Washington, DC, on June 1, 2020. Photo by Jonathan Ernst, via Reuters.)
Once the images came out, public outrage was at an all-time high, so members of Trump's administration attempted to lie to the press and say that force was deployed after the curfew. Videos quickly confirmed that was untrue.
Trump's staff also tried to use semantics to claim that it was not tear gas that was deployed because pepper spray bullets were actually used. When you research the components of pepper spray, you see the toxin described interchangeably as tear gas and the two are nearly synonymous with regard to the effect they have.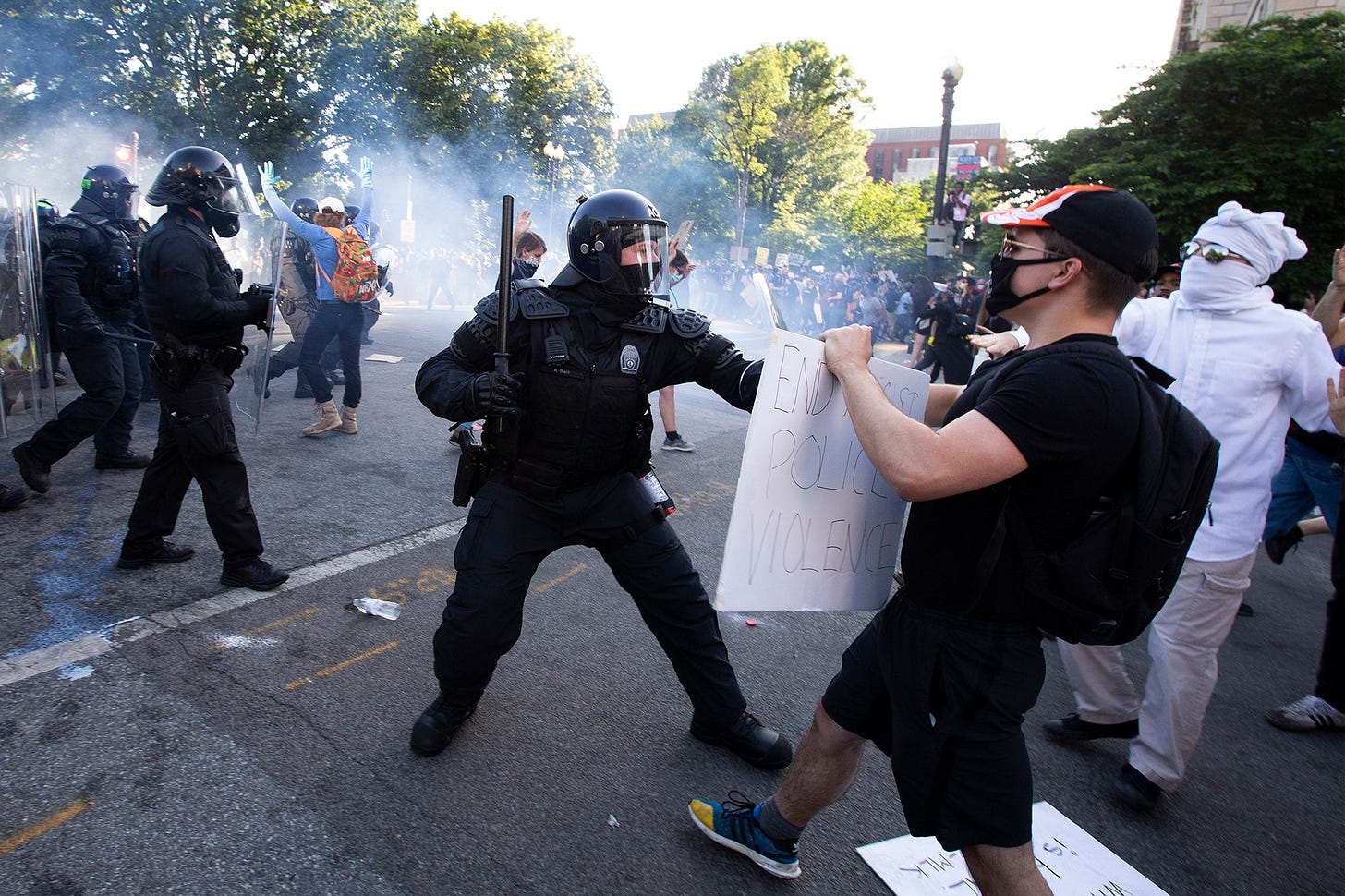 (Police officers clash with protestors near the White House on June 1, 2020 as demonstrations against George Floyd's death continue. Photo by Jose Luis Magana/AFP, via Getty Images.)
When none of the lies seemed to work, Trump finally admitted that he had attempted to clear Layafette Park for his own safety. But, securing his safety in this manner was only an issue because Trump made it one, by insisting on taking a photo in front of St. John's Church with that bible. It may even have been done as an afterthought, to cover his illegal actions of deploying force too early. Again, this violence was all initiated and created by Donald Trump himself.
During Trump's conference phone call with state governors a few days after he attacked peaceful protestors with pepper spray bullets in front of the White House, Trump used the term "put down" again with regard to his demands that governors handle protests in the manner he preferred and stop them immediately.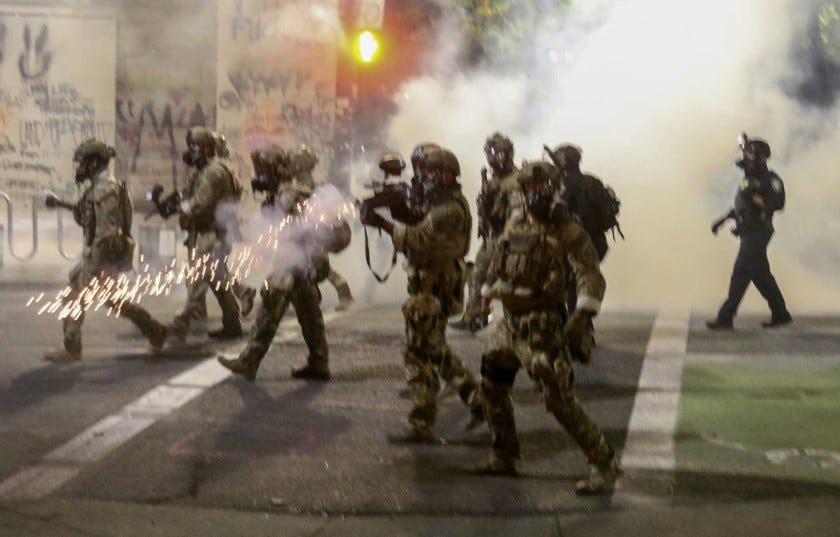 (Federal officers fire tear gas at protesters in July in Portland, Oregon. Photo by Dave Killen, via Oregonian.)
Trump is using the term "put down" to mean deadly force and he aims it at those who oppose him by creating powder keg scenarios amidst peaceful protests to justify his own acts of violence. Donald Trump has suspended Due Process under the guise of "law and order" that was never in jeopardy in the first place.
Another major issue here is the fact that election results will not be completely tabulated and verified by election night. Trump has made it clear he intends to take early result tabulations and declare himself the winner based on certain stronghold states like Florida. Pirro asks him specifically about election night, and what he will do if people refuse to accept his premature, self-declared victory — this scenario is not even legitimately possible, yet Trump is preparing for it and plans to use deadly force to back it up.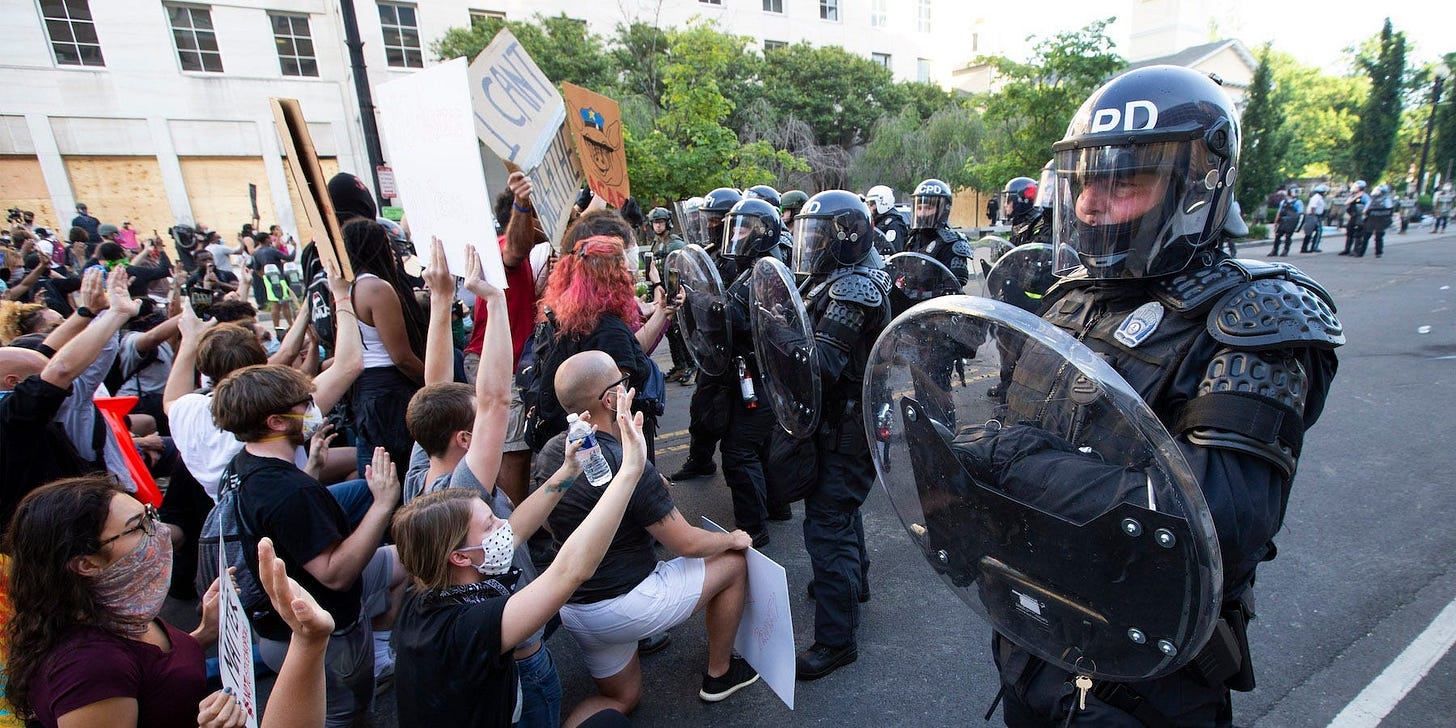 (Demonstrators kneel as police officers in riot gear push back, outside of the White House, June 1, 2020 in Washington DC, during a protest over the death of George Floyd. Photo by Jose Luis Magana/AFP, via Getty Images.)
This statement by Trump, combined with his previous statements and actions, boils down to this essential truth: Trump is threatening deadly force to attack anyone who dares to question his proclamation to have won the election, and then he will call it national self-defense. Since he has deployed this type of force before, there is no reason to doubt that he will do it again, when the stakes now are much higher.
Democracy in America is founded on the principle of free and fair elections, which Trump has openly thwarted with the assistance of a hostile foreign government. He has praised other dictators who rule with force, while they openly sabotage their own countries' elections. All indications lead to this prospect — this is what Trump intends to do, this is what he admires — he has said so.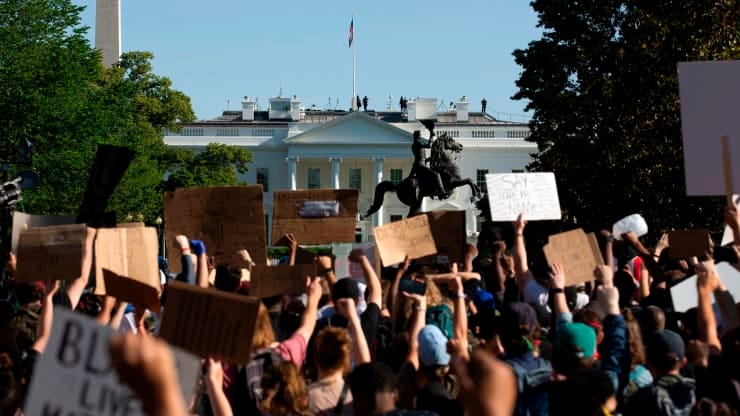 (Demonstrators hold up placards of protest outside of the White House, over the death of George Floyd in Washington D.C. on June 1, 2020-this is the same location where peaceful protestors were sprayed with pepper spray tear gas bullets just a few days later with no warning. Photo by Jose Luis Magana/AFP, via Getty Images.)
Now he has threatened to "put down" anyone who challenges his declaration of victory, regardless of accuracy or legality. Ballots will still need to be counted and lawsuits about counting ballots will need to be resolved, yet Trump has made his plan clear: oppose him and he will execute you as a dissident in an insurrection of his own creation.
---
Amee Vanderpool writes the SHERO Newsletter and is an attorney, published author, contributor to newspapers and magazines and analyst for BBC radio. She can be reached at avanderpool@gmail.com or follow her on Twitter @girlsreallyrule.
Your paid subscriptions allow me to keep publishing critical and informative work that is sometimes made available to the public — thank you. If you like this piece and you want to further support independent journalism, you can forward this article to others, get a paid subscription if you don't already have one or send a gift subscription to someone else today.