Discover more from SHERO
News that impacts women, but affects everyone.
Over 16,000 subscribers
Trump is Destroying Our Land and Water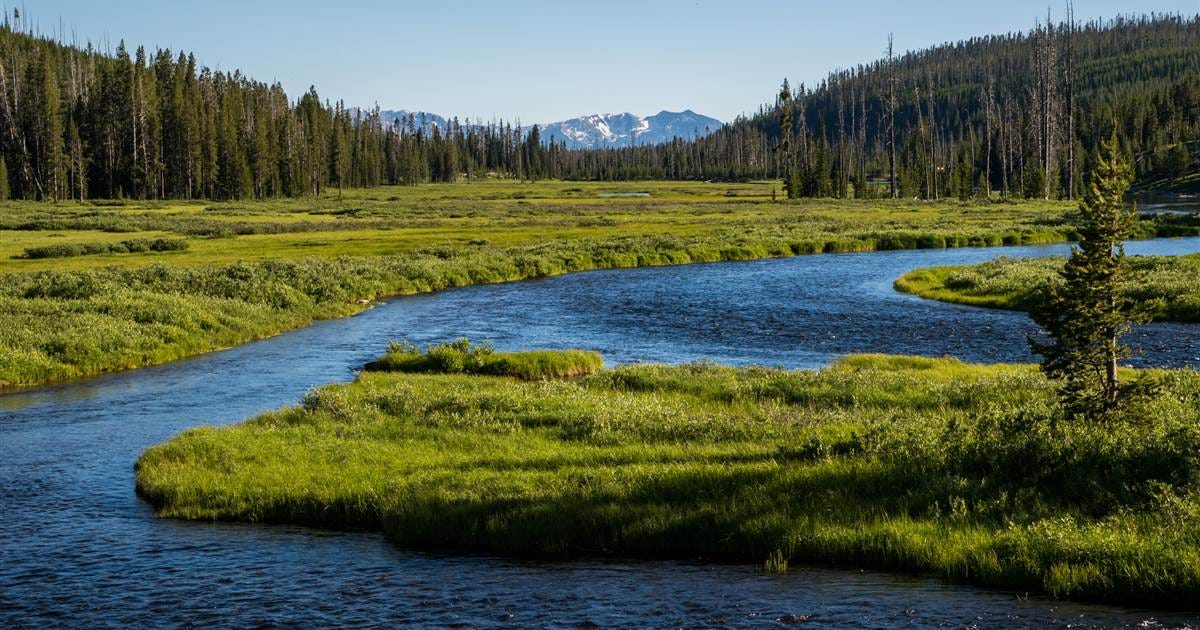 On Thursday, the Trump administration continued its mission of rolling back environmental protections in the name of profit by announcing the intention to open up the entire coastal plain of the Arctic National Wildlife Refuge in Alaska for incredibly aggressive oil and gas exploration. On the same day, the Trump administration formally revoked an Obama-era regulation that protected U.S. wetlands and streams from pollution. Developers and farmers have long since claimed these protections hurt economic development and infringed on property rights and it seems Trump is making good on campaign promises at a critical time leading up to re-election.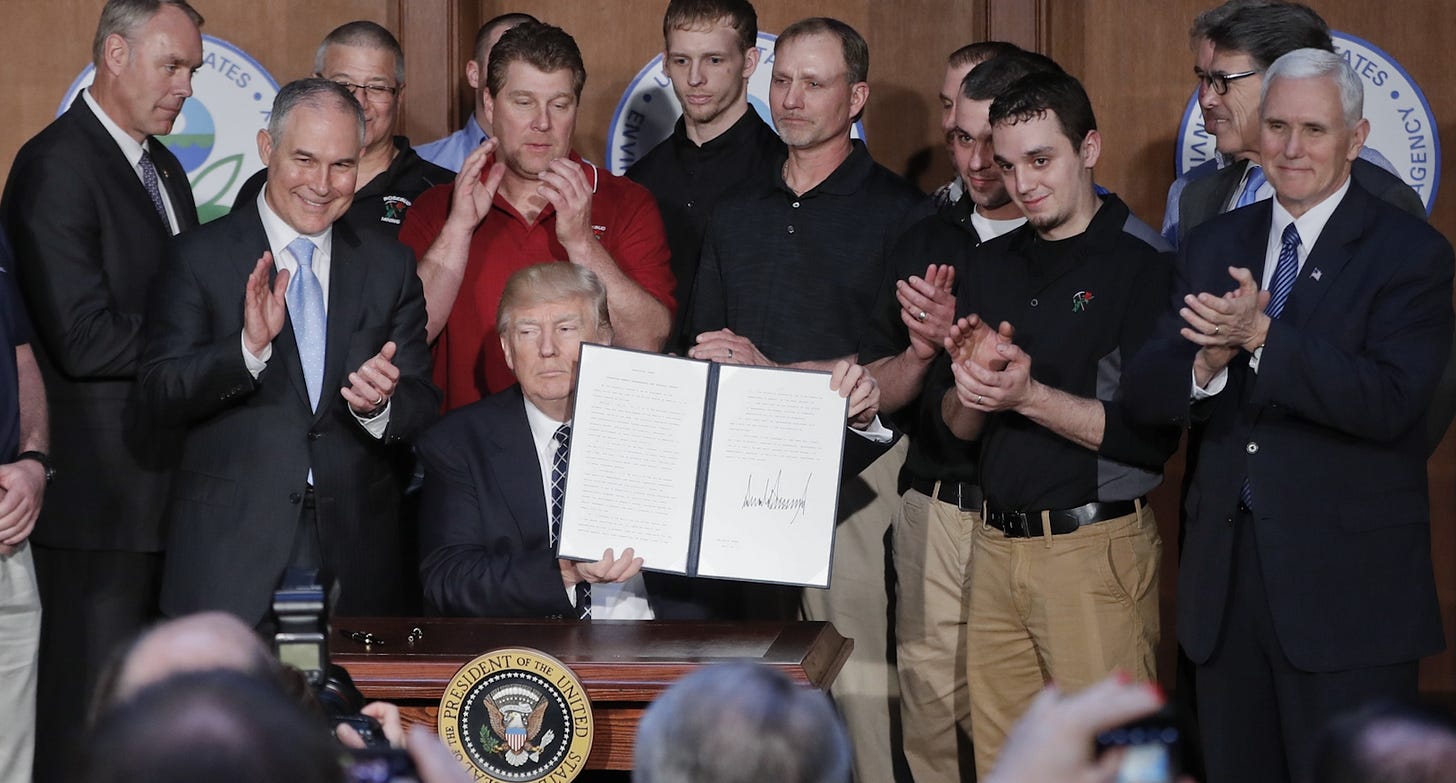 (Trump signing a sweeping executive order that effectively dismantled Obama-era environmental regulations in March of 2017, flanked by coal miners, Interior Secretary Ryan Zinke, Environmental Protection Agency Administrator Scott Pruitt, Energy Secretary Rick Perry, and Vice President Mike Pence, via Associated Press.)
This all comes after an early 2018 Supreme Court ruling that pushed back all legal challenges to the Waters of the U.S. rule, also known as the Clean Water Rule, to the federal district courts and determined that all cases be brought at that level. The result was the immediate lifting of a stay issued by an appeals court that blocked the 2015 rule from going into effect. The expansion of the Clean Water Rule was intended to reduce sources of pollution dumped in the small tributaries of larger lakes and rivers, but the plan was met by opposition from agribusiness, mining and industry groups, who stood to lose money.
Trump had already enacted an Executive Order in 2017, no doubt under the guidance of Scott Pruitt, who sought to destroy the protections of the E.P.A as a lawyer and lobbyist before he was appointed by Trump to lead it in December 2016. That order successfully delayed the effective date of the new regulations to 2020 to buy business more time to turn a profit at the expense of America's natural resources. Even though Pruitt is gone, his strategy to continue an all-out assault on protected lands in the name of monetary gain is still going strong. Case in point: since leaving the White House Pruitt has registered as an energy lobbyist in Indiana, while fossil-fuel interests there continue to block reasonably proposed closures of several coal-fired power plants.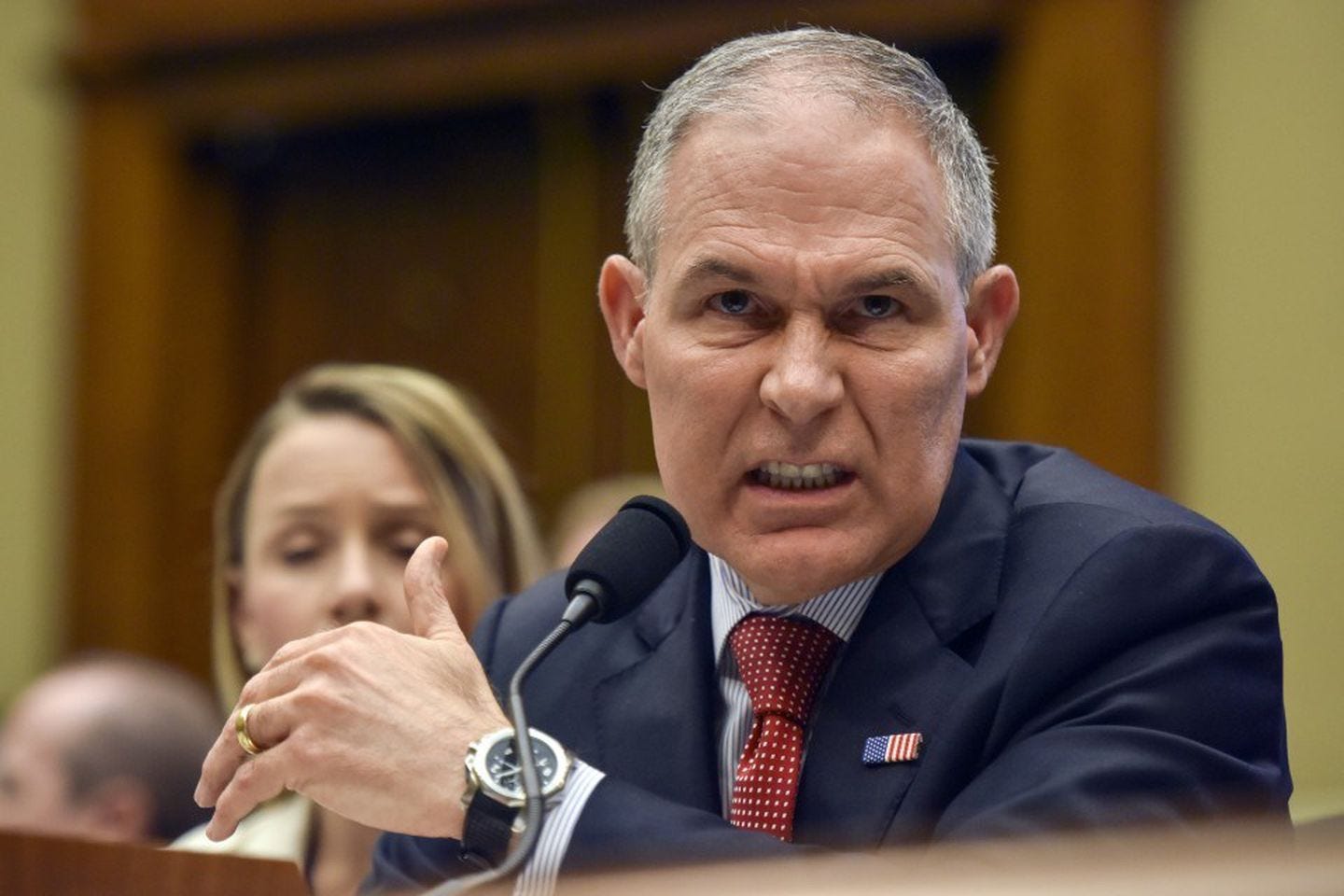 (Scott Pruitt as head of the Environmental Protection Agency in April 2018, testifying before the Committee on Energy and Commerce Subcommittee on Environment at the Rayburn House Office Building via The Washington Post.)
Fast forward to this week when Trump quickly moved on more deregulation that stands to severely harm the environment before Obama-era protections can take place. The Interior Department's Bureau of Land Management took a major step toward leasing the oil and gas resources for the nearly 1.6 million-acre coastal plain of the Arctic National Wildlife Refuge when they filed a final environmental impact statement on Thursday that called for aggressive construction, despite the delicate condition of the area due to climate change and the refuge the location provides to many animals.
The long-standing interest from money-driven members of the petroleum industry has won out. The report filed this week shows the Interior Department is on track to auction leases for the right to drill in the previously protected coastal plain of the Arctic National Wildlife Refuge before the end of the year. Achieving this goal by auctioning off rights to this land has been a long-standing plan of this administration. This would put drilling rights directly in the hands of oil companies. Should Democrats take control in 2020 in a way that could effect change, it will be too late to stop a lot of the development of the refuge that will be well underway.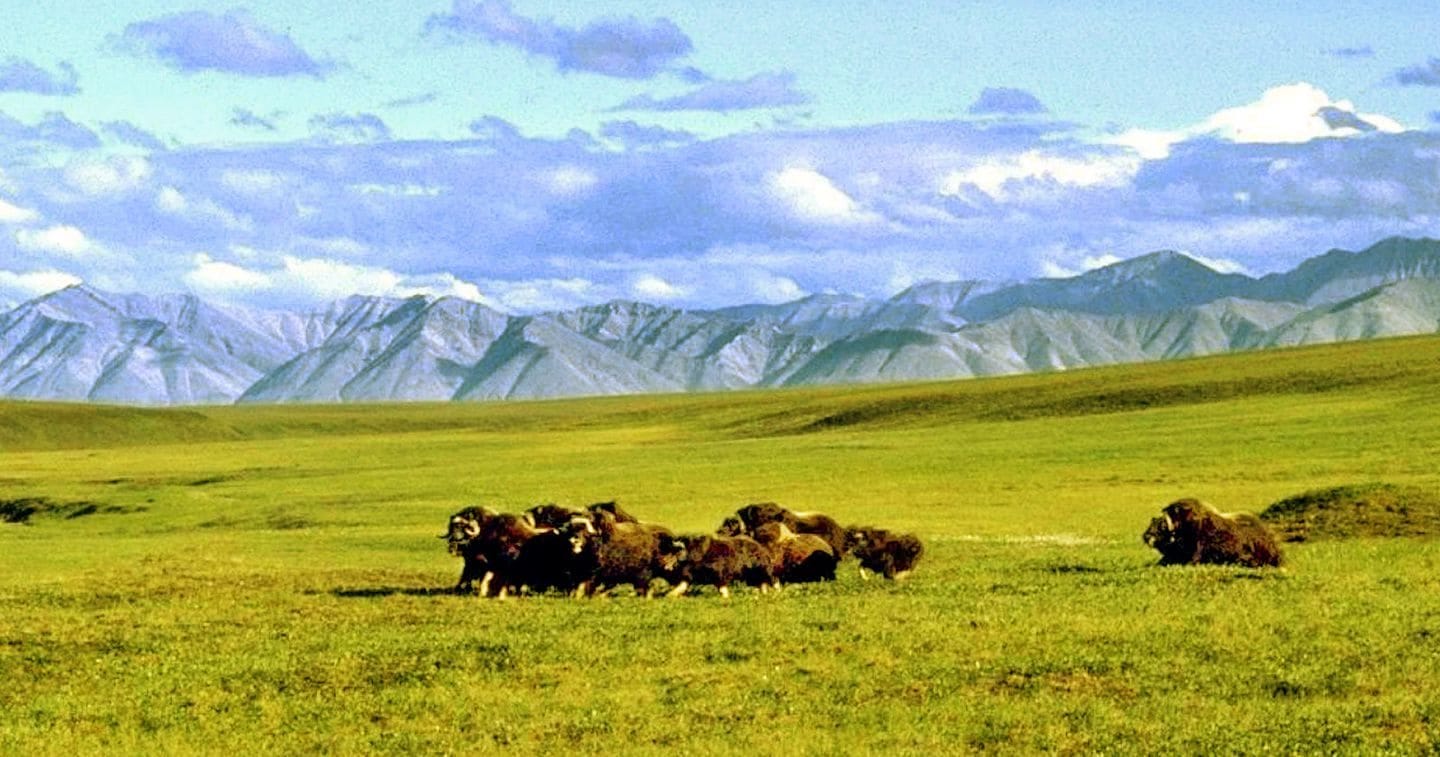 (A herd of musk ox graze in an area of the Arctic National Wildlife Refuge in Alaska, via Associated Press.)
The Arctic National Wildlife Refuge, an area roughly the size of South Carolina, is the largest remaining expanse of pristine land in the United States and is mostly untouched by human activity. The land protects polar bears, wolves, migratory birds, porcupine caribou and other wildlife. Congress intended to protect the majority of the Arctic Ocean coast but left open the possibility that some of the refuge could be opened for oil and gas development in a law enacted in 1980. Democrats and environmentalists have been working for decades to protect the land and stop oil exploration efforts…until Trump. Republicans included a section in a tax bill establishing a plan to sell leases in the coastal plain. Billing for the plan was seen as a revenue generator for the federal treasury in 2017. Republicans were able to push this though when they still maintained a majority in the House, before Democrats could have stopped them.
Environmental groups argue that opening the Arctic refuge is senseless when we should be reducing the use of fossil fuels to fight climate change. Additionally, the damage caused by impending exploration and drilling will cause substantial environmental harm, not to mention the extreme consequences for wildlife in the area. The region's population of polar bears, which is already in decline because of sea-ice loss related to climate change, is especially vulnerable to this type of exploration, as are the large migrating herds of caribou that use the coastal plain as a calving area. Environmentalists have determined that even initial exploration work, such as the new seismic studies that will precede any eventual drilling that could yield any kind of resource benefit to the country, could cause irreparable damage to the fragile Alaskan Arctic.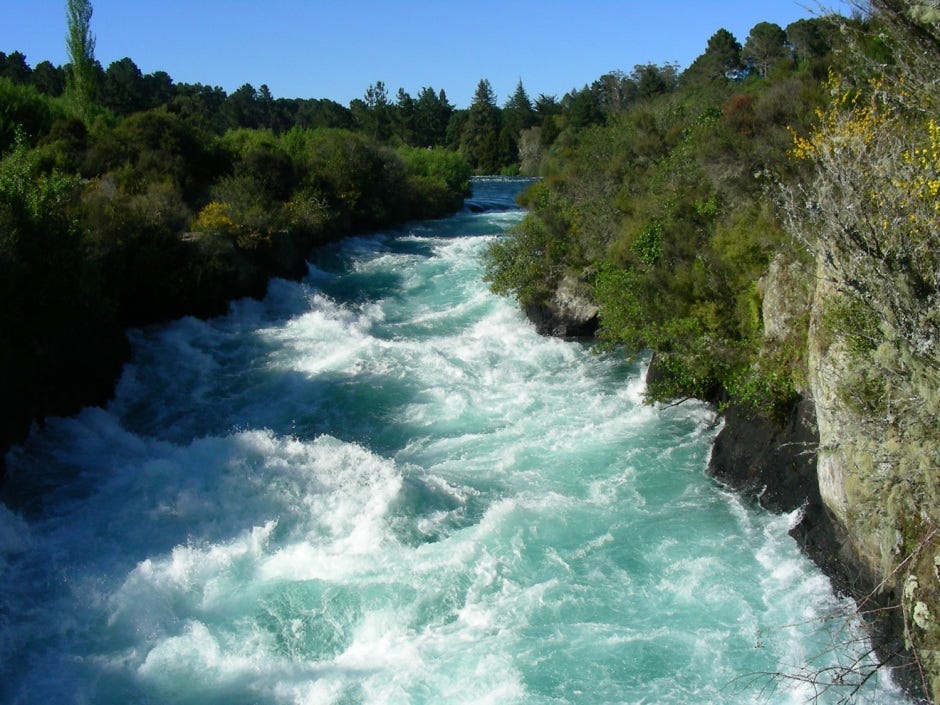 Cue the next attack - a repeal of Obama-era clean water regulations that sought to limit chemicals that could pollute streams, wetlands and other bodies of water. The previous restrictions included coal-fired power plants, automobile tailpipes and methane emissions and even extended to asbestos and pesticides. Considering the recent scrutiny in the courts stemming from Monsanto for its pesticide products responsible for record levels of human illness and destruction to critical wildlife, such as the bee population, the loss of these protections is alarming.
"The 2015 rule meant that more businesses and landowners across the U.S. would need to obtain a federal permit to exercise control over their own property, a process that can cost tens of thousands of dollars and take months or even years to complete. It also put more local land-use decisions in the hands of unelected bureaucrats. Many Americans balked at this idea, and rightfully so…By repealing the Clean Water Rule, this [Trump] administration is opening our iconic waterways to a flood of pollution. The EPA is abdicating its mission to protect our environment and our health." — Bart Johnsen-Harris of Environment America
The repeal is expected to take effect in just weeks and the most immediate impact will be the instant increase in pollution, as companies and farmers will no longer need a permit to discharge potentially harmful substances into many streams and wetlands. Ultimately, farmers will have to spend less money to determine whether they will need a federal permit. This roll-back is something that Trump campaigned on heavily in 2016 and given the recent pressures placed on farmers as a result of Trump's tariff war with China, repealing these protections to save farmers money was critical for him heading into 2020.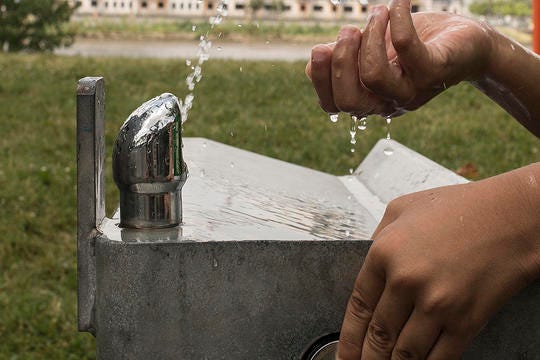 The Obama Rule sought to limit pollution in more than half of the nation's bodies of water, with an intent to protect drinking water for nearly one-third of the country. It also extended federal authority in an effort to limit pollution in large bodies of water, such as the Chesapeake Bay and Puget Sound, as well as the smaller bodies that drain into them, including tributaries, streams and wetlands. Considering the epidemic we currently face in many U.S. cities now with no access to clean water, the ramifications of this recent attack on protections is obvious.
The result of this attack on E.P.A. protections will do irreversible damage to people, animals, plants, the environment and on and on. It will also cost tremendous amounts of money in law suits that will inevitably come next, for people seeking the court's intervention. It's waste after waste and the cost is incalculable and the basis of all of this de-regulation is simple — money.
If you like this piece and you want to help promote independent journalism from a female perspective, please support my work by clicking the button below to sign up for a free subscription. 
---
Amee Vanderpool writes the "Shero" Newsletter and is an attorney, contributor to Playboy Magazine, analyst for BBC radio and Director of The Inanna Project. She can be reached at avanderpool@gmail.com and you can follow her on Twitter @girlsreallyrule.