Trump's Campaign Manager and His Wife Got Over $900,000 from Pro-Trump Super PAC
Brad Parscale and his wife, Candice Blount, have drawn scrutiny over their relationship with Trump-Pence super PAC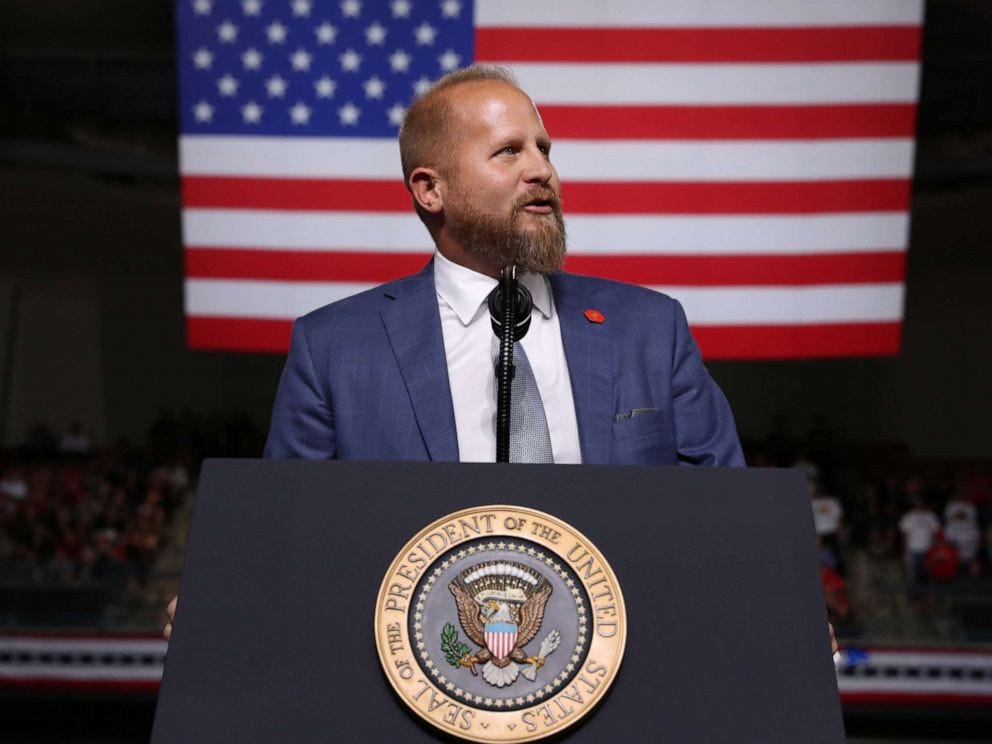 (photo of Brad Parscale standing behind the Presidential seal at a Trump rally)
America First Action,  a flagship Trump super PAC dedicated to furthering the Trump-Pence agenda, has paid thousands of dollars to a company owned by Trump's Campaign Manager, Brad Parscale. Under Federal Election law, Super PACs can raise and spend unlimited amounts of money on behalf of federal candidates, but are barred from coordinating with those campaigns, especially in the area of spending. FEC records reflect that Parscale's company, Red State Data and Digital, has received  $910,000 in total from  America First Action, taking in $837,000 in 2018 alone. These confirmed numbers make Parscale's company the fifth biggest recipient of money from the Trump-centric super PAC last year.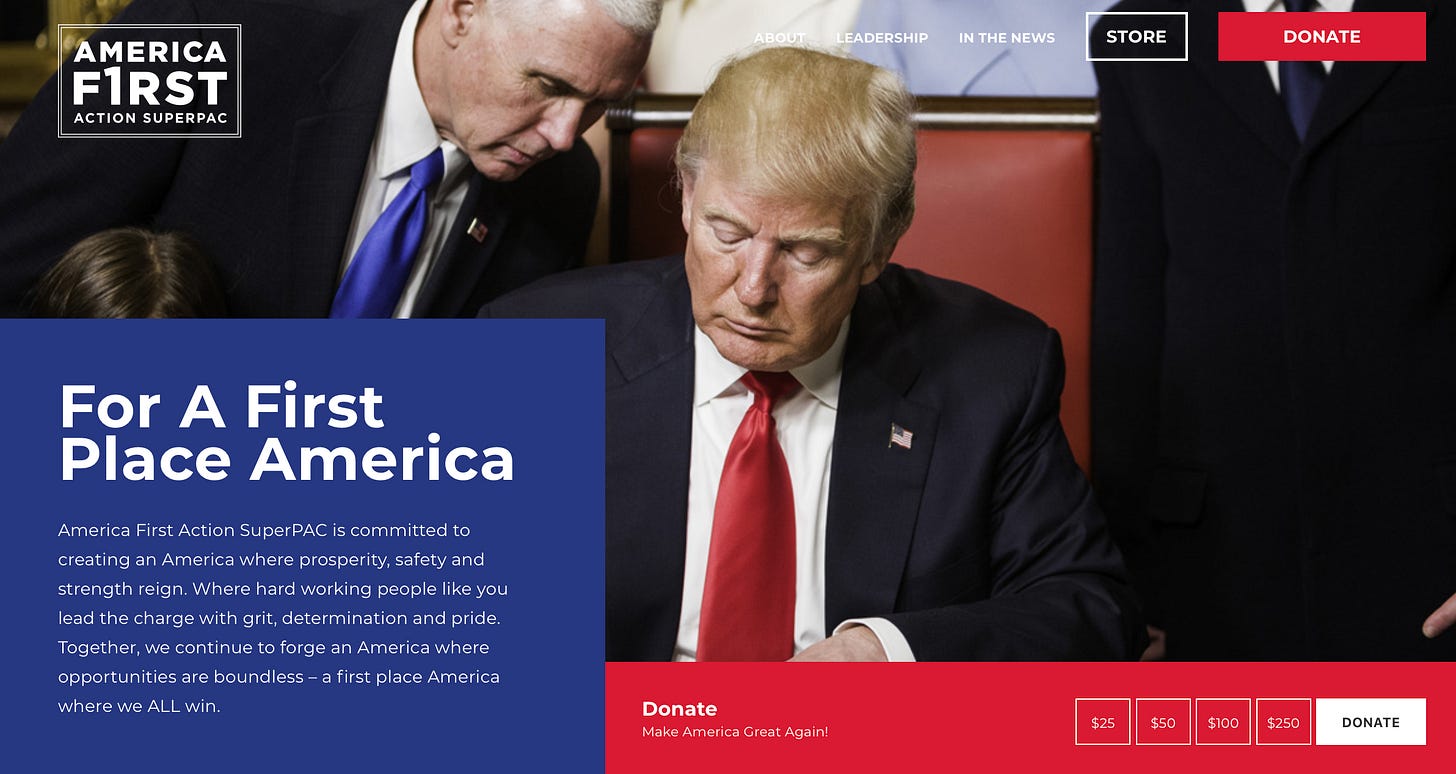 This behavior of walking a fine-line legally in coordination with the Trump campaign is not new for Parscale. After serving as Trump's digital media director for the 2016 campaign, he immediately transitioned into assisting with fundraising by founding a non-profit, called America First Policies, that worked in tandem with America First Action in 2017. That same year Parscale also founded Parscale Strategy LLC, a marketing company that worked directly for the America First Action super PAC, as well as the Republican National Committee.
Red State Data and Digital was founded on March 2, 2018, just days after the announcement that Brad Parscale was named as Trump's next campaign manager for 2020. There have also been questions about direct ownership of the company, as Parscale's wife, Candice Parscale, is listed on incorporation documents as a "member" of the LLC, which typically denotes ownership. Parscale told CNN that he is the owner of Red State and that his wife "listed it incorrectly." He has since tweeted similar confirmation that he owns all of his companies.
Parscale further elaborated on the ownership of Red State by telling CNN, "legally we both own it," and "she is on the paperwork yes." He also confirmed the ownership arrangement with his wife saying, "she is my wife and I allow her to file and be on my companies because I trust her. It depends on how you look at it. But no. It is all my company." He later told CNN, that he owns the company "fully" and that his wife made a mistake by listing it incorrectly on the incorporation document by "check[ing] the box" for member when he is really the owner.
However this explanation and other factors should draw legal scrutiny. In the tweet shown above, Parscale states that his wife's name was intentionally listed as a member on the incorporation documents, even though he told CNN that her status as member was accidental and that she made a mistake. He also claims that her ownership of the company in no way hides his involvement because they share the same last name as a married couple. However, when you do a google search for background on "Brad Parscale wife" the only name that comes up is "Candice Blount." Wikipedia lists his spouse as Candice Blount as well.
Candice Parscale, or possibly Blount, has admitted to intimate involvement with the operation of Red State saying, "I do payroll and invoicing." The company has no website and the listed address for Red State is a UPS Store near Capitol Hill in Washington, D.C., even though the Parscales live in Fort Lauderdale, Florida. Instead of listing a CEO, Red State utilizes the services of a woman, whose name has yet to be disclosed, to actually run the company and report directly to the president of America First Action. CNN confirmed that Red State's employees are based in Florida and that these employees were not looking to relocate and didn't want to be with a political action committee long term. It was also confirmed that the company only has one employee in Washington, possibly just to check the mail.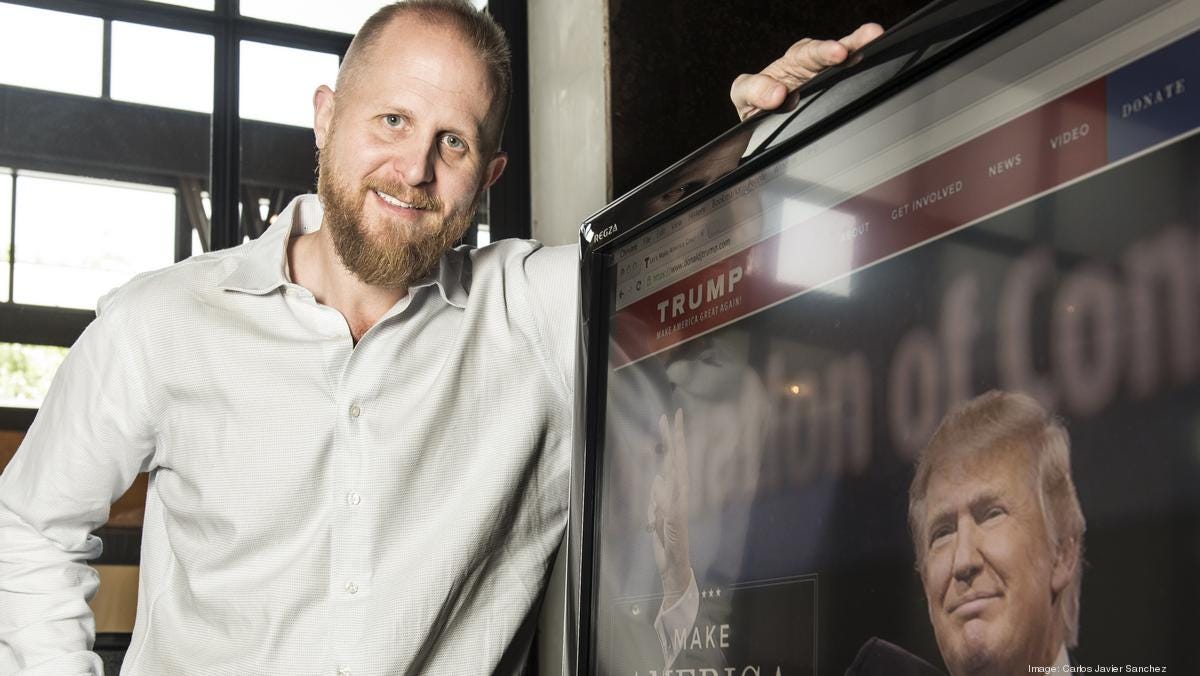 The most concerning aspect of the configuration of Red State is that America First Action is the company's only client, according to FEC filings. Even more alarming is that America First made its last payment to Parscale's firm Parscale Strategy on March 13, 2018 and only one week later, made its first payment to the new company, Red State Data and Digital. A CNN source with ties to Red State also confirmed that the company has "stopped involvement with ads or media spends, typically the biggest expenditures of political groups, after the midterms." All of these factors, combined with the appearance of listing another individual as an owner, lends to the appearance that Brad Parscale may have intended to obfuscate his involvement with Red State as it was receiving significant funding from a Trump supporting super PAC.
"This is a perfectly legal and appropriate arrangement, which is firewalled, with zero chance for coordination. There could not possibly be coordination because the ads placed were for other candidates in the 2018 midterms. Everything is in FEC compliance." — Brad Parscale in a statement to CNN
Both America First and Red State formally deny any cooperative activity that would violate election law, but experts say that there was much more Parscale could have done to distance himself from the super PAC. Considering federal law requires four or more FEC commissioners to approve new rules or take actions to punish those who violate election law and the number of sitting commissioners has just been reduced to three due to a recent resignation, Parscale may be further insulated from an investigation any time soon. Additionally, the Federal Election Commissioners are appointed by the President and confirmed by the Senate, so Trump can actually keep the FEC from investigating his own campaign manager by failing to appoint another member. The commission typically has six filled posts in total, but now that it has only three working commissioners, the process is essentially immobilized. The cover for Parscale may not be intentional, but it is highly suspect.
If you like this piece and you want to help promote independent journalism from a female perspective, please support my work by clicking the button below to sign up for a free subscription. 
---
Amee Vanderpool writes the "Shero" Newsletter and is an attorney, contributor to Playboy Magazine, analyst for BBC radio and Director of The Inanna Project. She can be reached at avanderpool@gmail.com or follow her on Twitter @girlsreallyrule.