"Was there a quid pro quo? Yes."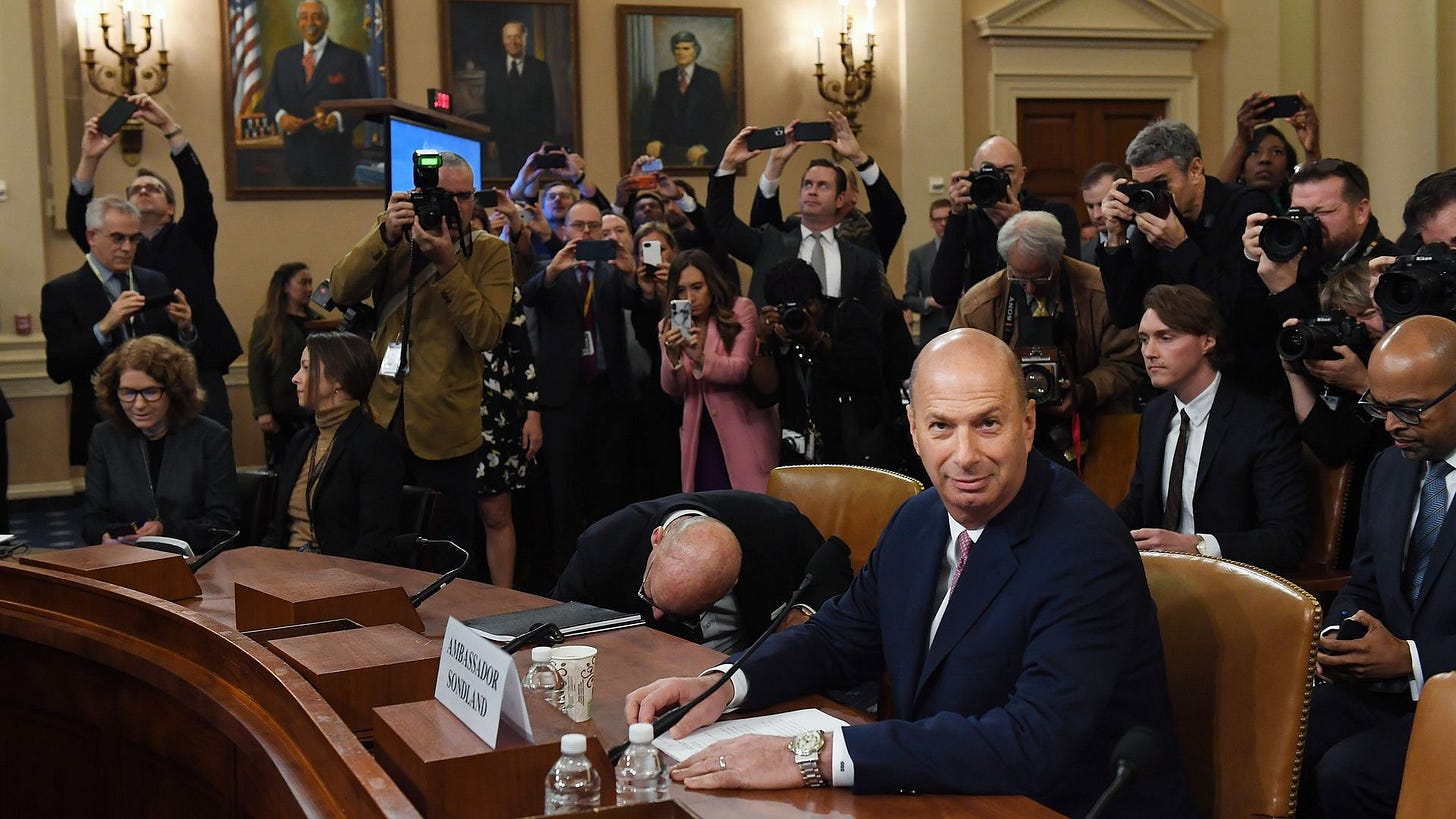 On Wednesday, Ambassador Gordon Sondland changed his testimony for the third time and explicitly linked President Trump, Vice President Pence and other senior officials to a bribery scheme with Ukraine. In exchange for millions in desperately needed military aide and a face to face meeting in the White House, Sondland confirmed that Ukraine knew it had to launch an investigation into Biden that would undoubtedly help Trump politically and personally.
The historic relevance of Gordon Sondland's testimony yesterday should not be casually overlooked. Despite the country conducting three impeachment inquiries in the past, we have never seen a sitting President accused of bribery with a foreign country in order to achieve personal gain to help him win his next election. The week's events have been nothing short of astounding in terms of the United States entering uncharted territory — something we seem to do often since Trump took office.
More forcefully and directly than ever before, Sondland declared in his public hearing that the Trump administration was engaged in an elaborate bribery scheme that he was intricately involved in and helped to facilitate. He detailed all of the directions and instructions he was given in order to get Trump what he wanted — a public announcement of a Ukrainian investigation into Joe Biden that would help advance his chances for re-election in 2020.
Wrapped up in Sondland's farewell impeachment kiss to Trump yesterday, were more accusations against key members of the Trump administration, including the Vice President, the Secretary of State, the President's Chief of Staff and the President's own personal lawyer whose gift seems to be severely messing up everything he touches. During his testimony, Sondland refused to slow down the metaphorical bus he was using to run everyone over and his testimony seemed to reflect his desire to stay out of the criminal fray and protect his own interests.
Mulvaney, Pompeo and Pence Were All Involved
Sondland told Congress that "everyone" was aware of the quid pro quo, including acting White House Chief of Staff Mick Mulvaney, Secretary of State Mike Pompeo and Vice President Pence. He made it clear that there was no alternative track to negotiate with Ukraine, that he and his group were the only track truly operating to fulfill Trump's instructions.
Sondland testified that Pompeo had instructed him to work with Giuliani as late as Sept. 24 and this is important because it is markedly after the whistleblower came forward and the accusations against Trump were known publicly. Sondland also added that Pompeo gave him direction on how to maneuver and alleviate the "logjam" with Ukraine saying, "Secretary Pompeo essentially gave me the green light to brief President Zelensky about making those [Biden investigation] announcements."
Sondland also explained a text exchange he had with Mick Mulvaney on July 19, just six days before Trump's notorious call with President Zelensky, that reflects Mulvaney's involvement and corroborates other witness testimony:
Sondland: "I Talked to Zelensky just now…He is prepared to receive Potus' call. Will assure him that he intends to run a fully transparent investigation and will 'turn over every stone'. He would greatly appreciate a call before Sunday so that he can put out some media about a 'friendly and productive call' (no details) before Ukraine election on Sunday."

Mulvaney: "I asked NSC to set it up for tomorrow."
When Sondland was asked specifically in a follow up if both Mulvaney and Pompeo were aware of the quid pro quo, and he replied "correct" indicating that both men had knowledge of all of these events.
Sondland also went into detail about Vice President Pence's involvement in assisting with the quid pro quo before his Sept. 1 meetings in Warsaw, Poland with President Zelensky. Sondland testified that he conveyed "concerns" about what was happening with the Ukrainian military aid. He testified that he "mentioned to Vice President Pence before the meetings with the Ukrainians that I had concerns that the delay in aid had become tied to the issue of investigations." Sondland confirmed later in his testimony that Pence "nodded that he heard what I said" with regard to his concerns about the quid pro quo.
Pence's office has denied Sondland's account and issued a statement that denies any discussion with Sondland ever occurred. Pence's Chief of Staff Marc Short issued a short statement that reads:
"The Vice President never had a conversation with Gordon Sondland about investigating the Bidens, Burisma, or the conditional release of financial aid to Ukraine based upon potential investigations. Ambassador Gordon Sondland was never alone with Vice President Pence on the September 1 trip to Poland. This alleged discussion recalled by Ambassador Sondland never happened."
In his continued accusations against the White House and State Department, Sondland also said repeatedly in his opening statement and testimony that he was denied critical materials that were necessary for him to refresh his recollection and assist him in providing his testimony. Sondland claimed that he was not allowed access critical documents, emails, notes, and other various records that he had requested and that this might be the cause for any inconsistencies. Sondland's insistence at recounting this fact, given that Rep. Schiff has already made statements that no one has been provided requested documents from the State Department that are critical to the impeachment inquiry, reflects that Sondland was likely trying to explain away his mis-statements and justify his previous false testimony.
The "Three Amigos" Are Not Spared
Sondland relayed in his opening statement that his "three amigos" cohorts, Rick Perry and Kurt Volker, were responsible for handling the initial communications with Rudy Giuliani in the Ukrainian bribery scheme and that Trump specifically directed them on May 23 to "talk to Rudy." Sondland said, "Secretary Perry volunteered to make the initial calls with Mr. Giuliani, given their prior relationship." Sondland also explained that, "Ambassador Volker made several of the early calls and generally informed us of what was discussed."
Although Sondland told Congress "I am a proud part of the Three Amigos," it seems his willingness to implicate Perry and Volker following Trump's directives and getting involved with Giuliani's plan denotes the exact opposite. The Energy Department issued a statement disputing what Sondland said almost immediately:
"Ambassador Sondland's testimony today misrepresented both Secretary Perry's interaction with Rudy Giuliani and direction the secretary received from President Trump. As previously stated, Secretary Perry spoke to Rudy Giuliani only once at the president's request. No one else was on that call. At no point before, during or after that phone call did the words 'Biden' or 'Burisma' ever come up in the presence of Secretary Perry."
It seems Sondland's attacks had no end and the dismemberment of the "Three Amigos" was so apparent to everyone that by the end of the hearing, members of Congress were noting that the amigos had been disbanded. Sondland's response was to joke and laugh and say "I lost my amigos?" Clearly Sondland will get over it.
"Trump Doesn't Give a Shit About Ukraine"
Sondland went on to undermine the concept that Trump was really only motivated by rooting out corruption in Ukraine, and told investigators that there was no impression that there was ever actually a desire for investigations. Sondland confirmed that Trump did not demand to actually get the investigations he was pushing for, but that he just needed Ukraine to make a public announcement that investigations were underway. Sondland testified that, "[Zelensky] had to announce the investigations. He didn't actually have to do them, as I understood it."
It's worth noting that David Holmes, who testified last week in closed door sessions and is set to testify publicly today said that Sondland had told him Trump didn't "give a shit" about Ukraine and only wanted the investigations. This testimony, combined with Sondland's account, indicated that the only thing that mattered to Trump was the headlines from the investigation announcement that would help him politically, not the actual investigation into any corruption.
Trump's Response to Sondland Turning on Him
Midway through Sondland's public testimony, Trump began to deny that he really knew Sondland despite all of the photo, tweet and statement evidence that he does know him…quite well. He began to focus on Sondland's description of dealing with Trump when he was in "a bad mood" and told him that he wanted nothing in response to being asked by Sondland what to do about Ukraine.
Trump seems to think that this one instance where he was clearly short with Sondland and didn't ask him to help him facilitate the bribery scheme negates all of the other times Sondland testified that Trump did pursue the bribery scheme. Trump also appeared on the White House lawn to speak to reporters with a list of defensive talking points that were not only false, they were especially odd in the context of what was happening. No one really saw this though, because everyone was riveted to Sondland's ongoing testimony in Congress that continued to implicate Trump.
Laura Cooper Seals the Deal
(Laura Cooper, waiting to begin her public testimony before Congress in Washington, D.C., on Nov. 20, 2019.)
Although the testimony of Gordon Sondland was riveting and destructive to the Trump administration, we should not be overlooking the explosive details given by Pentagon official Laura Cooper last night. Cooper, Deputy Assistant Secretary of Defense for Russia, Ukraine and Eurasia, testified that her staff received an email on July 25 from Ukraine's embassy staff inquiring about the nearly $400 million in aid to the country. Cooper told Congress that Ukraine, "Specifically, the Ukraine Embassy staff asked what is going on with Ukraine security assistance."
This is important because it shows that Ukraine inquired about the status of the halted security aid on the same day and before President Trump asked Ukrainian President Volodymyr Zelensky to launch investigations that could benefit him personally. This statement destroys the Republican narrative that a quid pro couldn't possibly exist and Trump did not pressure Zelensky because Ukraine didn't know, and had no way of knowing about the hold on the military aid until it became public at the end of August.
The White House circulated talking points to Republican allies during Cooper's testimony in order to attempt to down play what she was saying, calling her stamens under oath "just an assumption based on Ukraine bringing up the aid" and that "simply discussing the aid in no way means they knew it was being withheld." But Rep. Eric Swalwell (D-CA) said that Ms. Cooper's testimony destroyed one of the "pillars of the president's defense" by proving that Ukrainians had concerns about the status of the aid early on, not in August as previously explained.
Given that Cooper's background and reputation is beyond reproach and that she has never needed to amend her statements like Sondland or other Republican witnesses have, her testimony proved to be exceptionally compelling and will add significant credibility to the charges moving forward.
---
If you like this piece and you want to help support independent journalism from a female perspective, you can forward this article to others or send a gift a subscription to someone else today.
Amee Vanderpool writes the "Shero" Newsletter and is an attorney, contributor to Playboy Magazine, analyst for BBC radio. She can be reached at avanderpool@gmail.com or follow her on Twitter @girlsreallyrule.