What Had Happened Was... (Aug. 19th-25th, 2019)
A lightning fast weekly recap so you don't feel like an idiot on Monday
(If you want to post this article on social media, use this link: shero.substack.com)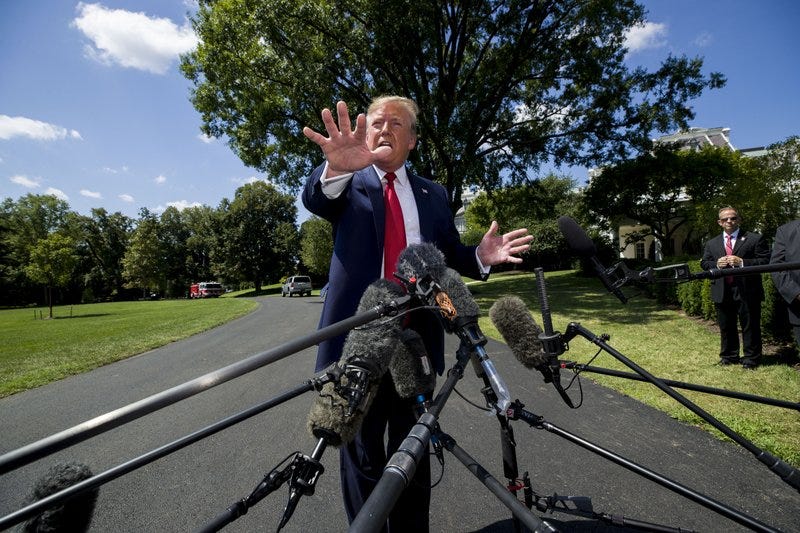 Here's a catch-up of the major events of the week of August 19, 2019. You can check in with a minimal time commitment, read about the big stuff and stay in the know before we're on to the next. This week we had Planned Parenthood being forced to deny federal funding, Trump in full reverse on background checks, a last minute cancelation on a formal state trip to Denmark and continued anti-semitism from the President, who is now calling himself "the chosen one."
This is some next level nonsense, let's dig right in.
Planned Parenthood Forced Out of Title X Program
On Monday, Planned Parenthood announced that it would be withdrawing from the Title X federal family planning program that assists with low income access to health services for women. The decision was made in response to a new Trump administration gag rule that forbids medical providers at Title X clinics from referring patients for abortions. This will ultimately result in a $60 million dollar loss for the organization overall. Planned Parenthood claims it was forced into this move because compliance would have meant withholding critical medical information from patients.
Title X was enacted in 1970 as a federal family planning program and provides more than $260 million a year to fund contraception, screenings for STDs, breast and cervical cancer, and other reproductive health services to women who have limited access. Planned Parenthood typically uses the $60 million a year it receives in federal funding for providing more than 1.5 million low-income women with services like birth control, pregnancy tests, and sexually transmitted disease tests.
"We will not be bullied into withholding abortion information from our patients. Our patients deserve to make their own health care decisions, not to be forced to have Donald Trump or Mike Pence make those decisions for them." — Alexis McGill Johnson, acting president of Planned Parenthood
This Trump gag rule will likely have a larger impact on smaller, independent clinics that will also be forced to withdraw from Title X due to the new restrictions. Emily Nestler, an attorney with the Center for Reproductive Rights who represents Maine Family Planning, says "the move could force as many as 15 clinics to close in the largely rural state." Although Planned Parenthood, Maine Family Planning and over 20 other states have launched legal challenges in court, a federal appeals court ruling will allow the gag rule policy change to take effect while legal cases are pending, meaning desperate women will have to wait it out until the issue is resolved months down the road.
Trump Backs Away From Background Checks
According to White House aides, Trump appears to be backing away from potential support for gun background check legislation in the wake of the mass shootings in El Paso and Dayton. He had previously told reporters that "there is a great appetite" for tightening background checks on people who buy firearms, but has switched up his pitch this week to mirror N.R.A. talking points that claim America already has strong nationwide background check regulations.
Although Trump insisted that his administration would still "look very strongly" at background checks, The Daily Beast reports that talks between lawmakers and the White House on the issue have stalled. Despite recent poll numbers showing that 90% of Americans support expanded background checks, Trump has since suspended any talk of moving forward on new legislation and has instead shifted the discussion to focus on citing poor mental health as the culprit.
A White House official has also confirmed that Trump has not been discussing the topic recently like he was immediately following the double mass shooting. "He's started to move on," says the White House official. "If it were up to the president, he'd do background checks today. But that's not how it works, and he loses patience [quickly]."
Regardless, the the House Judiciary Committee is scheduled to return a few days early from its summer break to work on gun control legislation. They will convene on Sept. 4th to mark up three new pieces of legislation. These will include a bill that would ban high-capacity ammunition magazines, a bill that would prohibit people convicted of misdemeanor hate crimes from purchasing a gun, and a House version of a Senate proposal to give grants to states that enact red flag laws that allow police to seize guns from people deemed a danger to themselves or others. The Judiciary Committee is also expected to hold another hearing Sept. 25th to focus on military-style weapons and the ramifications of their legal accessibility.
Trump Cancels Trip to Denmark
Trump took to Twitter on Tuesday to cancel his upcoming trip to Denmark. He had expressed an interest in buying Greenland from Denmark last week and Denmark immediately shut him down. Danish Prime Minister Mette Frederiksen responded to the idea of selling Greenland as "absurd" and announced that the country was "not for sale." A White House spokesman later confirmed that the president's entire trip to Denmark had indeed been canceled.
Denmark's Royal Court had previously announced that Trump and the First Lady were due to visit on Sept. 2nd and 3rd. Many important events had already been scheduled, including bilateral meetings and a formal meeting with Margrethe II, the Queen of Denmark. The White House had also formally announced the visit and tentative schedule on July 31st. The response from both past and present leaders and officials of both Denmark and Greenland have ranged from incredulity to frustration.
The world ultimately saw Trump throw a fit after being embarrassed. Then, when he tried to recover, he over-reacted entirely. Now he's inconvenienced a lot of people and several countries all because a powerful woman called him out publicly on his lunacy.
Welcome to the club, Denmark.
Trump's Continued Anti-Semitism
On Tuesday, Trump told the press in the White House that American Jews who vote for Democrats show "either a total lack of knowledge or great disloyalty." Critics responded by pointing out that Trump was repeating old anti-Semitic tropes by demanding that Jews should vote exclusively based on religious interests, which Trump has falsely aligned with the interests of Benjamin Netanyahu's right-wing Israeli government.
This did not go over well with Jewish people and Halie Soifer, executive director of the Jewish Democratic Council of America said the following: "At a time when anti-Semitic incidents have increased—due to the president's emboldening of white nationalism—Trump is repeating an anti-Semitic trope. If this is about Israel, then Trump is repeating a dual loyalty claim, which is a form of anti-Semitism. If this is about Jews being 'loyal' to him, then Trump needs a reality check."
By Wednesday, Trump tweeted a sycophantic quote from Wayne Allyn Root, a non-Jewish conservative radio host and conspiracy theorist who promoted that President Obama was not born in the United States and is secretly gay. Root described Trump as the "King of Israel" and that Israeli Jews "love him like he is the second coming of God." Trump then captioned these comments about himself in the tweets below.
"Thank you to Wayne Allyn Root for the very nice words. "President Trump is the greatest President for Jews and for Israel in the history of the world, not just America, he is the best President for Israel in the history of the world...and the Jewish people in Israel love him....
....like he's the King of Israel. They love him like he is the second coming of God...But American Jews don't know him or like him. They don't even know what they're doing or saying anymore. It makes no sense! But that's OK, if he keeps doing what he's doing, he's good for.....
Later that day, he continued the omnipotent rhetoric when he told the press "I am the chosen one" to fix the U.S. trade imbalance with China, as he literally turned eastward, spread his palms upward and looked to the sky.
All of this comes on the heels of Reps. Ilhan Omar and Rashida Tlaib being barred from entering Israel and the continued alliance between Trump and Netanyahu. When you combine the events of last week with this week's grandiose comments, it's impossible not to question Trump's mental state and his fitness to serve.
For more detail on the events of the week, see the following articles listed below:
Trump is Really Slipping: Newly Released Polls Show Trump's Support in Core Areas is Taking A Hit
Does Trump Really Have the Log Cabin Republicans?: A look into Trump's actual support among Republican LGBT heavy hitters
If you like this piece and you want to help promote independent journalism from a female perspective, please support my work by clicking the button below to sign up for a free subscription.
---
Amee Vanderpool writes the "Shero" Newsletter and is an attorney, contributor to Playboy Magazine, analyst for BBC radio and Director of The Inanna Project. She can be reached at avanderpool@gmail.com or follow her on Twitter @girlsreallyrule.