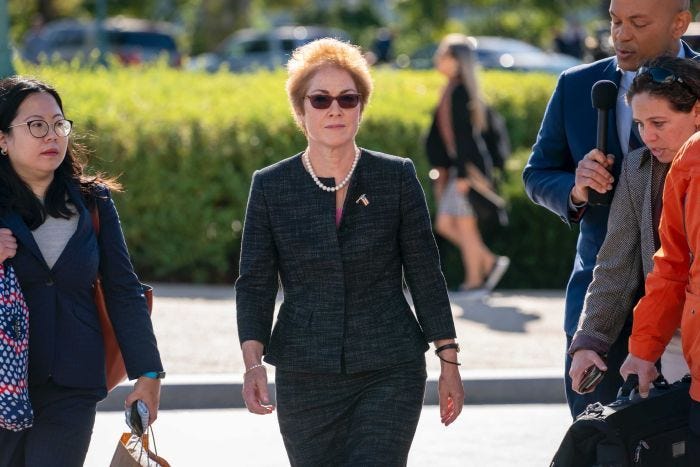 (Former Ambassador Yovanovitch arriving for her testimony on Capitol Hill on Oct. 11)
On Monday, House investigators released the transcripts from closed-door depositions of Marie Yovanovitch, the former ambassador to Ukraine, and P. Michael McKinley, a former senior adviser to Secretary of State Mike Pompeo. The decision to release the first transcripts from these closed door inquiries came on the same day that four White House officials, including recently implicated White House lawyer John Eisenberg, defied subpoenas to testify.
McKinley Gives Details
(Michael McKinley (right), the former top aide to Secretary of State Mike Pompeo, arriving for testimony on Oct. 16.)
During Ambassador McKinley's deposition, he stated that he resigned because of his concerns about "the engagement of our missions to procure negative political information for domestic purposes, combined with the failure I saw in the building to provide support for our professional cadre in a particularly trying time." McKinley also expressed that he "had never seen [efforts to use the State Department to dig up dirt on a political opponent] in 37 years in the Foreign Service."
McKinley also told the committee that he proposed issuing a "short [public] statement that [wasn't] political" in support of Yovanovitch after the White House released the July 25 partial phone record where Trump called the ambassador bad and the people she was dealing with in Ukraine "bad news." When McKinley contacted Yovanovitch to make sure she would welcome such a statement, she relayed to him that he was the first senior Department official to even contact her. Senior State Department officials were receptive to support McKinley's proposal, but ultimately it was Secretary Pompeo who "decided that it was better not to release a statement at this time."
McKinley testified that he continued to make several requests for the State Department to defend Ambassador Yovanovitch in some way, but Secretary Pompeo was completely non-responsive. According to McKinley, Pompeo did not react at all in their last meeting, when McKinley gave his resignation and told the Secretary he was resigning because "this is unacceptable."
Yovanovitch's Account of What Happened
In her deposition, Yovanovitch relayed that she learned in late 2018 that "Mr. Lutsenko, the former [Ukrainian] Prosecutor General, was in communication with Mayor Giuliani" and that "they were going to, you know, do things, including to me." During the same time period, she told the committee that Giuliani had met with Lutsenko and that the Prosecutor General of Ukraine was looking to "hurt [her] in the U.S."
The former ambassador also testified that when the the U.S. Embassy in Ukraine continued to call for cleaning up the Prosecutor General's Office, Mr. Lutsenko failed to implement the proposed reforms that included the prosecution of money laundering cases. Yovanovitch also testified that Lutsenko began to spread "falsehoods" about her, including that she had given him a do-not-prosecute list, a list of individuals that he should not touch — she told the committee she never did this.
Marie Yovanovitch also told congressional investigators that she was warned to "watch my back" by Arsen Avakov, a senior Ukrainian official and minister of internal affairs. Avakov told her that two associates of Rudy Giuliani, Lev Parnas and Igor Fruman (see video below), wanted a different ambassador in the post and were working to make that happen. Parnas and Furman were arrested on Oct 9 on unrelated charges stemming from a scheme to funnel foreign money to U.S. politicians while trying to influence U.S.-Ukraine relations.
Lutsenko's tactics of spreading lies in order to defame Yovanovitch was also utilized by Rudy Giuliani. Yovanovitch told investigators in her deposition that Giuliani attempted to exert authority to override a visa denial for former Prosecutor General Viktor Shokin after U.S. officials determined he was ineligible based on his "known corrupt activities." In an attempt to help Shokin, Giuliani falsely claimed to the White House and State Department that former Ambassador Yovanovitch was improperly blocking the visa when she had nothing to do with it. She testified that when she reported to State Department officials that this was happening, they did nothing to temper Giuliani's efforts or inaccuracies.
Yovanovitch testified that she next sought advice from Gordon Sondland, the former hotelier and new U.S. Ambassador to the European Union. She testified that his response was to "go out there battling aggressively and, you know, praise him or support him." Yovanovitch took this to mean that she should publicly praise Trump by fawning over him with a tweet or some kind of public statement.
In her testimony, Yovanovitch also told investigators that State Department officials were hesitant to issue a statement supporting her because "the rug would be pulled out" from under them by President Trump. But in March of 2019, at the request of Under Secretary of State David Hale, she documented the disinformation campaign against her by transmitting a classified email to him that detailed her understanding of what was happening to her. Shortly thereafter she was told to board the "next plane home to Washington."
(Former Ambassador to Ukraine, Marie Yovanovitch, at the Kyiv Security Forum Discussions in Kyiv, Ukraine on July 10, 2018.)
Once she returned home, Yovanovitch was told by Acting Assistant Secretary of State Philip T. Reeker that Secretary of State Mike Pompeo "was no longer able to" protect her from President Trump. Both Reeker and Yovanovitch assumed that this was based on information that Mr. Lutsenko had provided to Giuliani, who in turn passed it on to Trump. Yovanovitch testified that when she tried to schedule a meeting with Counselor to the State Department Ulrich Brechbuhl, who had been the "point person" for Ambassador Yovanovitch's recall, he refused to accept the request.
Former Ambassador Yovanovitch testified that she was "shocked" to read the White House's record of the July 25, 2019, call between Trump and Zelensky and that she felt "threatened" by the President's statement that "she's going to go through some things." She also relayed that there was a smear campaign and social media postings that intentionally questioned her loyalty and that this combined with her hasty departure and the lack of clarity over why she was leaving "cut the ground out from underneath" U.S. diplomatic efforts.
Fox News Joins In
What seems most interesting about all of the recently released transcripts of McKinley and Yovanovitch's testimony, is the connection between a corrupt prosecutor in Ukraine, Rudy Giuliani, two men currently charged with Conspiracy and Campaign Fraud and Fox News. The attempts to discredit Yovanovitch even extend to former Rep. Pete Sessions (R-TX), who sent a letter in May of 2018 to Secretary of State Mike Pompeo urging that the former ambassador be relieved of her duties in Ukraine. Sessions relayed to Pompeo that he had been told Ms. Yovanovitch was displaying a bias against the president in private conversations.
We now know that former Rep. Sessions met with and accepted campaign donations from Les Parnas and Igor Fruman, two of the men at the heart of Giuliani's quest to get rid of Yovanovitch, who were recently indicted for illegal campaign donation schemes. Moreover, Rudy Giuliani gave an interview to The Wall Street Journal, where he confirmed that "in the lead-up to Ms. Yovanovitch's removal, he reminded the president of complaints percolating among Trump supporters that she had displayed an anti-Trump bias in private conversations." Giuliani's view was that Yovanovitch had been an obstacle to his efforts to push Ukraine to investigate Joe Biden and his son Hunter.
Cue the Fox News disinformation brigade. The Parnas and Fruman bribery-fueled false accusations then got repeated and amplified by not only pundits at Fox News like Laura Ingraham and Sean Hannity, but also by Donald Trump Jr., alt-right figures like Jack Pobosiec, and The Hill's John Solomon. In addition to all of this disinformation directly stemming from Ukrainian political operatives working with Rudy Giuliani, the deception all links back to anti-Mueller claims that the "real" election interference in 2016 was a series of pro-Hillary machinations involving the government of Ukraine. The United States Attorney General is currently frantically trying to dig up dirt on this very issue in Europe as we speak.
It All Goes Back to Mueller
The Hill has often given various discredited Ukrainian figures a platform to peddle that they were bullied by U.S. officials who wanted to cover up the false narrative that the Obama administration sought dirt on Paul Manafort but wanted to keep it all undercover. One of these "stories" even got picked up by The New York Times in May of this year where a segment on Giuliani's attempts to get the Justice Department to look into claims against Biden was included in a piece that referenced the same unreliable Ukrainian sources referenced by The Hill.
The unfounded conspiracy theories that have been pushed by Giuliani have now reached the highest office of the land and infiltrated "reliable" mainstream media. While Donald Trump continued to help promote these false theories that led to discrediting and humiliating a woman who has served the State Department dutifully for decades, his team of alt-right misfits picked up the ball and ran with it. The result may only be the wrongful termination of a Ukrainian Ambassador today, but the overall goal post is to discredit the Mueller report and ultimately, this entire impeachment inquiry.
---
If you like this piece and you want to help support independent journalism from a female perspective, you can forward this article to others or send a gift a subscription to someone else today.
Amee Vanderpool writes the "Shero" Newsletter and is an attorney, contributor to Playboy Magazine, analyst for BBC radio and Director of The Inanna Project. She can be reached at avanderpool@gmail.com or follow her on Twitter @girlsreallyrule.