Discover more from SHERO
News that impacts women, but affects everyone.
Over 16,000 subscribers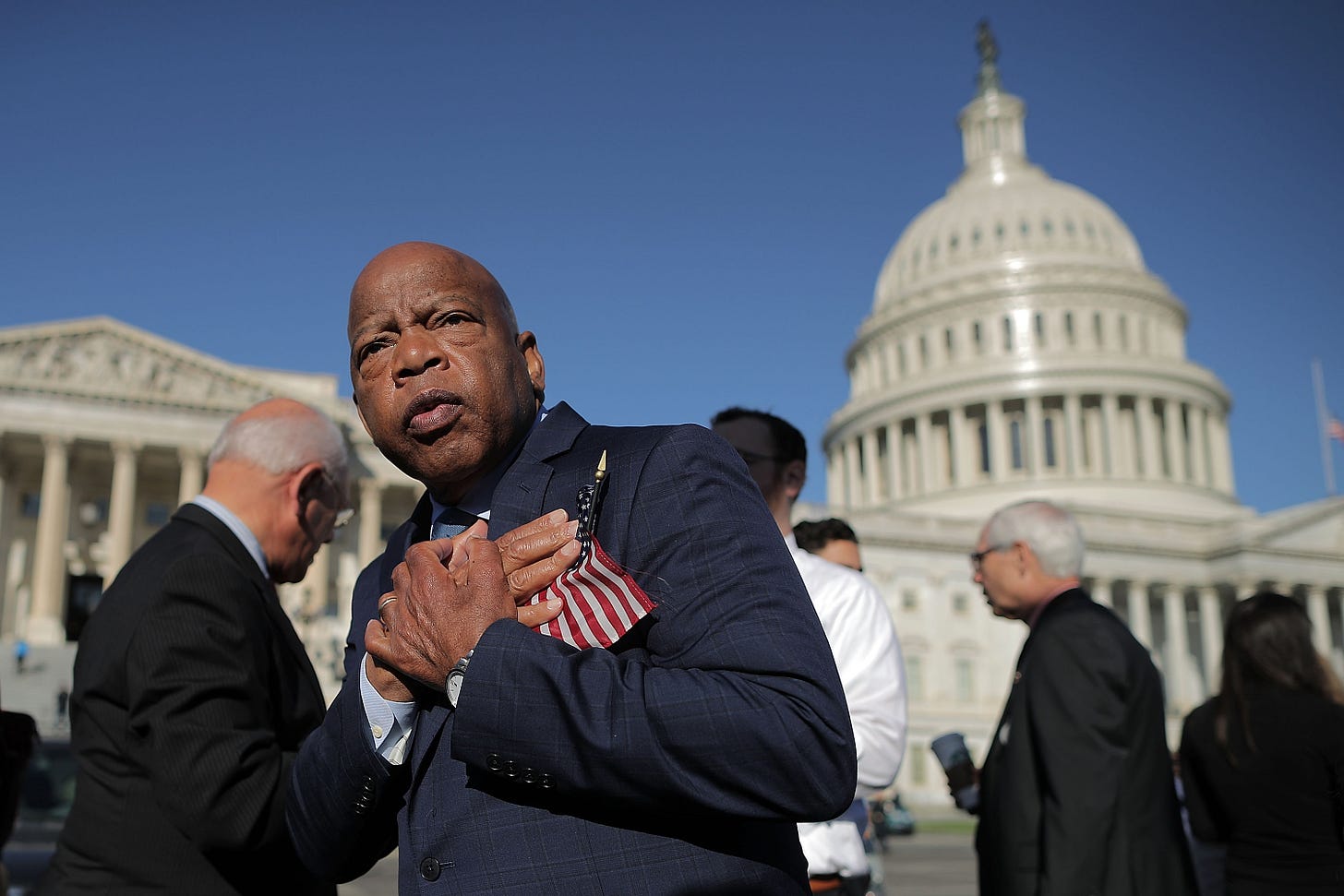 (Rep. John Lewis at an anti-gun violence rally on the East Front steps of the U.S. House of Representatives October 4, 2017 in Washington, DC. Lewis led a sit-in on the floor of the House of Representatives in June 2016 for over 24 hours, where 170 colleagues joined him to demand background checks for gun ownership. Photo by Chip Somodevilla, via Getty Images.)
I was tired. The kind of tired that fills your spirit and sinks down into your bones — a weary kind feeling with accompanying malaise and random moments of anxious thoughts that appear out of nowhere. I know you can relate to what I am saying because I can feel my own fatigue, but I can also feel yours, and it was getting difficult to manage — until yesterday.
Something happened that reminded me of how far we have all come in the last four years and it was the funeral service for Congressman John Lewis. It was such a lovely send off, worthy of a man who has moved our country so far and stood out as a beacon of hope in the darkest of times. Listening to former presidents describe their love and admiration for a colleague with such elegance and dignity was a reminder that we are still a triumphant nation at our core, and the promise of our splendid democracy has just been asleep for a few years…lying in wait.
I needed that reminder of who we are and needed to hear the words of so many dignified speakers, praising a man whose courage and leadership was a once in a lifetime, maybe once in forever sort of gift. Something about hearing President Clinton snapped me back to a time when we could have a president who was casual and free styling, but not vindictive and cruel. President Obama did what he always does, by bringing down the angels and reminding us all of our potential as refined and evolved human beings.
I especially loved the thoughts offered by Robert Lewis' Deputy Chief of Staff, Jamila Thompson. Through her stories about the Congressman, and her clear devotion to serving with him, I felt I gleaned the most complete understanding of who he was as a man. It was as if Thompson had welcomed us into her home and made us all feel like family sharing a meal together in celebration of a man rather than a holiday. Her words felt incredibly selfless and vulnerable in a time where few of us feel safe sharing ourselves in any way, likely the natural result of the pandemic and the political climate.
We have been under siege for the last four years as a country and as a collective family of misfits, many of whom came together on social media in a time when we were at our lowest and feeling hopeless in November of 2016. We have pushed forward together, and utilized each others' strengths to keep the watch and help fuel everyone's spirits. When I use the collective "we" I mean all of those who have been frightened by what has happened to our country, and who have reached out for inspiration rather than lashing out from fear.
Our tanks have been on empty for so long now, and the old ways of taking a break, or looking for inspiration elsewhere to energize others in their activism has waned. Understandably so, for we are dying now from a virus and a complete lack of concern over protecting citizens from the very man we have been fighting, who is in charge. We all knew it would come to this — many of us weren't being facetious when we said Trump would kill us all. Honestly, I thought it would be a more instantaneous sort of nuclear-type catastrophe, but here we are facing a pandemic with nowhere to turn and very few in charge to help.
But yesterday changed things for me. I remembered what we were before and what we can be again and how marvelous the best among us truly are. John Lewis' final words, published after his death, were meant to do just that — to remind us to keep going, to inspire us to fix our country and to remember to put our hearts first and foremost at the helm of the battle:
"Though I may not be here with you, I urge you to answer the highest calling of your heart and stand up for what you truly believe. In my life I have done all I can to demonstrate that the way of peace, the way of love and nonviolence is the more excellent way. Now it is your turn to let freedom ring.

When historians pick up their pens to write the story of the 21st century, let them say that it was your generation who laid down the heavy burdens of hate at last and that peace finally triumphed over violence, aggression and war. So I say to you, walk with the wind, brothers and sisters, and let the spirit of peace and the power of everlasting love be your guide."
Thank you John Lewis, for continuing to be a source of inspiration and energy for me, and for those I love who are fighting along with me. Thank you for the goodness in you that has rubbed off on others, who knew how to speak about you in elevated tones floating on notes of love. Thank you for reminding us of what real courage looks and feels like and for revitalizing us all for this next, last and most important round of the battle. Thank you for reminding us of our potential and our beauty as Americans.
Rest In Peace, sir.
---
Amee Vanderpool writes the SHERO Newsletter and is an attorney, published author, contributor to newspapers and magazines and analyst for BBC radio. She can be reached at avanderpool@gmail.com or follow her on Twitter @girlsreallyrule.
Your paid subscriptions allow me to keep publishing critical and informative work that is sometimes made available to the public — thank you. If you like this piece and you want to further support independent journalism, you can forward this article to others, get a paid subscription if you don't already have one or send a gift subscription to someone else today.