A Civil War Has Begun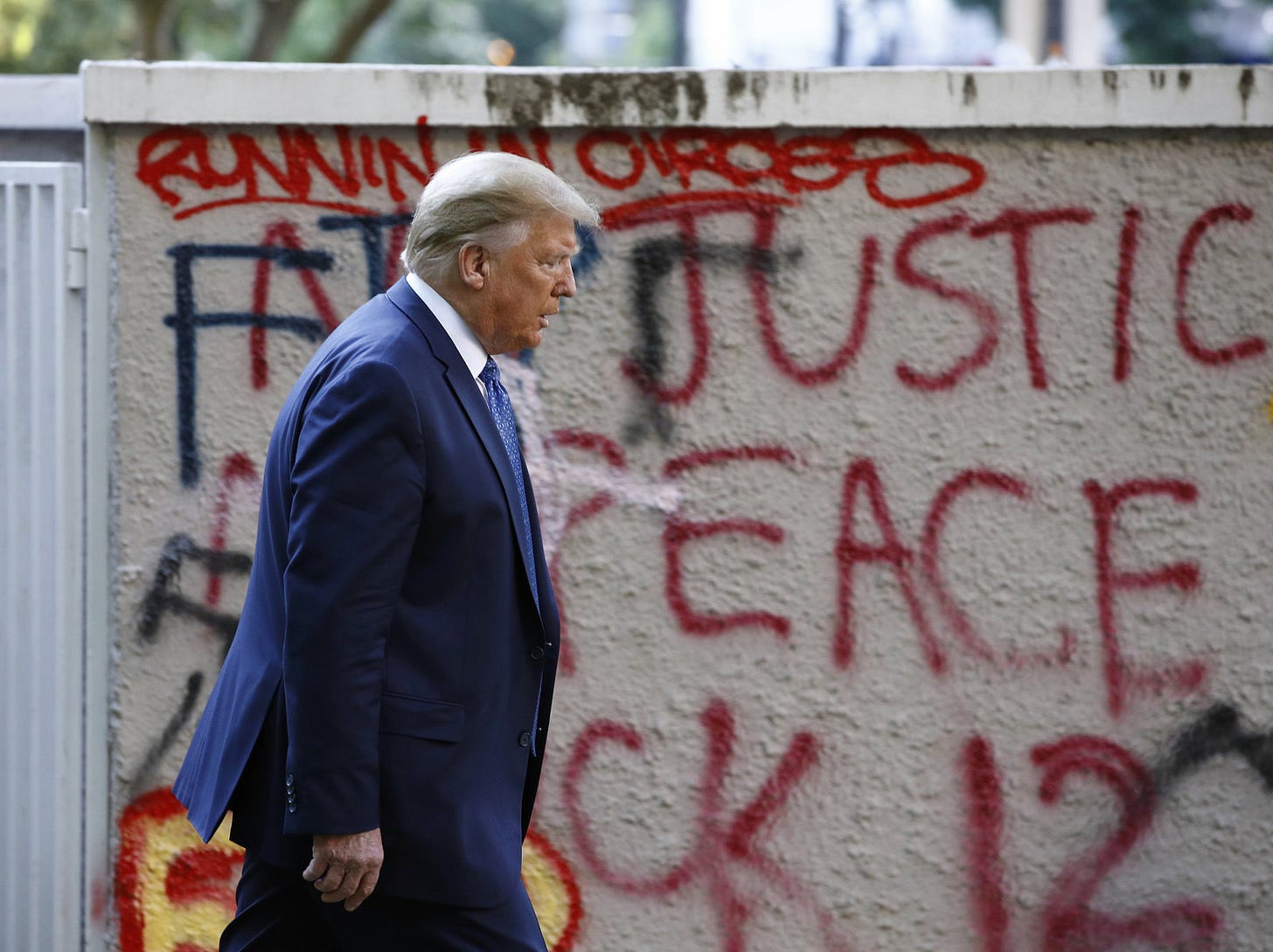 (Trump walks past protest graffiti in Lafayette Park, near the White House, on his way to take a photo op at St. John's Church on Monday after protesters were dispersed with tear gas. Photo by Patrick Semansky, via AP.)
As Trump took to the Rose Garden to give a speech on the state of unrest in America, law enforcement began tear gassing non-violent protestors across the street at Lafayette Park and deploying flash-bang explosions with very little warning. Some of those protesting who were gassed had been out several days in a row, for eight or more hours that day, and the shocking behavior by police began just before the city's 7pm curfew went into effect.
Protestors who previously held signs that relayed a primal scream for justice were now running to escape the harmful toxins used by police with signs under arm, clutched now in panic or just discarded entirely. All of this terror was initiated so that the President of the United States could walk out of his White House front door to stand in front of St. John's Church to awkwardly fondle a bible for the cameras.
An inside official had leaked to the press on Sunday that Trump had taken to the secure bunker in the basement of the White House once protests initially began across the street on Friday night. His weakness in that moment has now become the impetus for a series of presidential mistakes that continue to threaten unrest and more violence in the United States. On Friday, he was weak and has continued to be weak in failing to speak to our commonality as Americans. As a result, Trump spent Monday pointing the finger at everyone else like a petulant toddler.
During his conference phone call with state governors, a moment that should have been a collective discussion about how to assist, Trump threatened to deploy the US military to restore order unless states agreed to "put down" violent demonstrations immediately. He urged leaders to "dominate" lawbreakers and tried to intimidate them further by claiming they would look like "a bunch of jerks." Trump ranted and declared that patience for non-violent protesting was appearing weak. He incorrectly espoused that the rest of the world was laughing at America as a result of this weakness. (You can listen to the full audio of the call in the video below.)
In Donald Trump's attempts to intimidate governors, his projection was on full display — he had been weak, now they could not look weak. We can talk about how ridiculous Trump looked, trying to force a reality TV moment at a church where he had no business being, one that has been named the Church of the Presidents because every one since James Madison has attended it.
We can talk about how ridiculous it is that the Republican Party still tries to usurp the name of Abraham Lincoln, claiming he is an ally because they shared an affiliation in a party that has morphed into something Lincoln would find unrecognizable today. We can talk about how Ivanka Trump, in a moment where America is crying out from the strain of economic and legal inequality, decided to carry her luxury handbag with her in yet another Marie Antoinette display of arrogance and tone deafness. But these glaring atrocities are not the critical point we should all be focused on now, the morning after.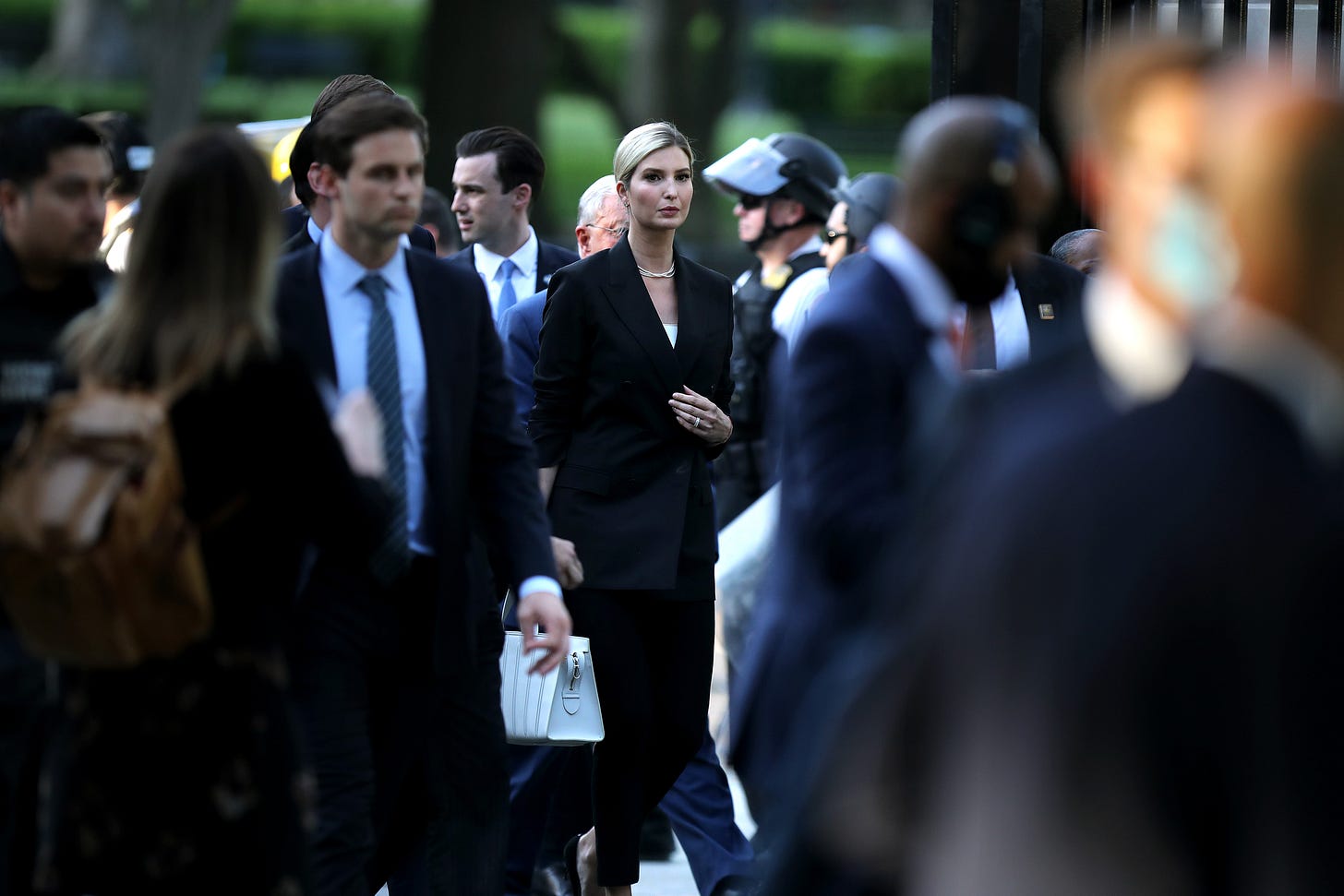 (Ivanka Trump returns to the White House after U.S. President Donald Trump posed for photographs in front of St. John's Episcopal Church June 01, 2020 in Washington, DC. Photo by Chip Somodevilla, via Getty Images.)
The most dangerous aspect of what happened last night in front of the house that represents America and is paid for by its people, is that the President of the United States attempted yet again to ignite a Civil War. He declared Martial Law in his tiny, immediate area of purview — the national Lafayette Park.
He created a display of excessive force to overcome the weakness he showed on Friday night and has showed every night since taking office. Trump would not enact the War Powers Act of 1941 in the name of protecting citizens from the deadly novel coronavirus pandemic, but he was quick to use the concept to dominate innocent people who were peacefully protesting inequality, as he was simultaneously saying he was focused on protecting them in his Rose Garden Speech.
Trump's actions last night were not for the sole purpose of a horrendously out of touch photo op, which his daughter was smart enough to avoid — they were to sound the alarm to his base that if he can not win this next election and retain power, they better be prepared to fight for him.
I have long dismissed the notion that if Trump were not re-elected in November that he would refuse to leave office and violence might ensue. My personal mantra has always been "don't borrow trouble" and the thought of this always felt like we were giving Trump too much of our power in worrying about something so ridiculous.
But, now my perspective has changed. We can see the limits to which he will go to feed his narcissism and to soothe his smarting ego and frankly, it is terrifying. Not because Trump himself is all that terrifying, but because the power he wields so haphazardly is quite dangerous and the white supremacists who support him have been waiting for this exact moment.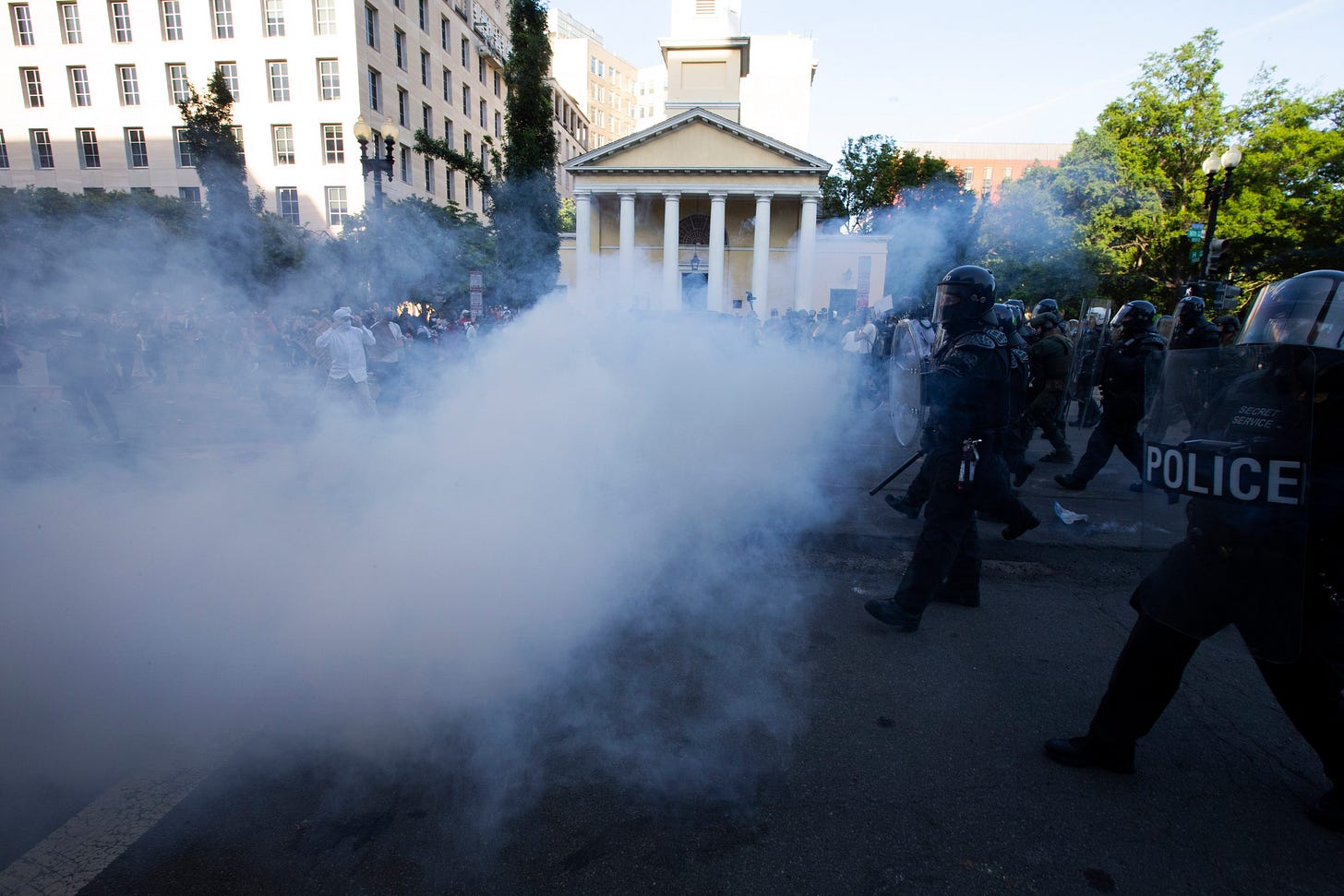 (Police officers wearing riot gear push back demonstrators shooting tear gas next to St. John's Episcopal Church outside of the White House, June 1, 2020 in Washington D.C. so that Trump could take a photo in front of the church. Photo by Jose Luis Magana, via AFP/Getty Images.)
Make no mistake — Trump's call to protect Second Amendment Rights, so misplaced in last night's speech was another dog whistle to his base to ready themselves. Just as he has used his tweets all week to actually stoke and fuel the riots and damage all over the country, he has intended to escalate things in America and he is now doing it from a podium in a house that we pay for.
Last night taxpayers bore the cost of paying to gas our own people. What will happen tonight or this afternoon when the President of the United States says something else shocking and even more incendiary on Twitter with no one to really check him? What will happen in November when he is voted out of office but refuses to physically leave, or worse, when he refuses to stop pretending he is in charge when he is no longer president?
These are all concerns I have put to the side before to prioritize, but I can no longer do that. A Civil War is here, regardless of anyone formally declaring it or giving it an exact date for the history books. This is a battle that will rage on in America long after Trump, who was not the inventor but merely the catalyst for centuries of brewing hate and resentment.
If we refuse to be honest with ourselves in this moment, we will continue to place ourselves and our beloved country in more danger. To not name the exact things that are happening as they happen is now a dereliction of patriotic duty, so I will continue. Donald Trump has just sounded the alarm for his base and the Civil War that they have been yearning for, some their whole lives, has begun.
---
Amee Vanderpool writes the "Shero" Newsletter and is an attorney, contributor to magazines and newspapers and analyst for BBC radio. She can be reached at avanderpool@gmail.com or follow her on Twitter @girlsreallyrule.
If you are not a paid subscriber to the SHERO newsletter, please consider getting a paid subscription now. Paid subscriptions allow me to keep posting critical news for the public like this. You will be supporting female-driven, independent journalism for everyone, while getting exclusives behind the pay wall that no one else has access to. Thanks for supporting SHERO.