The Kushner Kingpin and His Corona Conflicts
The story of Oscar Health apparently began in a hospital room in 2012 after Mario Schlosser and his wife were going through their first pregnancy in New York, according to the company's website. Mario then enlisted his friend, Josh Kushner, who had also had his own "frustrating encounter following what should've been a routine treatment for an injury."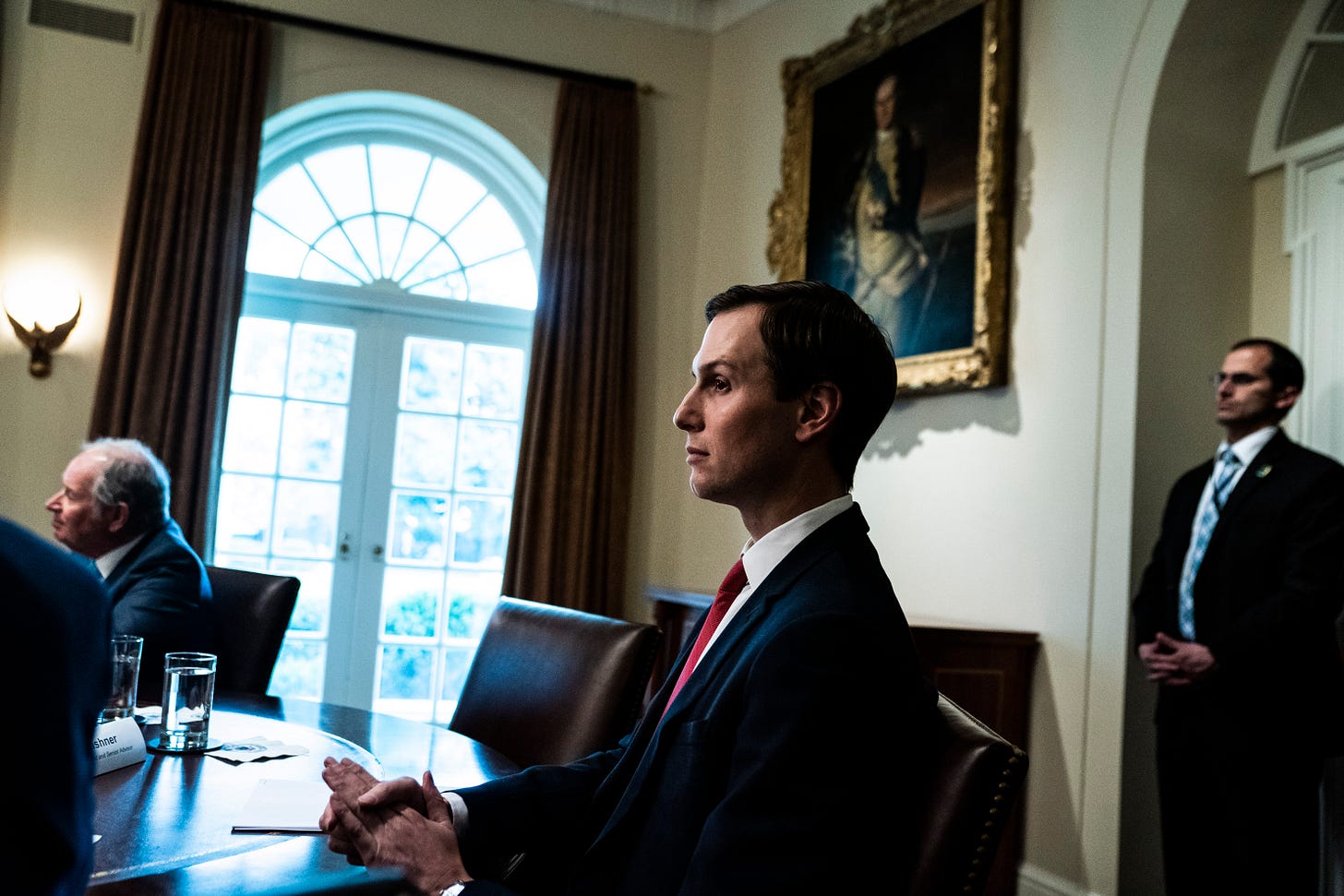 (Jared Kushner listens as President Donald J. Trump meets with bank CEOs about Coronavirus COVID-19 response in the Cabinet Room at the White House on Wednesday, March 11, 2020 in Washington, DC. Photo by Jabin Botsford/The Washington Post via Getty Images)
Together the two founded Oscar, a private health insurance company that has been amassing prominent backers and contracts ever since. Oscar counts PayPal cofounder and billionaire Peter Thiel, who has invested millions in both Josh Kushner's health insurance startup and his venture firm, among its high profile investors.
Joshua Kushner is the younger brother of Jared Kushner, who was recently put in charge by the Trump administration of "researching" how to proceed with curtailing the COVID-19 epidemic. This assignment proved to be an all hands on deck situation for the extended Kushner family. Dr. Kurt Kloss, father to Josh Kushner's wife and model Karlie Kloss, posted a Facebook message to a group of fellow emergency room physicians asking how they would combat the escalating coronavirus outbreak. Dr. Kloss made a point to say in that post: "I have direct channel to person now in charge at White House."
The next morning, after hundreds of doctors had responded to his post, Dr. Kloss explained why he sought the suggestions, confirming that Jared Kushner, son-in-law and senior adviser to Trump who had been tasked with researching a plan, had asked him for recommendations. This explanation was made after a statement from Jared Kushner that he had made earlier saying he was talking to "relevant parties" and would "present his findings to the president." After his initial post, Dr. Kloss posted a summary of the recommendations from the Facebook group and then informed the group: "Jared is reading now."
On Friday, Trump spoke from the Rose Garden during a press conference on the COVID-19 coronavirus pandemic and what measures the administration would be taking moving forward. He was surrounded by the CEOs of major healthcare companies and retailers, including CVS, Walgreens, Becton-Dickinson, Roche, Target, Walmart, LabCorp and Quest. He made point to mention the private company Thermo Fisher Scientific, a company with whom President Trump has had a longstanding relationship, that was recently given approval to provide high-speed tests to hospitals and laboratories resulting in the ability to diagnose the new coronavirus in as many as 5 million people a week. The American public was left with more questions than answers, including why Trump continued to name the private companies who would stand to profit from the pandemic and why he hadn't engaged their assistance sooner.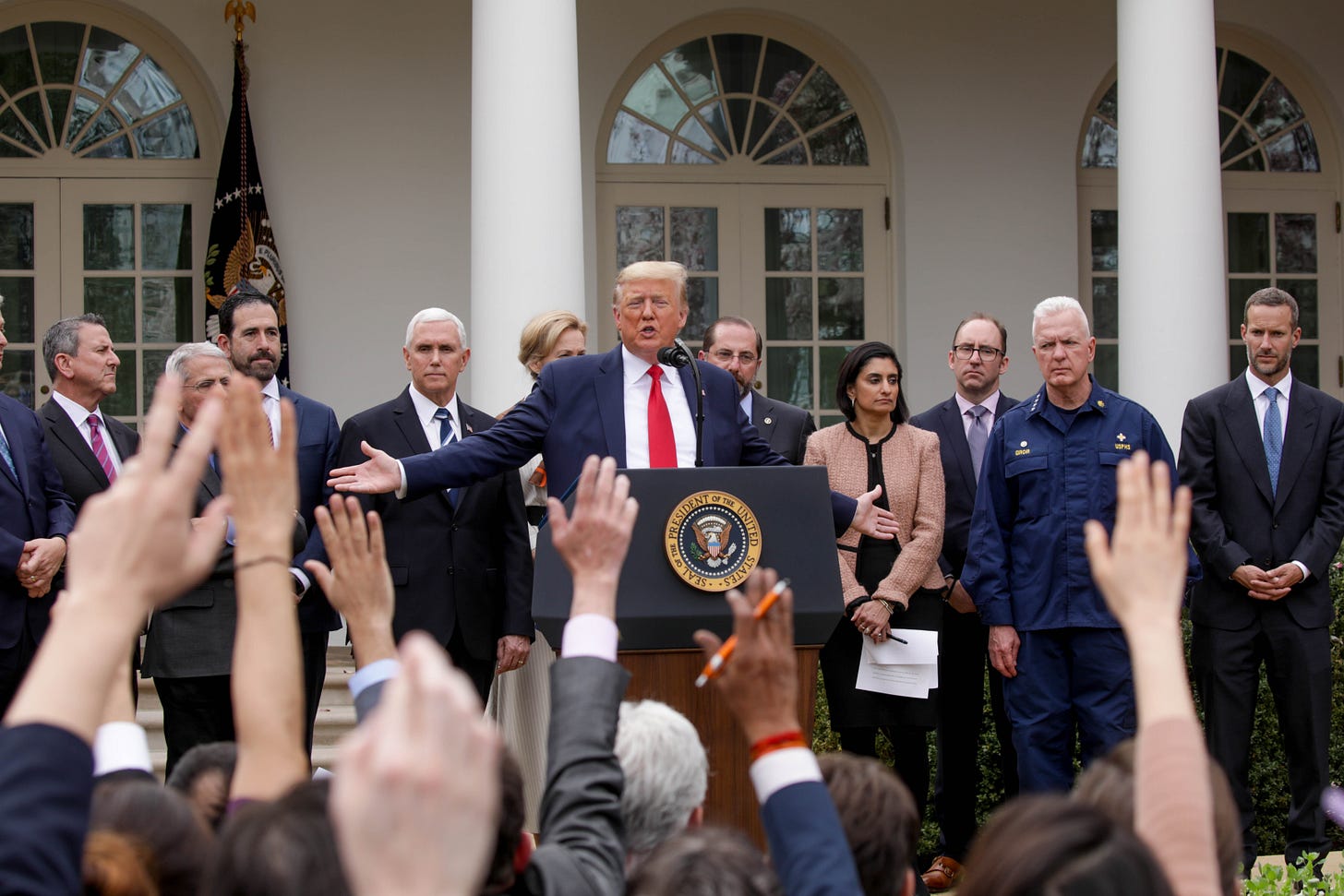 (President Trump declares a national emergency due to the COVID-19 coronavirus pandemic, in the Rose Garden of the White House, in Washington, DC, United States on March 13, 2020. Photo by Yasin Ozturk/Anadolu Agency via Getty Images.)
The same day as the Trump announcement, Oscar announced it was launching the first testing center locator for COVID-19 in the U.S., and that the site already featured more than 100 centers. The webpage also touts that "more testing centers are being added every day." The launch statement goes on to explain that the test center locator is just another tool that is being added to the already existing at-home risk assessment survey that Oscar provides. I took the survey and there were options for those with Oscar accounts and those without.
Given that Oscar is describing this latest roll-out as an additional tool that looks to be an add-on feature of the risk assessment survey, it would not be surprising if the company continues to build on the number of services it is creating for the federal government. The timing of the announcement, along with the fact that Josh Kushner is Jared Kushner's brother, also looks as if the White House is coordinating directly with Oscar.
Taking a look at the other investors in Oscar raises even more issues. In August of 2018, Google subsidiary Alphabet invested $375 million dollars into the company, just a few months after two other subsidiaries of Alphabet — venture firm Capital G and life sciences division Verily — participated in a $165 million infusion. If the name "Verily" sounds familiar to you, it should. During Trump's Friday Rose Garden announcement, he mistakenly sold a Google website that doesn't even exist.
It turned out that it was Verily who was tapped by the White House for developing the website that would ultimately let people evaluate their symptoms and direct them to nearby "drive through" locations for testing. The New York Times has reported that it was Jared Kushner who was sold on the idea of using Verily to assist the federal government with this program — the same Verily that had previously invested millions with Oscar.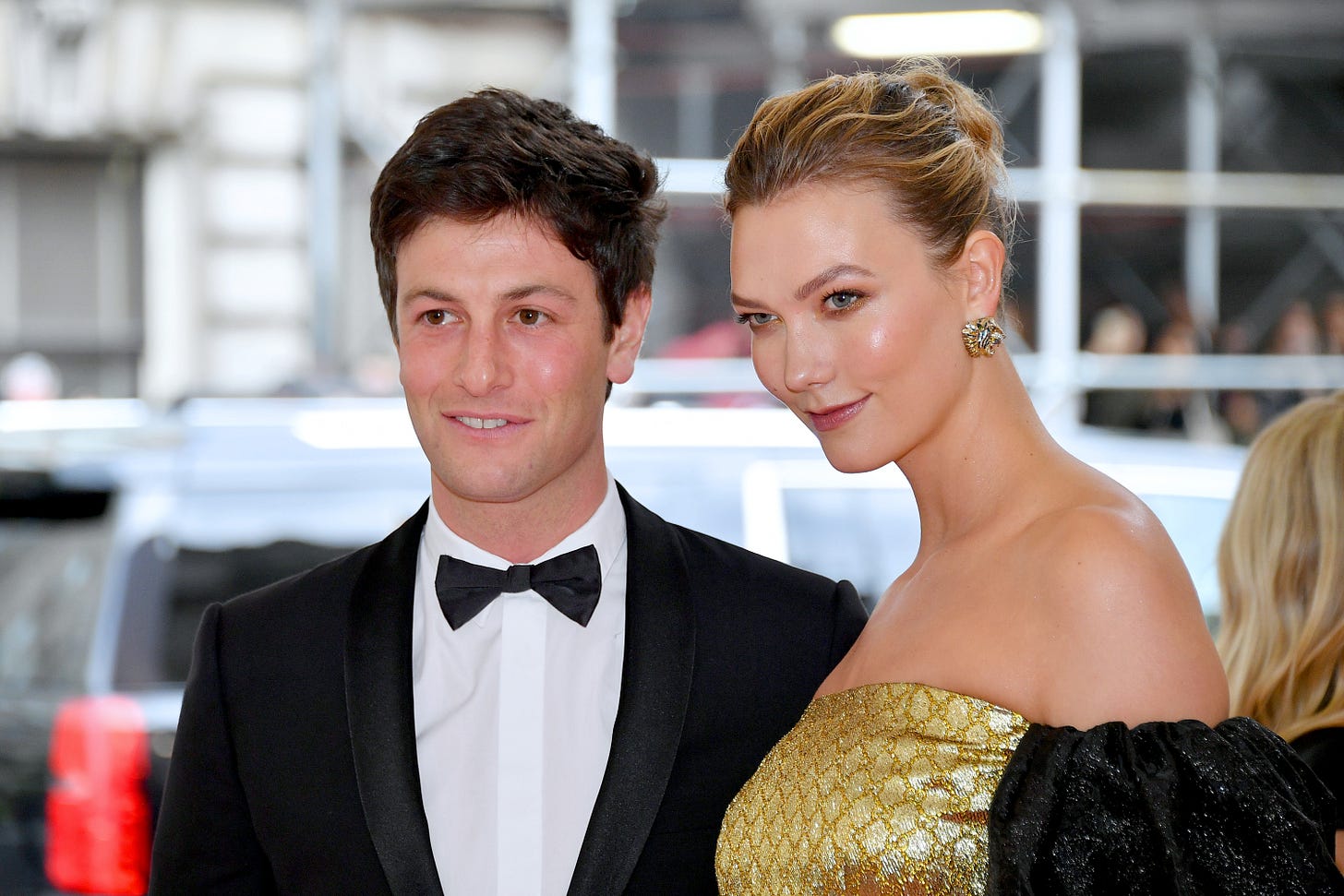 (Joshua Kushner and Karlie Kloss attend the 2019 Met Gala at Metropolitan Museum of Art on May 06, 2019 in New York City. Photo by Dia Dipasupil/FilmMagic.)
Another important aspect of this is that Oscar has been struggling over the past few years and could really use the promotion that could assist with an infusion of more investments, especially if investors believe that the company has the inside track to White House contracts in the private sector. Considering that Oscar continues to lose money rapidly ($131 million in 2017, $57 million in 2018, $110 million in 2019), connecting more companies that have previously invested in Oscar or could invest in the future with the Trump White House could prove to be a lucrative service. There will be many highly lucrative private contracts that will result from the COVID-19 coronavirus pandemic and we know now that Trump favors loyalty and that Jared Kushner is making recommendations.
In 2018, Oscar Health was selling health insurance plans in the state of Ohio through the Affordable Care act that cost $724 a month and had a deductible of $15,800. The plan drew such scrutiny that Newsweek dubbed it a "high-deductible health plan often aimed at lower-income families, revealing the financial barrier to actually receiving care." I got a quote yesterday for insurance from Oscar Health using an Ohio zip code — the highest quote I found was for a "Bronze level" policy with a $8150 deductible and monthly payment of $344.28. It is possible that using other search criteria such as higher age, different gender or additional health issues could yield higher rates, but I did not find any proof of the previous 2018 rates.
Oscar is expected to roll out its biggest expansion of health insurance yet, by attempting to sell private insurance plans to individuals and families in 2020 in 12 new markets working in six new states. Suddenly the Trump White House push to eliminate those previous consumer protections under the ACA that keep predatory insurance companies from selling bogus policies becomes a little clearer. The Trump administration has assisted with the necessary de-regulation that has allowed Oscar to profit in certain states from insurance policies that could be deemed predatory.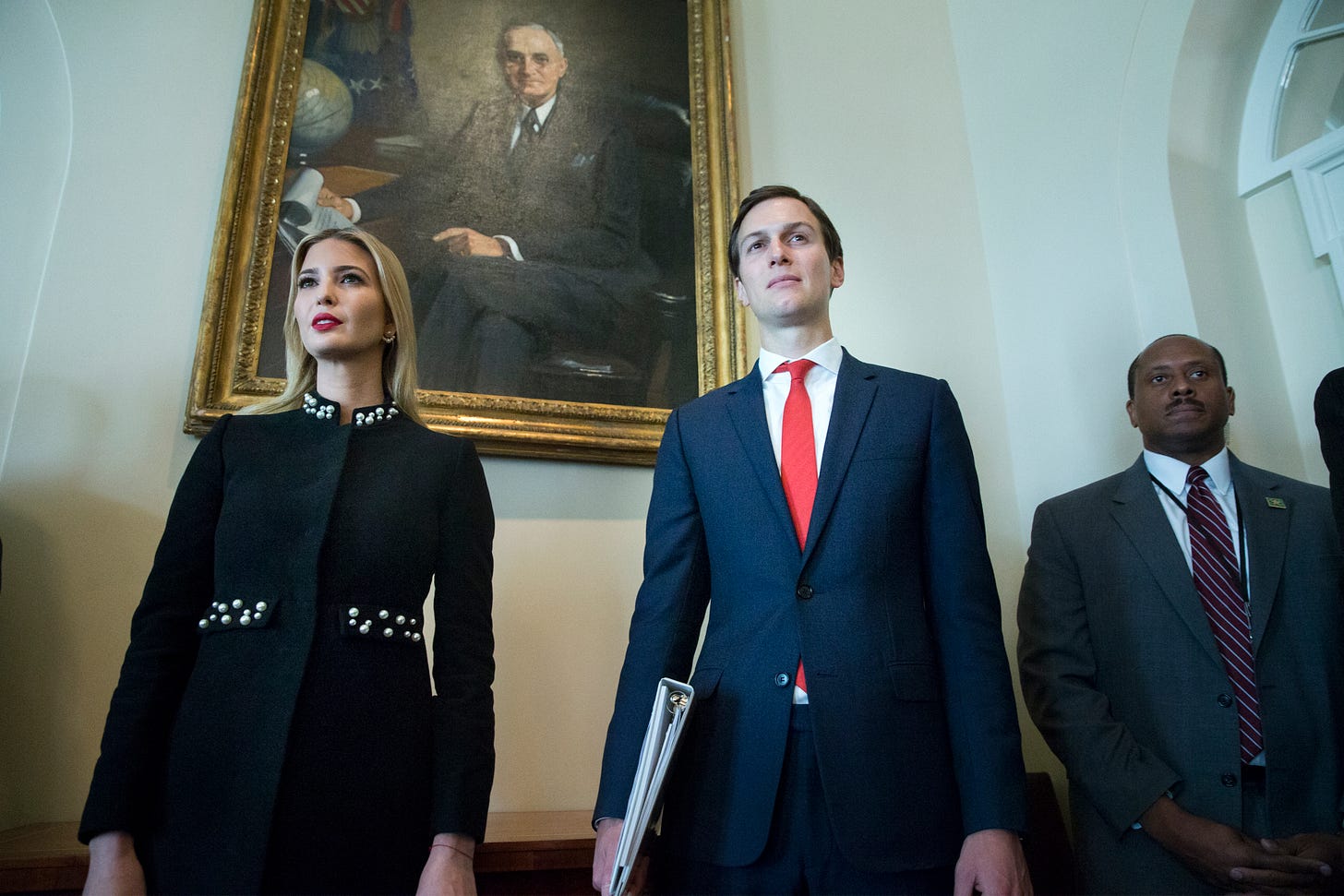 (White House Senior Advisors Jared Kushner and Ivanka Trump attend a meeting held by President Donald J. Trump with members of his Cabinet, in the Cabinet Room of the White House in Washington, D.C., on March 8, 2018. Photo by Michael Reynolds-Pool/Getty Images.)
Although there is no direct evidence at this point that shows Jared Kushner has any current investment in Oscar, the company was named by his brother for his great-grandfather. Additionally, we run into similar issues with trying to dissect the exact investments of Jared Kushner and Ivanka Trump. The 2018 public financial disclosure reports showed that Kushner amended his financial disclosure five times and that Ivanka Trump amended her financial disclosure eight times.
Newsweek declared that their "combined 10 recent revisions to their forms are likely to increase questions about the couple's dealings and possible conflicts of interest with their White House roles." We are also unable to review which specific revisions have been made to all of the Ivanka and Jared forms because the previous versions were filed internally before the office certified them. Ivanka Trump also has an interest in trusts, the same ones her father has disclosed, and those specific assets are not listed.
This ultimately means that we are not able to formally confirm that the Trumps or Jared Kushner are completely divested of any personal stake in any of the companies that are set to benefit greatly from the dispersement of private coronavirus contracts from the federal government. Regardless of complete and accurate these financial disclosures truly are, it is clear that proximity to Jared Kushner has become a valuable asset for private American companies. Kushner is calling the shots and advising President Trump — this in itself is a huge conflict of interest given that his brother's company stands to make money from all of it.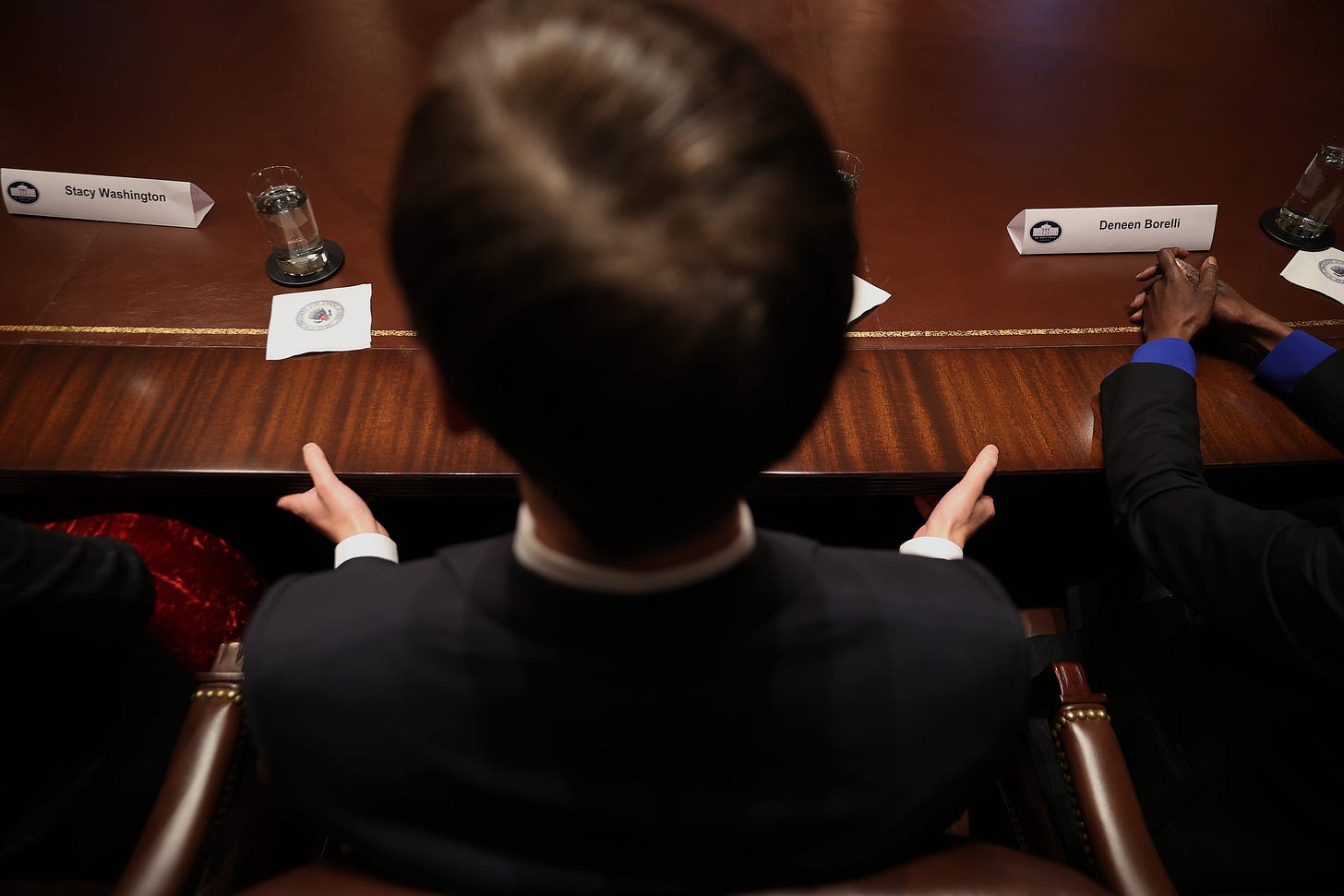 (Jared Kushner, senior advisor and son-in-law of U.S. President Donald Trump, listens during a meeting in the Cabinet Room at the White House February 27, 2020 in the White House. Photo by Chip Somodevilla/Getty Images.)
This is just another series of questions we now add to the ongoing ones involving the decisions Trump has made thus far in failing to act to the COVID-19 crisis. The Trump administration previously refused testing kits that were offered in February by the World Health Organization despite the lack of tests in stock in the U.S. and the impending need. Now that we are entrenched in the pandemic, Trump is distributing contracts to private companies like Roche and Thermo Fisher Scientific to make the test kits.
If all of these deals are happening out in the open and in plain sight, what deals are being made behind closed doors and who will those deals really profit? Who stands to make the most from the delay in testing and the impending death of Americans from this virus?
---
Your paid subscriptions allow me to keep publishing critical and informative work that is often made available to the public. If you like this piece and you want to support independent journalism from a female perspective, you can forward this article to others or send a gift a subscription to someone else today. 
Amee Vanderpool writes the "Shero" Newsletter and is an attorney, contributor to magazines and newspapers and an analyst for BBC radio. She can be reached at avanderpool@gmail.com or follow her on Twitter @girlsreallyrule.