Trump Continues to Profit from Campaign and GOP
Trump has purposely weakened the FEC by refusing to appoint commissioners, and has therefore made proper oversight into his profiting and foreign campaign interference nearly impossible.
(Donald Trump boards the elevator at Trump Tower in New York City on January 16, 2017. Photo Dominick Reuter/AFP, via Getty Images.)
Trump is making a lot of money from his 2020 Presidential Election bid and he's running this 2016 redux grift for everyone to see. Trump Victory — a joint fundraising committee between the Trump campaign and Republican National Committee — made a series of 43 separate payments to Trump Hotel Collection totaling more than $380,000 between March 31 and April 1, according to the committee's latest quarterly filing with the Federal Election Commission (FEC).
The payments were denoted as "facility rentals" and the totals range from $2,600 to $10,000 each. According to an investigation by CBS News, the same filing reflects another payment of more than $19,000 to the Trump Hotel Collection at the beginning of March. The total spent by the committee at Trump properties in the second quarter of the year comes to more than $400,000 and the 43 payments made over those two dates were for events that had "already happened."
In the first quarter of 2020, the Republican Joint Committee spent more than $1.3 million at Trump properties. Some of the payments include a $75,000 payment to Trump National Golf Club in Bedminster, New Jersey in the third quarter of last year and a $126,090 payment to the Trump Hotel Collection in the first quarter of 2020. According to CBS News, nine payments totaling more than $105,000 also went to the Trump International Hotel in Washington, DC between April and June of 2019.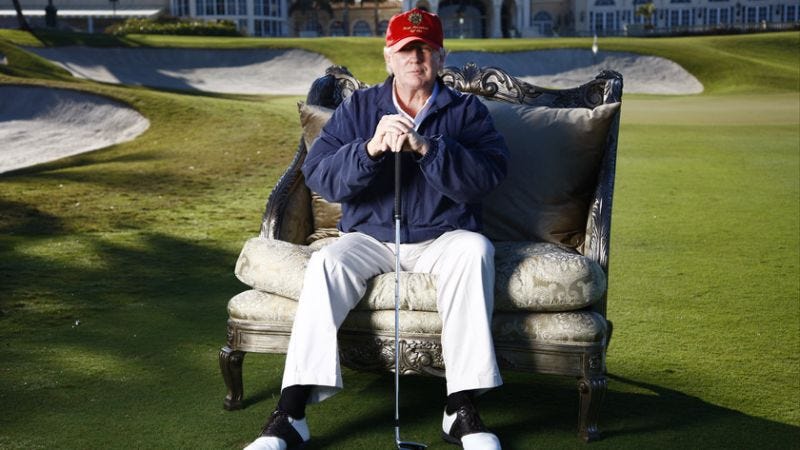 (Donald Trump at his Bedminster, New Jersey golf property before his presidential election bid began.)
The Trump Campaign is another big spender at Trump properties, and has been making payments to Trump personally since he started his first election bid in 2015. The Trump campaign has spent approximately $940,000 at Trump businesses over the last two years and the campaign has made a recurring monthly payment of $37,541 to Trump during that time for rent of campaign facilities in Trump Tower. The campaign has also made several surprising payments amounting to more than $86,000 to the Trump Corporation for "legal & IT consulting," which means that Trump is now charging for his own in house counsel.
Forbes has published ongoing reporting about the amount of money Trump has amassed personally from his own campaign and found that he made $1.3 million in 2018. That investigation found that Trump Tower Commercial LLC, which is an entity still owned by Trump, accepted $1.2 million in rent from the reelection effort and another $225,000 from the Republican National Committee in 2019. It is estimated that 1.6% of Trump Tower's revenue has come from either the RNC or the reelection campaign since Trump became president.
This is nothing new — FEC filings from the 2016 campaign show the Trump Presidential Committee paid Trump businesses more than $12.2 million over two years and at least another $1.4 million in 2017 and 2018. That same year, the Trump Campaign reimbursed Trump's company $8.7 million for air travel on his own plane.
Election law covers both limitations on personal contributions and corporate contributions. Technically, the campaign could be asked by the Federal Election Commission (FEC) to prove that it didn't pay too much or it didn't pay too little for anything and defend that there were not other vendors who could have provided the same services for the same cost or less that would have kept the co-mingling at bay. This is not likely to happen given that the FEC has been down six commissioners since last fall.
(Russian President Vladimir Putin and US President Donald Trump shake hands before a meeting in Helsinki, on July 16, 2018. (Photo by Brendan Smialowski/AFP, via Getty Images.)
Since September 1, 2019, the Federal Election Commission began working without a full quorum of four Commissioners. This means that the commission has continued to perform its important day-to-day duties, but is not able to make decisions in many areas, including regulations, advisory opinions, audit matters and enforcement. The Federal Election Campaign Act of 1971, requires an affirmative vote by four Commissioners to take action on many legal matters and enforce FEC law.
Traditionally, a president would have appointed new FEC Commissioners once vacancies occurred. Trump has been free to fill all six seats on the commission for nearly a year, a job that has been done in the past with recommendations from the opposite party. Instead, he purposely chose to leave these seats empty in order to keep the FEC from having a quorum, intentionally hindering the agency from pursuing investigations for the year leading up to the 2020 campaign season.
Russia has already exploited a weak FEC to successfully meddle in US elections through digital ads, and tighter regulations on disclosure requirements could have stopped it. As a result of a weakened FEC commission, the United States is not able to properly police foreign interference in elections, prevent illegal coordination between candidates and super PACs, stop government contractors from attempting to buy contracts with campaign donations, and much more.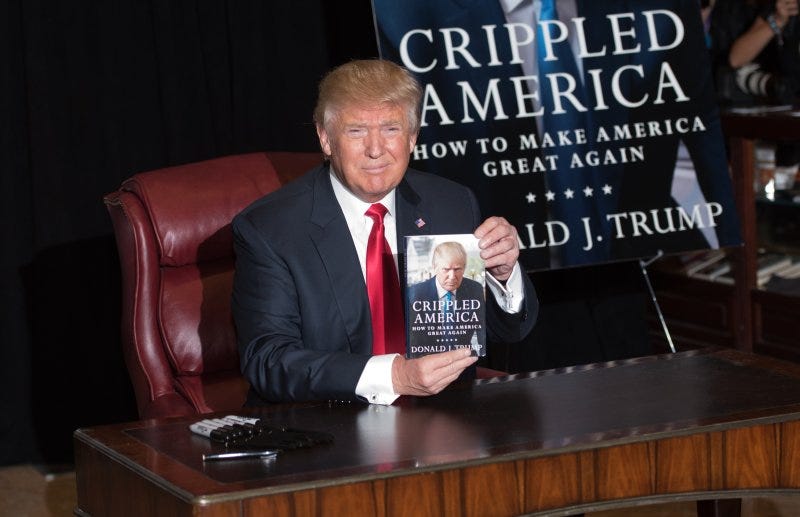 (Donald Trump attends a press conference for the release of his new book "Crippled America" at Trump Tower on November 3, 2015 in New York City. Photo by Noam Galai, via Getty Images.)
It appears that Donald Trump has purposely weakened the FEC so that he is able to continue to profit from his own campaign and not have to worry about anyone looking over his shoulder. Additionally, Trump and the Republican Party are free to continue making and receiving payments, likely in violation of FEC law, with little to no ramifications. Russia and other countries continue to be able to meddle in our election, which has previously benefitted Trump.
The grift was successful in 2016, and many, including myself, have said the only reason Trump was running for president was to personally profit. Now that Trump has weakened his own agency in charge of oversight over his campaign and foreign interference, expect the 2020 money grab to be even bigger and more outrageous. The worst part: Trump is doing it all out in the open.
For more on how the Trump Campaign has bypassed and possibly ignored FEC regulations, see my previous articles here:
---
Amee Vanderpool writes the SHERO Newsletter and is an attorney, published author, contributor to newspapers and magazines and analyst for BBC radio. She can be reached at avanderpool@gmail.com or follow her on Twitter @girlsreallyrule.
Your paid subscriptions allow me to keep publishing critical and informative work that is sometimes made available to the public — thank you. If you like this piece and you want to further support independent journalism, you can forward this article to others, get a paid subscription if you don't already have one or send a gift subscription to someone else today.