Discover more from SHERO
News that impacts women, but affects everyone.
Over 16,000 subscribers
According to the Center for Disease Control and Prevention website, the CDC has developed a new laboratory test kit for use in testing patient specimens for severe acute respiratory syndrome coronavirus 2 (SARS-CoV-2), the virus that causes COVID-19. The CDC also claims that this test kit is intended for use with the Applied Biosystems 7500 Fast DX Real-Time PCR Instrument with SDS 1.4 software. This test is intended for use with upper and lower respiratory specimens collected from persons who meet CDC criteria for COVID-19 testing.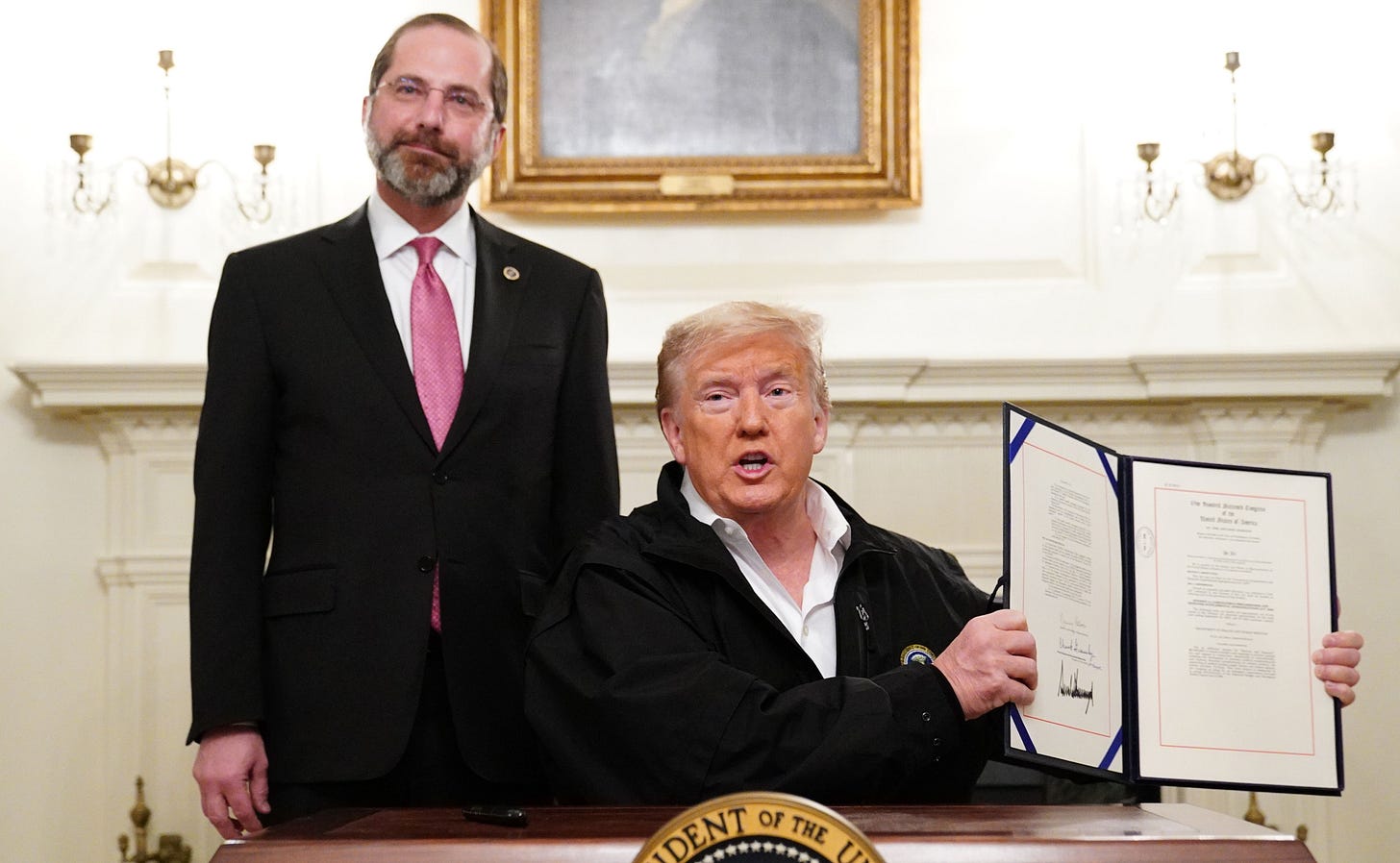 (Donald Trump holds up an USD 8 billion emergency funding bill to combat COVID-19, coronavirus, after signing it as US Health Secretary Alex Azar looks on in the Diplomatic Room of the White House in Washington, DC on March 6, 2020. This funding will include federal spending for testing kits. Photo by MANDEL NGAN/AFP via Getty Images.)
Applied Biosystems is one of the various brands under the Life Technologies brand of Thermo Fisher Scientific corporation. The brand is focused on integrated systems for genetic analysis, which include computerized machines and the consumables used within them, such as reagents.
It is safe to say that the need of the federal government to use these devices provided by the Thermo Fisher Scientific Corp. will substantially increase profitability and likely increase the value of stock in the company.
According to the Associated Press, Donald Trump, the current President of the United States who is supposed to be managing the Coronavirus epidemic and how the testing is conducted, has listed investments in V.F. Corp (VFC) and Thermo Fisher Scientific Corporation (TMO), both of which moved jobs out of the U.S. in high profile outsourcing deals. There is reason to believe that Donald Trump stands to profit from medical testing of coronavirus that will now take place in the United States.
In 2016, Trump disclosed an 104-page public financial disclosure report, which confirmed that he held investments in companies like Ford Motor Co., Apple Inc. and the parent company of the maker of Oreo cookies. One of Trump's main talking points during his initial campaign was that as president he would stop the outflow of American jobs.
Both Fortune Magazine and The New York Post confirmed in May of 2016 that Trump listed investments in V.F. Corp. and Thermo Fisher Scientific. Trump's possible interest in the company that the U.S. will be using to provide the tests, and the fact that he might still own stock in Thermo Fisher Scientific means he could profit from the government contract — this might be a major reason why no other tests were accepted.
Additionally, Trump's transition team announced in Dec. 2016, that Trump had sold all of his stock interests ahead of taking the oath of office, but there was never any proof provided to confirm this statement. When asked on a conference call with reporters whether Trump had investments in Boeing at the time, then spokesman Jason Miller said the president-elect had sold all of his stocks in June of 2016.
According to the Associated Press, his advisers at the time provided no proof of the transactions and would not explain the apparent sell-off. Many of Trump's financial records are still unknown, including his income tax returns which are still at issue in ongoing litigation.
In Nov. 2017, a state banquet was held in Trump's honor during a visit to China, where more than two dozen business titans were in attendance. One of the attendees was Gianluca Pettiti, President for Thermo Fisher Scientific China. The point of the dinner, according to sources, was for the White House to "home in" on companies that could announce "done deals" that would have the effect of chipping away at the U.S. trade deficit with China. But, considering the presence of Thermo Fisher Scientific and Trump's previous (and possibly ongoing) personal financial relationship with the company, the guest list looks highly suspect.
Virologists in Berlin produced the first diagnostic test for the Coronavirus a month and a half before the first COVID-19 case not linked to travel was diagnosed in the United States. The World Health Organization (WHO) began shipping coronavirus testing supplies to nearly 60 countries by February, but Trump didn't want those kits.
The United States declined to use the WHO test, even temporarily as a bridge until the Centers for Disease Control and Prevention could produce its own test and the Trump administration has given no explanation as to why. Trump's possible interest in the company that the U.S. will be using to provide the tests, and the fact that he might still own stock in Thermo Fisher Scientific means he could profit from the government contract — this might be a major reason why no other tests were accepted.
At this point, Trump needs to show proof of the sale of his stock in the company just to assure the American public that he did indeed properly divest all of his interests that could be considered a conflict.
UPDATE: Upon accessing Trump's financial disclosures for 2018/2019, there is no current investment in Thermo Fisher Scientific listed. There are however still some concerning issues; this report only covers disclosures up to May 19, 2019, so any new acquisitions would not be listed. Moreover, there are still trust accounts listed, such as DJT Holdings, that do not detail the nature of the holdings and specify "entity's other holdings and assets are reported elsewhere" in the listing.
Considering that it was confirmed that Trump did previously own stock in this company and that the Thermo Fisher Scientific president of the China division was a special CEO guest at a state dinner for Trump in China, it is difficult to say what his business relationship continues to be with the company that is receiving this huge government contract or what direct benefit Trump might be deriving from any continued relationship. We also do not have the disclosures of his children and any other relatives and what stock they are specifically invested in and if they stand to benefit personally.
Stay tuned, I am still digging…
---
Your paid subscriptions allow me to keep publishing critical and informative work that is often made available to the public. If you like this piece and you want to support independent journalism from a female perspective, you can forward this article to others or send a gift a subscription to someone else today. 
Amee Vanderpool writes the "Shero" Newsletter and is an attorney, contributor to magazines and newspapers and an analyst for BBC radio. She can be reached at avanderpool@gmail.com or follow her on Twitter @girlsreallyrule.