When Trump Nominates a Handmaiden, It's Time to Get Loud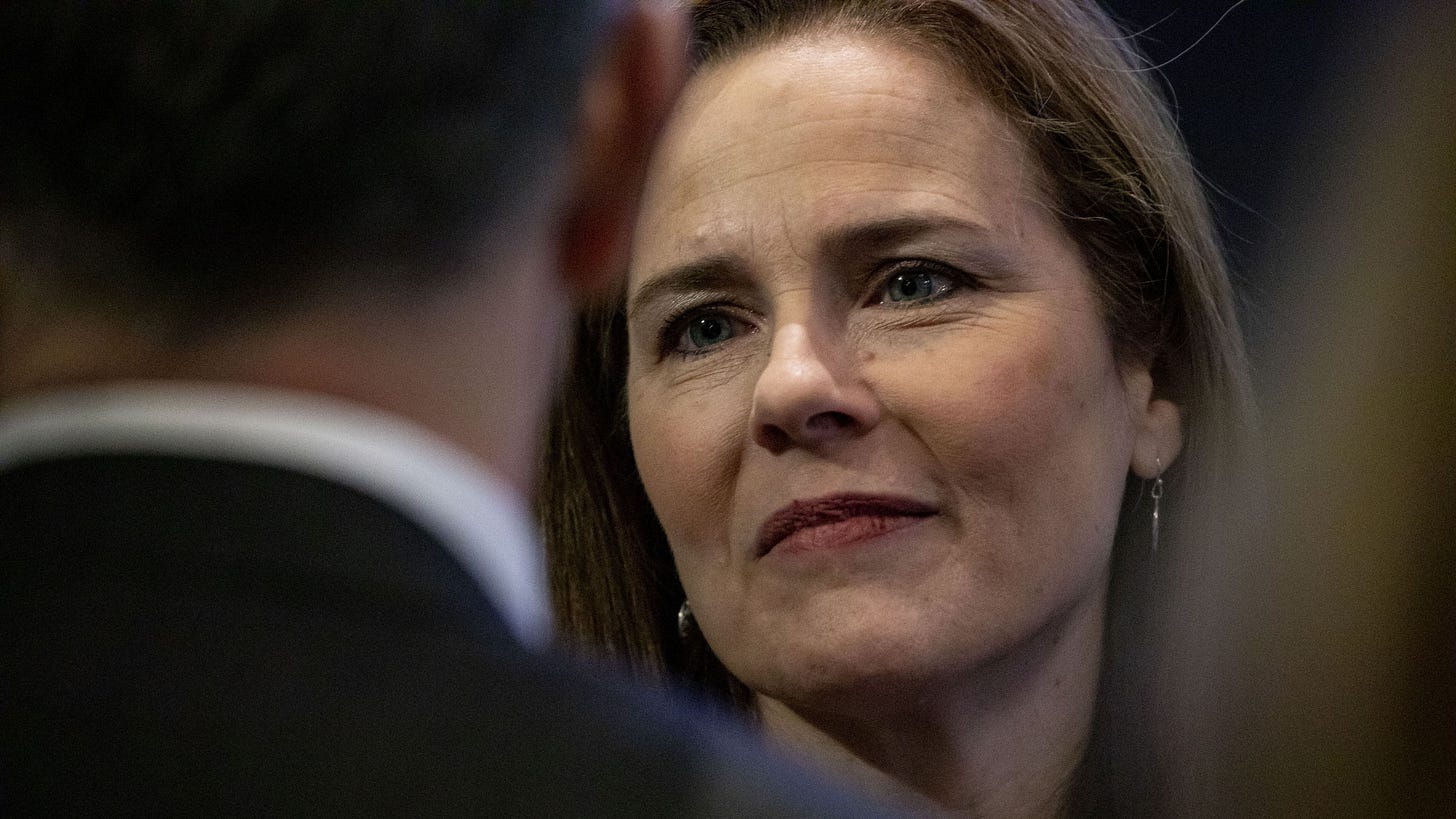 (Judge Amy Coney Barrett at the Federalist Society's National Lawyers Convention in Washington, DC, in November 2019. Photo by Samuel Corum, via Redux.)
According to multiple sources involved with the selection process, Trump is expected to nominate Judge Amy Coney Barrett later today to replace the late Justice Ruth Bader Ginsburg on the US Supreme Court. While this news is heart wrenching, it is far from shocking based on the updated short list of potential nominees Trump distributed publicly and somewhat suspiciously a week before RBG died.
Graduating summa cum laude from Notre Dame Law School, Barrett joined the faculty in 2002, where she earned praise from her colleagues as an astute scholar and jurist even though most disagreed with her jurisprudential premises. She was a former law clerk for Supreme Court Justice Antonin Scalia, and many fellow clerks have been forthcoming in saying that she was his favorite clerk.
Judge Barrett lives in South Bend, Indiana, a culturally tight-knit community in the Midwest that many would deem to be conservative. She and her husband, Jesse Barrett, a former federal prosecutor who is now in private practice, have seven children, all under the age of 20. They have two adopted children from Haiti and a young son with Down Syndrome. Barrett, who has particularly strong credentials in the conservative realm of jurisprudence is only 48 years old, which means, if confirmed, she will be making the laws of this country for the rest of many of our lives.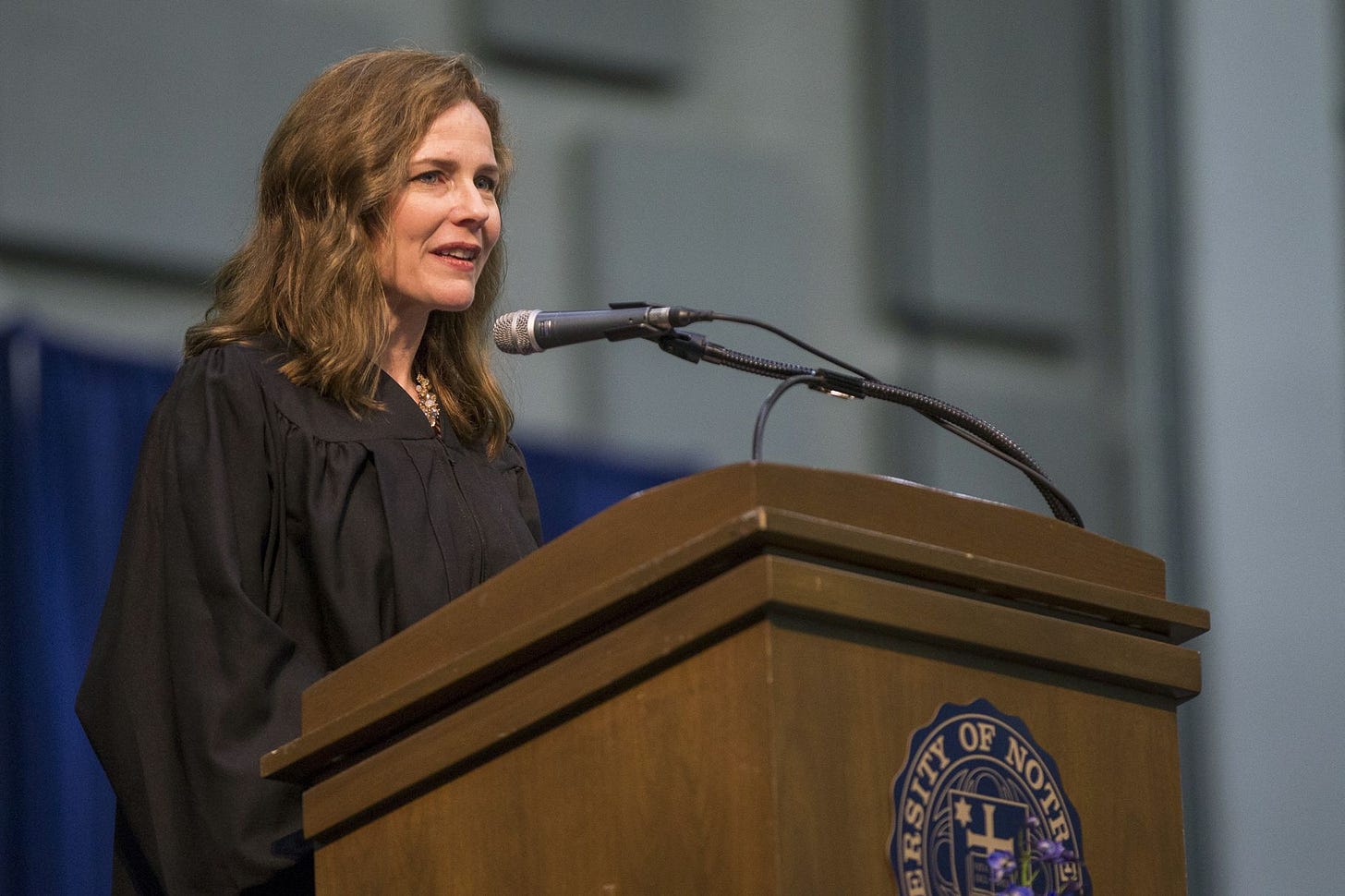 (Amy Coney Barrett speaking at the commencement service for Notre Dame Law School in South Bend, Indiana on May 19, 2018. Photo by Robert Franklin, via University of Notre Dame.)
Barrett is a member of the conservative Federalist Society, a hugely powerful, nationwide organization of conservative lawyers and a conduit for judicial nominees. The conservative organization has also been working against abortion rights for the past 60 years by helping to implement state laws restricting the procedure and by getting more conservative judges nominated to rule in favor of those new laws. The organization, which also backed Brett Kavanaugh, has been instrumental in helping Trump pack the court with conservative judges.
The Federalist Society helped Trump to successfully appoint Neil Gorsuch and Brett Kavanaugh to the Supreme Court, and has also influenced his appointment of nearly 200 other judges with lifetime appointments to lower federal courts. These new Trump appointees represent almost a quarter of all active federal judges in the United States now, a new presidential record for the most appointed federal appeals court judges.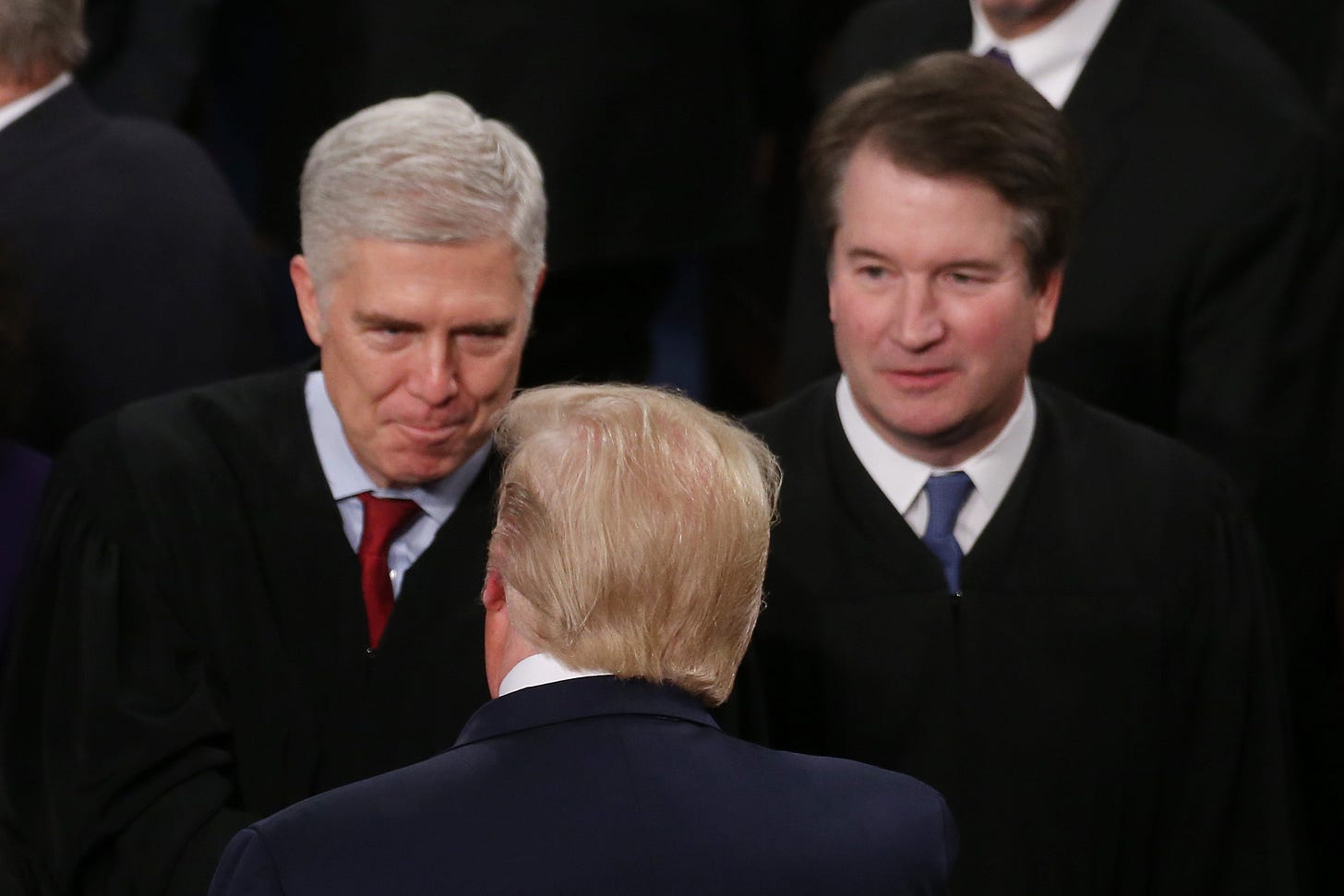 (Trump shakes the hands of his controversial Supreme Court nominees, Justice Neil Gorsuch and Justice Brett Kavanaugh at the State of the Union address in the chamber of the U.S. House of Representatives on February 04, 2020 in Washington, DC. Photo by Mario Tama, via Getty Images.)
Judge Patrick J. Schiltz, a longtime mentor of Barrett, and a US District Judge in Minnesota, who is also Roman Catholic, has said of her: "Her religious convictions are pro-life, and she lives those convictions." John Garvey, the president of the Catholic University of America, who taught Barrett in law school, compared Judge Barrett's judicial philosophies as closely matching those of Justice Scalia. He gave the example of a 2015 landmark case which established a constitutional right to same-sex marriage as an example of how Barrett might proceed at the Supreme Court level.
Garvey explained that Justice Kennedy was willing to "interpolate" things into the Constitution that Justice Scalia would not have, and that he predicts Judge Barrett would rule in a way that more closely resembled Scalia's style of strict constructionism. The bottom line is that Garvey has publicly stated that he thinks Barrett could overturn the right to gay marriage.
Judge Barrett also gave an interview in 2016 on the possible replacement for Justice Scalia after his sudden death, where she acknowledged that an appointment by President Obama to replace such a conservative Justice would certainly flip the balance of power on the Supreme Court. Merrick Garland's nomination was subsequently blocked by Congressional Republicans, who argued that a president should not nominate anyone to the Supreme Court during an election year. Republicans were able to block Obama from filling that seat so that Trump could later nominate Neil Gorsuch.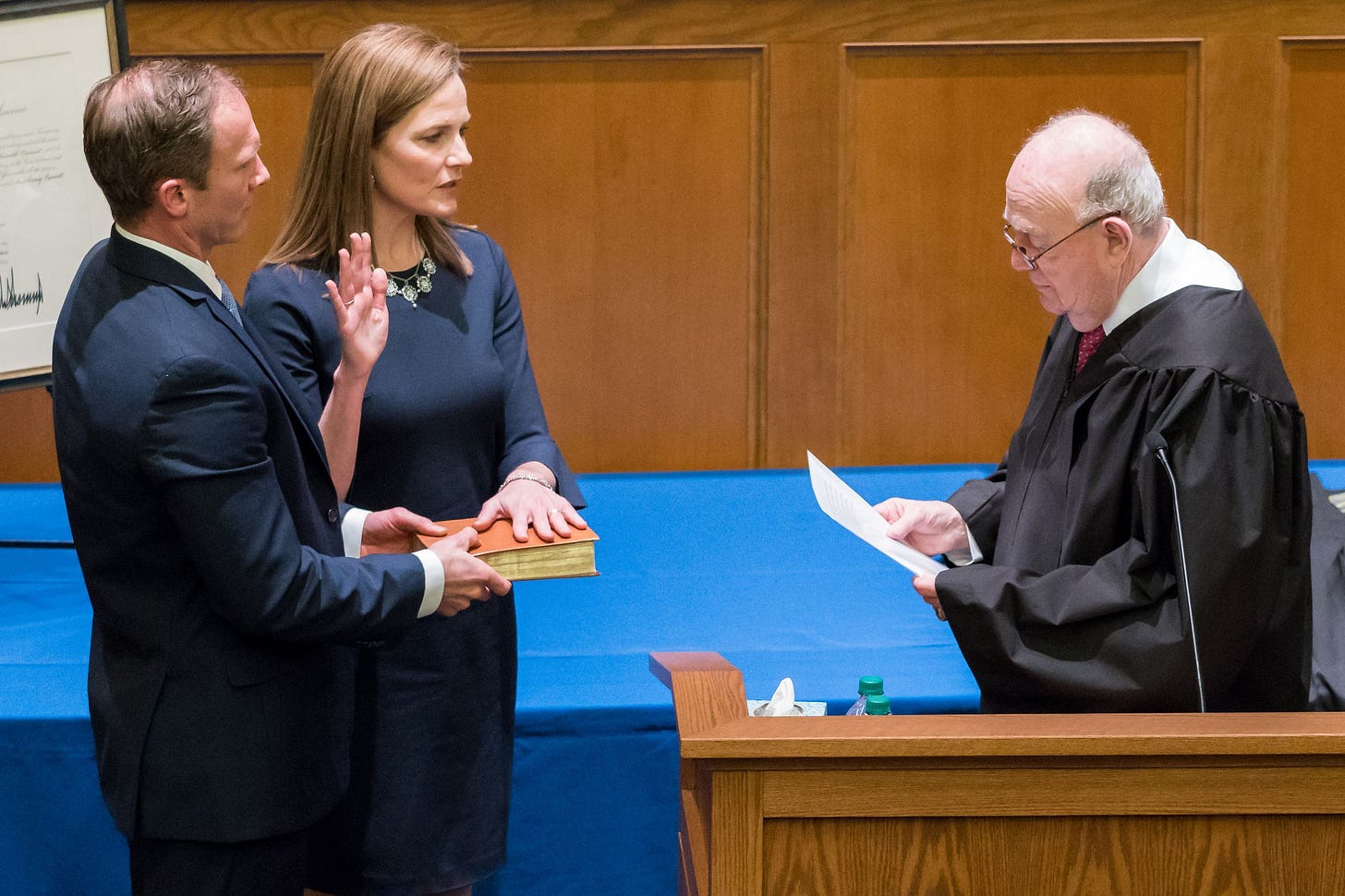 (Judge Amy Coney Barrett is sworn in as a judge for the Court of Appeals for the Seventh Circuit in February of 2018. Photo by Julian Velasco.)
The proposition of Trump nominating a Supreme Court Justice less than 40 days away from an election, is made even more confounding by his choice, who is not only a Roman Catholic who would be considered extremely conservative in her approach, but who also maintains a controversial connection to the small and relatively obscure Christian group, "People of Praise."
The group grew out of the Catholic charismatic renewal movement that began in the late 1960s and adopted Pentecostal practices such as speaking in tongues, belief in prophecy and divine healing. Barrett and her husband were confirmed to be members of the organization during a Senate confirmation hearing after Trump nominated her to the United States Court of Appeals for the Seventh Circuit in 2017.
During Barrett's Senate confirmation hearing, Senator Dianne Feinstein (D-CA) called out the controversial membership by telling Barrett, "The dogma lives loudly within you." This phrase later became a rallying cry for Barrett's supporters who claimed Democrats were applying a religious litmus test. Members of People of Praise swear a lifelong oath of loyalty to one another, called a covenant, and are assigned to a person advisor who is responsible for holding them "accountable" to the tenets of the group. The men are called a "head" and the women are called a "handmaid."
The group teaches that husbands are the heads of their wives and should have authority over them as well as the family. Let that sink in — Trump's Supreme Court nominee purposely refers to herself as a handmaid and has intentionally subjugated herself to a role that includes being dominated by a man, as well as others in her church.
Current and former members of the group have confirmed that the heads and handmaids give direction on important decisions, such as whom to date or marry, where to live, whether to take a job or buy a home, and how to raise children. The basic tenants of this concept go against all autonomy, which is a critical aspect of maintaining an impartial perspective as a judge.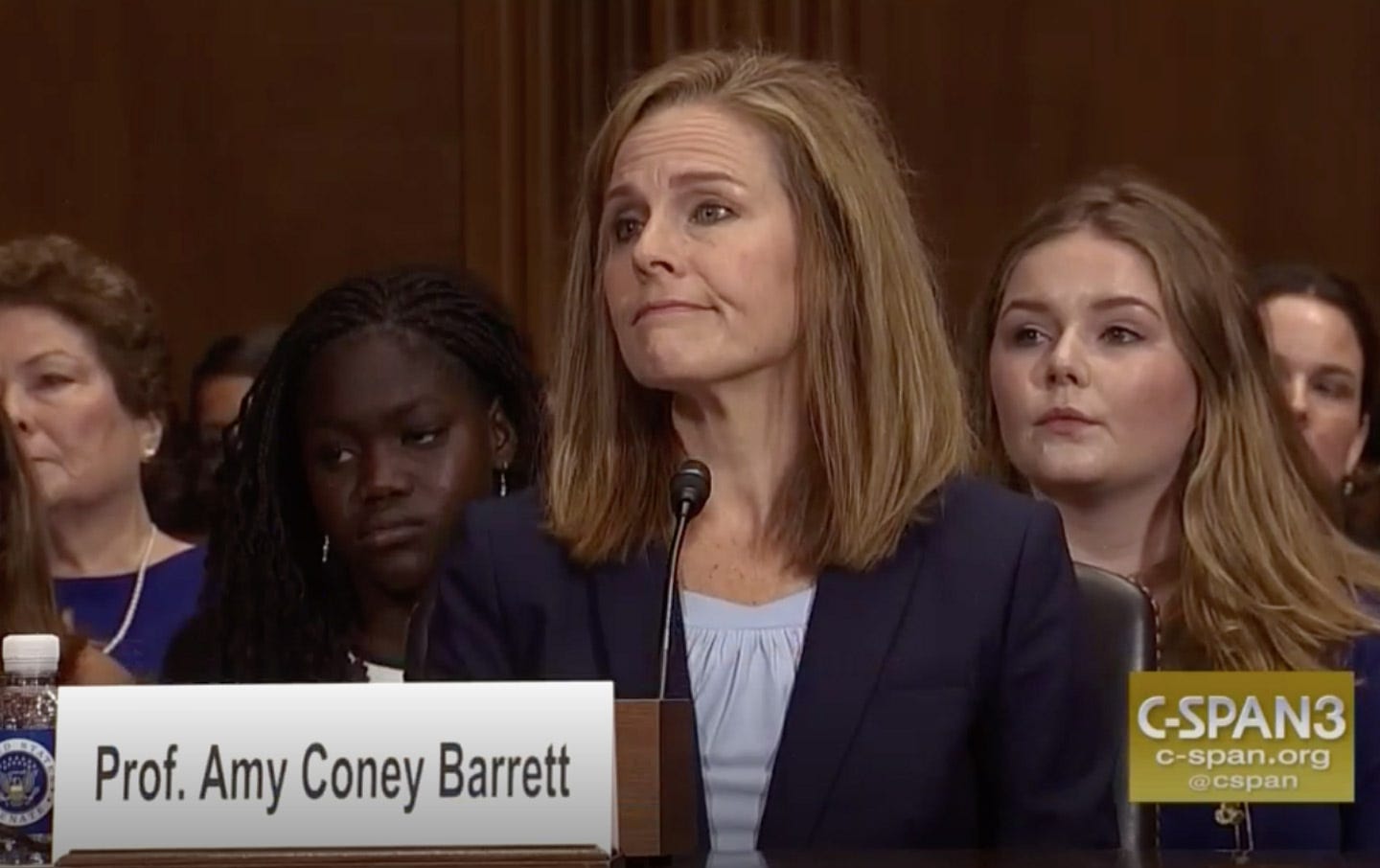 (Amy Coney Barrett during her Senate Confirmation Hearing for the 7th US Circuit Court of Appeals in 2017. Via CSPAN.)
A loyalty oath, such as the one Amy Coney Barrett has purportedly sworn to her religious sect, means that her loyalty with regard to serving her country is now in question and supersedes all other oaths, specifically the future oath she takes to uphold the US Constitution. The group has also only recently dropped the term "handmaid" in favor of "woman leader," likely due to the attention from the Senate hearings and the subsequent backlash over such an offensive term.
Amy Coney Barrett is a part of a sectarian religion that demands she surrender autonomy and willingly calls herself a "handmaiden." It is not religion bashing to say that this is a disqualifying lifestyle for a Supreme Court nominee, who will make laws that affect us all for the rest of out lives. Thanks to the Constitution, Barrett is more than able to practice her religion freely and to make decisions for her family and children — but her right to freedom of religion does not extend over my right to freedom from her religion.
While this view of site-specific religious intolerance to Judge Barrett's practices may offend some who feel they are attacked for speaking out about their religious beliefs, there is too much at stake for me to care about whom I might offend with my position. There are already four Justices on the US Supreme Court who are Catholic. To add Barrett as another will make it a majority religion and that does not reflect equal representation for this country, which should be the constant aim of an evolving Court.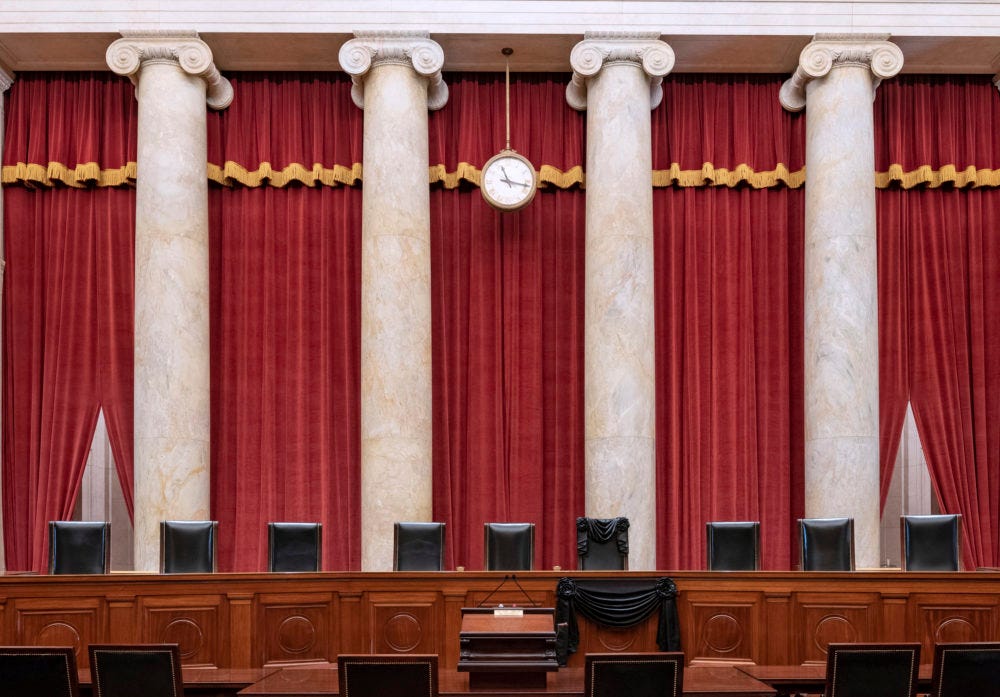 (The Supreme Court of the United States, showing the bench and seat of Associate Justice Ruth Bader Ginsburg draped in black cloth after her death, on September 19, 2020 in Washington, DC. Photo by Fred Schilling for a Collection of the Supreme Court of the United States, via Getty Images.)
Take a moment to think about the reaction of Conservative Republicans in the United States to appointing a fifth Jewish Justice after there were already four Jewish members sitting on the Court. Now think about the reaction if you simply swap out my previous proposition with Atheist Justices, Islamic Justices or even Wiccan Justices. This is not about protecting the freedom of religion for the conservative elite in America, it is about codifying their religious beliefs and imposing them on this entire country.
I am fighting Amy Coney Barrett's nomination for reasons that extend beyond my right to freedom from religion. I am fighting to preserve my right to access affordable, comprehensive healthcare. I am fighting for autonomy over my own body and the rights of every woman and girl to make their own reproductive choices. I am fighting for the need to place limits on campaign spending, which has wasted millions on the political arena that is now more likened to a Roman Coliseum. I am fighting for the Civil Rights of the LGBTQ community, who have only begun to gain a measure of dignity from the courts, who owe them so much more. I am fighting to protect the lives of my Black brothers and sisters, and the future promise that we can evolve into a country of true equality and equal opportunity.
For the reasons above, that explain Amy Coney Barrett's inability to remain independent and swear an alliance to this country first and foremost, she is unqualified as a Supreme Court nominee. For all of the things Justice Ruth Bader Ginsburg represented and fought for, Barrett is an unacceptable replacement for that seat. I urge you to call your Senators first thing on Monday at (202) 224-3121 to demand that they preserve the integrity of the Supreme Court by rejecting Barrett for consideration.
---
Amee Vanderpool writes the SHERO Newsletter and is an attorney, published author, contributor to newspapers and magazines and analyst for BBC radio. She can be reached at avanderpool@gmail.com or follow her on Twitter @girlsreallyrule.
Your paid subscriptions allow me to keep publishing critical and informative work that is often made available to the public — thank you. If you like this piece and you want to further support independent journalism, you can forward this article to others, get a paid subscription if you don't already have one or send a gift subscription to someone else today.